Bumble closes to give 'burnt-out' staff a week's break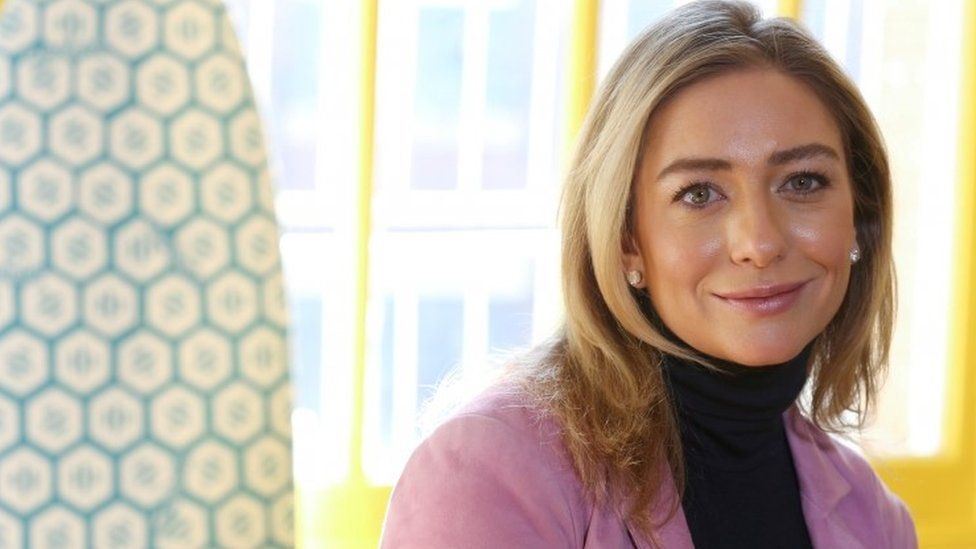 Bumble, the dating app where women are in charge of making the first move, has temporarily closed all of its offices this week to combat workplace stress.
Its 700 staff worldwide have been told to switch off and focus on themselves.
One senior executive revealed on Twitter that founder Whitney Wolfe Herd had made the move "having correctly intuited our collective burnout".
Bumble has had a busier year than most firms, with a stock market debut, and rapid growth in user numbers.
The company announced in April "that all Bumble employees will have a paid, fully offline one-week vacation in June".
A spokeswoman for Bumble said a few customer support staff will be working in case any of the app's users experience issues. These employees will then be given time off to make sure they take a whole week of leave.
The spokeswoman confirmed that the majority of Bumble's staff are taking the week off.
Bumble has grown in popularity during lockdown as boredom set in and swiping to find a match picked up.
Ms Wolfe Herd also became the youngest woman, at 31, to take a company public in the US when she oversaw Bumble's stock market debut in February.
She rang the Nasdaq bell with her 18-month-old baby son on her hip and in her speech she said she wanted to make the internet "a kinder, more accountable place".
Bumble founder Whitney Wolfe Herd's quest to make the internet a "kinder" place extends to the company's head office. And then some.
Back in 2017, the firm unveiled its new headquarters in Texas. Saturated in Bumble's signature yellow, wall mirrors are emblazoned with messages such as "you look bee-autiful honey". Even the light switches have slogans, telling people to "shine bright like a diamond".
It also boasts a "Mommy Bar" - described as a "private lactation space" by Ms Wolfe Herd - as well as fortnightly manicures, hair trims and "blowouts" which the founder said showed "appreciation for our busy bees".
Working hours? Not nine to five apparently. Employees can choose the hours they want, just as long as the work gets done.
Could the UK see the same sort of office environment here? With many people spending so much time at home recently, perhaps companies will follow through on making changes to working life. Just don't hold out for free manicures though.
Workers in other industries have complained about working long hours and the effect on their well-being.
Earlier this year, a group of younger bankers at Goldman Sachs warned they would be forced to quit unless conditions improved. They said they were working an average of 95 hours a week and slept five hours a night.
A spokeswoman for the investment bank said at the time: "A year into Covid, people are understandably quite stretched, and that's why we are listening to their concerns and taking multiple steps to address them."
Prior to Covid, one of the most high-profile examples of overwork emerged in when Antonio Horta-Osorio, then the relatively new chief executive of Lloyds Banking Group, was forced to take a leave of absence. After joining the bank in January 2011, Mr Horta-Osorio took eight weeks off from November after prolonged insomnia led to exhaustion.
Following his return, Mr Horta-Osorio - now chairman of Credit Suisse - led a re-evaluation at the bank on the importance of mental health.
Bumble made its announcement after several tech companies have unveiled their plans for remote working as the economy reopens.
And Google rejigged its timetable for bringing people back to the workplace. As of 1 September, employees wishing to work from home for more than 14 days a year would have to apply to do so.
But Apple employees have launched a campaign pushing back against boss Tim Cook's plans for a widespread return to the office, according to media reports earlier in June.
It followed an all-staff memo in which the Apple chief executive said workers should be in the office at least three days a week by September.
The key to coping with burnout is control, according to experts. "Not everyone has the option of leaving their job but it's about doing what you can with the things you can control," says Siobhan Murray, author of 'The Burnout Solution'.
Cary Cooper, president of the Chartered Institute of Personnel and Development and professor of organisational psychology and health at the University of Manchester, says it is "important that individuals take control of their environment to manage the hours they work and ensure that they're socially connected." He advises:
Take control
Don't work consistently long hours, engage in activities unrelated to work
Connect socially with friends and people you like
Have some 'me time'
Avoid unhealthy behaviours and negative coping mechanisms
Help other people
Be positive
But companies must play their part too, says Trades Union Congress health and safety officer, Shelly Asquith. Stress is an "occupational hazard" she says and it "requires risk assessment and management to protect the wellbeing of staff".
Other companies, such as accountancy firm KPMG, have introduced new measures to combat the fatigue some workers might feel after more than a year of working in a less-than-ideal home set-up.
Voice-only meetings, for example, are now required on Fridays to reduce the need for video calls.
It is in stark contrast to comments made by KPMG's UK chairman, Bill Michael, in February when he told colleagues to "stop moaning" during a virtual meeting discussing the pandemic and possible cuts to their pay, bonuses and pensions.