Should we trust big tech with our health data?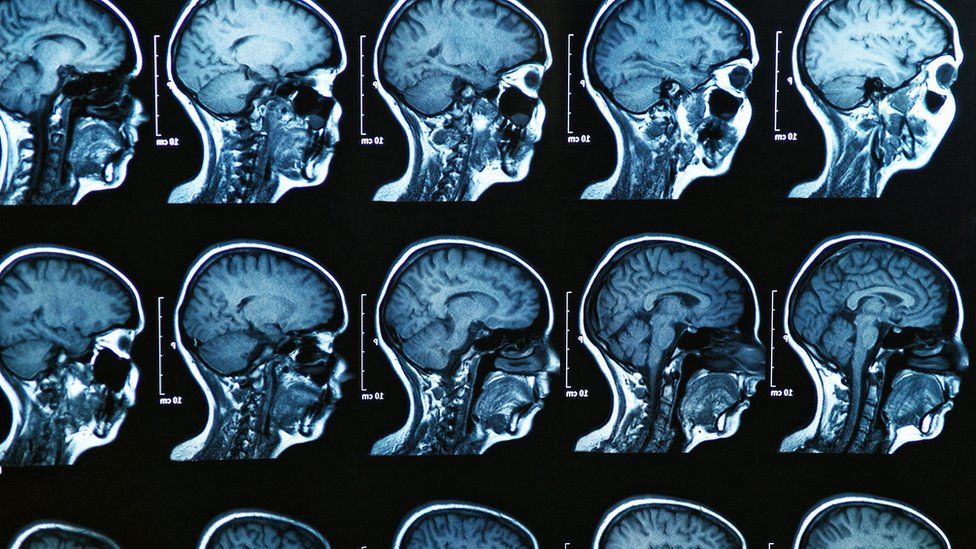 Sitting, tablet in hand, I'm playing a weird kind of cognitive video game.
Split-second images flash in front of me, and I'm supposed to indicate with my thumbs whether I'd seen an animal or something else. It's fun, and over in just 60 seconds. But there's a serious intention here.
"It's a kind of early warning system for cognitive impairment," says Dr Thomas Sawyer. He is the chief operating officer of Cognitivity Neurosciences, the Anglo-Canadian firm that developed the app.
"The tool solves a global problem. Early impairment is just not detected. This could have a huge impact on outcomes for patients, and healthcare systems, because late diagnosis costs trillions of dollars every year in global healthcare."
Designed as a simple, quick, and easy test to spot the earliest signs of dementia, the app's algorithms are powered by artificial intelligence (AI) - software that can "learn" and adapt by itself.
They can automatically detect if a person has some signs of slow reaction, or poor visual recognition skills, irrespective of the language they speak.
As the app is rolled out, anyone susceptible can be tested whenever they visit their doctor's surgery. A digital red flag would lead to an in-person consultation with a specialist. Specific lifestyle advice could then be given, Dr Sawyer says, potentially delaying the onset of dementia by years.
Digital diagnostic tools such as this that use AI, are springing up to help tackle all kinds of health conditions. Such as pattern-recognition technology assisting the detection of cancers, or analysing the brain scans of acute stroke patients.
At the same time, AI software systems can now rapidly sift through multiple people's medical records to help drive the development of new drugs and treatments. This area is more controversial.
"Taking in data... an enormous amount of [research] could theoretically be done more accurately, with better information, prognosis and recommendation, by AI," says Robert Wachter a professor of medicine at the University of California, San Francisco.
He's the author of a best-selling book on the field called the "The Digital Doctor". He says that the UK's National Health Service, with its large and diverse datasets, is especially well-positioned to benefit from this AI healthcare revolution.
"If you combine a very large, very diverse population, with the ability to take data from all over the system and computerise it and make sense of it, I can't see any place that has an advantage over the NHS in doing that."
The idea is that health researchers, be it from within the NHS, or private research groups and firms, could then access the pool of data.
As the BBC reported at the time, NHS Digital (the organisation that runs the IT system for NHS England) said that the information would only be made available to organisations that "will legitimately use the data for healthcare planning and research purposes, and they will only get the specific data that is required".
Yet the Labour Party responded that the plan to sell NHS health data "to unknown commercial interests for purposes unknown, has no legitimacy".
Dr Allyson Pollock, a consultant in public health medicine based in Newcastle, says it is a thorny issue. "There's no doubt that using public health data is really important, but all the surveys of the public show they want their data used only for public benefit," she says.
"They have very serious concerns about the commercialisation of their data, and if it's being exploited for profit."
Dr Sarah Deany, from the UK charity The Health Foundation, adds that if, and when, NHS data is shared with outside organisations, strict anonymity rules must be in place. "Health data often has very private things that people want to keep to themselves," she says, for example, mental health issues, or heart problems that could affect someone's chance of getting insurance cover.
These concerns come as four of the biggest tech firms - Google, Apple, Amazon and Facebook - are taking a growing interest in the field of data medicine.
Google's Deepmind subsidiary is continuing to develop AI applications for the healthcare sector, while Apple has a growing healthcare division. Meanwhile, both Facebook and Amazon have recently launched online healthcare sites in the US.
All four companies have shown an interest in partnering with the NHS to access its data. That they might want to monetise people's sensitive health information as part of their other commercial activities, for instance, in advertising, has raised alarm.
"I don't particularly want to see an advertisement on my Facebook feed that is born of my private healthcare data that happens to be being mined by a company that I didn't even know talked to Facebook," says Dr Wachter.
Dr Pollock agrees: "Data can be used for marketing and for selling. But it can also be used to discriminate.
"For example, it could be linked to your mortgage applications, to insurance applications, or indeed, even to your ability to cross borders. This risks becoming increasingly discriminatory".
New Tech Economy is a series exploring how technological innovation is set to shape the new emerging economic landscape.
Health experts point out that if these concerns are not addressed, the loss of trust could lead to patients withholding health information from their doctors, with potentially disastrous consequences.
Only one of the four tech giants in question spoke to the BBC with regard to these concerns. Google said in a statement: "We're committed to treating data responsibly and protecting privacy with strict protocols and innovative privacy technologies."
While many people will continue to voice opposition to their medical data being shared with private firms, ageing populations across the developed world, and the costs of their healthcare provision, will only increase the pressure to give access in the face of the privacy concerns.
Nicholson Price, an assistant professor of law at the University of Michigan, has written widely on the subject as part of his specialism in health law. He is in favour of increased data sharing.
"The potential social benefits of sharing lots of data about healthcare and helping us live longer, happier, healthier lives, is frankly, a much larger benefit than the idea that I'll receive an ad for a product that I'm slightly more likely to buy," he says.