Post Office Horizon scandal: More subpostmasters cleared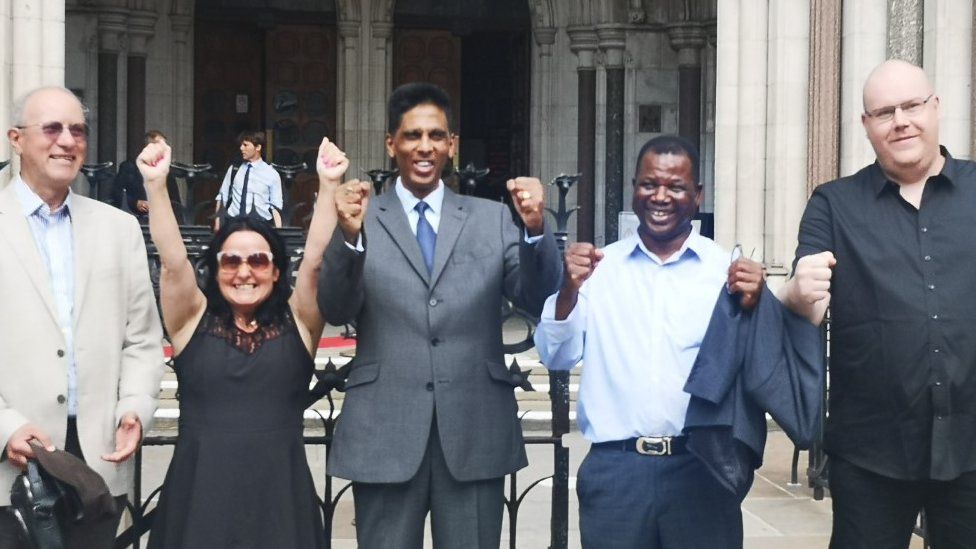 The Court of Appeal has cleared 12 more former subpostmasters who were wrongly convicted of offences during the Post Office Horizon scandal.
It brings the total of judgements overturned to 59, but hundreds more are hoping for similar decisions.
Between 1999 and 2015, they were sacked or prosecuted after money appeared to vanish from accounts at their branches.
The problems were caused by the Horizon computer system in Post Office branches which turned out to be flawed.
Some subpostmasters were imprisoned after being convicted of stealing money.
More people have been affected by this than in any other miscarriage of justice in the UK.
The Horizon system was first rolled out in 1999 to some post offices to be used for a variety of tasks including accounting and stocktaking.
But from an early stage, it appeared to have significant bugs which could cause the system to misreport, sometimes involving substantial sums of money.
Horizon-based evidence was used by the Post Office to successfully prosecute 736 people.
Three judges quashed the convictions of Robert Ambrose, Hasmukh Shingadia, John Armstrong, Timothy Brentnall, Jerry Hosi, Gurdeep Singh Dhale, John Dickson, Abiodun Omotoso, Malcolm Watkins, Sami Sabet, Carina Price and Rizwan Manjra.
Their appeals were unopposed by the Post Office.
At a hearing in March, the court heard subpostmasters' lives were "irreparably ruined", with some losing marriages, jobs and homes after they were prosecuted by the Post Office.
An independent inquiry is being held into the affair.
One of the 12, Hasmukh Shingadia, came under particular scrutiny as he was a guest the the wedding of Prince William and Kate Middleton.
He ran the local Post Office and shop in Upper Bucklebury, West Berkshire, and had become friends with the family of Kate Middleton, seeing her grow up and selling her sweets at the shop.
He repaid the shortfall to the Post Office, was handed an eight-month prison sentence, suspended for two years, and ordered to carry out 180 hours of community service.
Mr Shingadia said: "What has happened to people has been appalling. Those who were in charge of the Post Office must be held to account at a Public Inquiry now, and dealt with appropriately from whatever that inquiry uncovers."
Having spoken to many who have had their convictions overturned it's not possible to over-state the importance of this news to the 12 individuals who have had their lives and careers shattered by wrongful convictions. Many faced time in prison, bankruptcy, and were unable to find new work because of their criminal records.
But for hundreds of others in the same position, hoping to wipe their criminal records clean, today also brings more worrying news. Although the 12 who have had their names cleared were unopposed, another 15 people's cases are being opposed by the Post Office. A judge will now decide whether the Court will grant permission to appeal against those convictions, which may not happen until the Autumn.
Although the Post Office has said they urge "anybody who believes that they may have a relevant case to come forward", it's clearly not going to be the straightforward process that many had hoped for. After years of fighting the Post Office at every turn to clear their names the battles are not over yet.
Monday's cases were the fourth group represented by Hudgell Solicitors to see their appeals through to a successful conclusion.
Neil Hudgell said it had been another significant day in court for a group of people who suffered badly.
They "did no wrong, were bullied into admitting to crimes they had not committed, made to pay back large sums of money they had not taken and who saw their lives irreparably damaged as a result". he said.
He added: "This group again includes people who spent time in prison. Sadly, what happened to each individual and their families can never be reversed. That makes it all the more important for it to be recognised by the Post Office and the courts."
A Post Office spokesperson said: "Post Office is sincerely sorry for past failures and we welcome the Court's decision today to quash convictions without delay in the appeals we supported.
"We are making strenuous efforts to fairly address historical miscarriages of justice, including an extensive review of prosecutions since 1999 to identify and disclose all material which might affect the safety of convictions.
"We are also transforming our organisation to prevent such events ever happening again and to re-set our relationship with postmasters."