Gold attracts young investors trading online, says The Royal Mint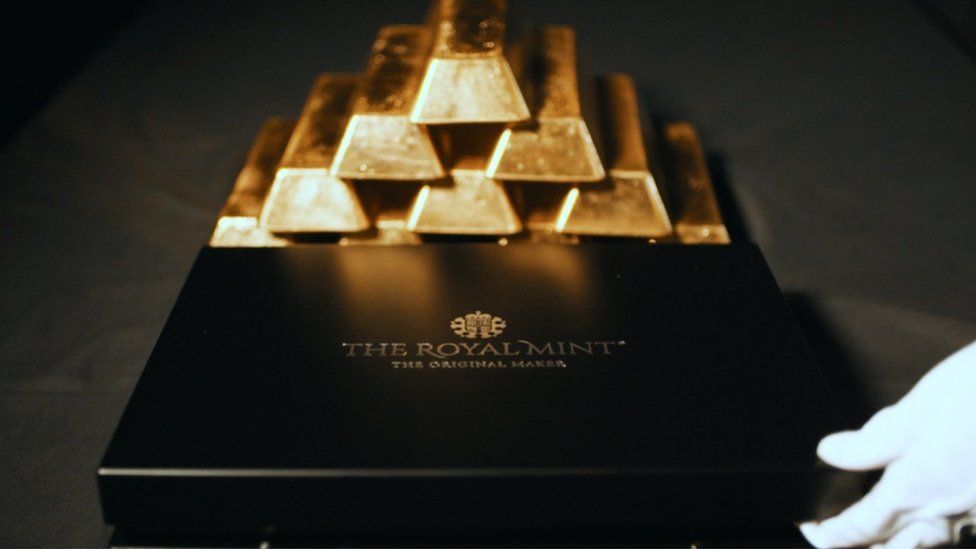 Gold has glistered for young investors with The Royal Mint recording a fivefold rise in young adults taking a stake in the precious metal.
The Mint, which is wholly owned by the Treasury, said young investors were attracted to its new digital platform for gold investment.
The investments are backed by gold stored in The Royal Mint's vaults.
It reported pre-tax profits of £12.4m in the last financial year, up from a £200,000 loss the previous year.
A host of companies are now offering gold investments for digitally-savvy young investors.
The interest from do-it-yourself young investors, putting their money into investments ranging from cryptocurrencies to environmental assets, prompted the City watchdog to carry out research on the risks they were taking.
The Financial Conduct Authority (FCA) found these "self-directed" investors - who trade themselves rather than seeking financial advice - were willing to "have a go" at investing, particularly in high-risk products, for the "challenge, competition and novelty".
Gold is generally considered as a safe investment, and has been popular among investors globally at times of uncertainty such as the pandemic and low interest rates for cash.
The Mint said its new digital savings platforms attracted fresh customers to precious metals investment, which it had offered through other channels for years.
It said investment in limited edition coins. produced alongside coins for general circulation, had also proved popular in the last year.
Anne Jessopp, the Mint's chief executive, said: "As spending habits change, we set out to reinvent The Royal Mint and secure our long term future as a British maker.
"By purposefully expanding into areas which complement our heritage we have been able to attract thousands of customers to precious metals, showcase British craftsmanship and achieve record revenues. We might be 1,100 years old, but we are firmly focused on the future."
Alongside its more traditional operations, the Mint also produced nearly two million visors for the NHS in the last year, in response to the Covid crisis.
Questions for young investors to ask
The FCA has launched a campaign to prevent investment harm, using online advertising, advising people to ask:
Am I comfortable with the level of risk?
Do I fully understand the investment being offered to me?
Am I protected if things go wrong?
Are my investments regulated?
Should I get financial advice?