Post Office scandal: Postmasters to get up to £100,000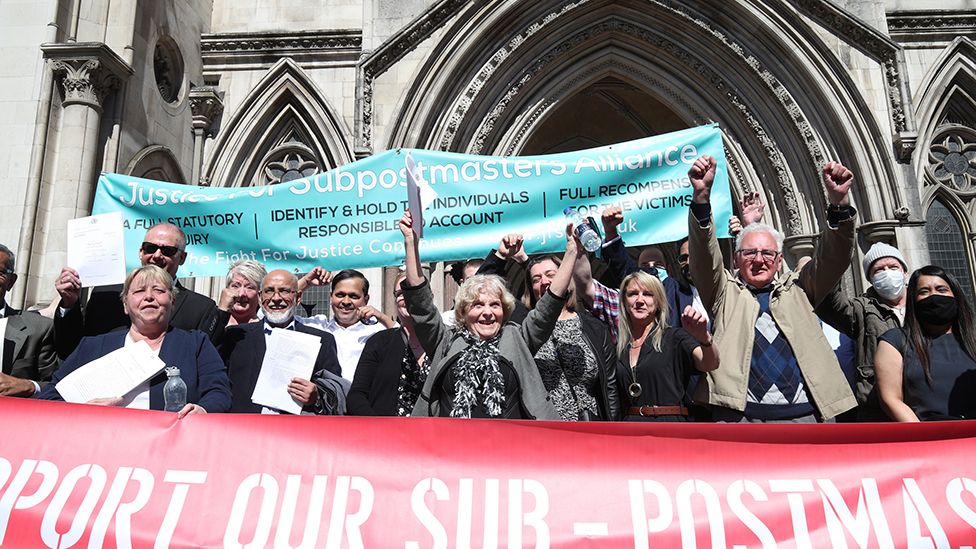 Sub-postmasters wrongly convicted of offences in a Post Office IT scandal will get interim compensation of up to £100,000, the government has said.
As of this week, a total of 59 former sub-postmasters have had their convictions quashed - with more due in court over the coming months.
More people have been affected by the scandal than in any other miscarriage of justice in the UK.
The government has agreed to fund the initial payments.
Those affected can still seek extra compensation at a later date, via mediated settlements or through the civil courts. Some of those claims could add up to millions of pounds.
Postal Affairs Minister Paul Scully said: "The suffering and distress these postmasters and their families have gone through cannot be overstated. While nothing will make up for the years of pain they faced after this appalling injustice, I hope this initial step provides a measure of comfort.
"The Post Office has started to turn a corner in terms of dealing with its past mistakes - and this government will support them in doing so wherever possible."
There were more than 700 prosecutions based on evidence from the Horizon software system.
Hundreds of people who ran Post Office branches were subsequently convicted of various offences, including theft and false accounting, when the system was used.
Following the convictions some of these former postmasters went to prison, were shunned by their communities, and struggled to secure work. Some lost their homes and even failed to get insurance owing to their convictions. Some have since died.
However, the IT was found to have bugs and defects that left a black hole in accounts.
Following a series of court cases, many have received some civil compensation and some have had their convictions overturned.
The Post Office said the interim payments would be offered to those who were "badly failed" whilst final compensation arrangements were established.
Its chief executive, Nick Read, said: "Ensuring compensation is made as quickly as possible is a priority for Post Office.
"Whilst we cannot change the past, this is an important step towards meaningful compensation for victims and we will offer payments as soon as possible."
The Post Office is contacting postmasters and will aim to make an offer for an interim payment within 28 days of receiving an application from those whose overturned convictions relied on Horizon evidence.
Anyone who has received a share of the civil payout can still receive the latest compensation, if their Horizon-related conviction is overturned.
Chi Onwurah, Labour's shadow business minister, said: "This news is bittersweet - for those sub-postmasters who lost their jobs, homes, and reputations, for those who have still not had their convictions overturned and so will not be in scope, and for those who lost their lives, for whom this news comes too late."
Neil Hudgell, of Hudgell Solicitors, which represents some of the postmasters, described the announcement of interim compensation as a "cautiously positive step"
"This cannot be a delaying gesture though. This is money to which these clients are entitled. With regards to how final settlements are agreed, we want them to come to the table and be meaningful in what they put forward," he said.