Fashion for Crocs continues to break records
By Lora Jones
Business reporter, New York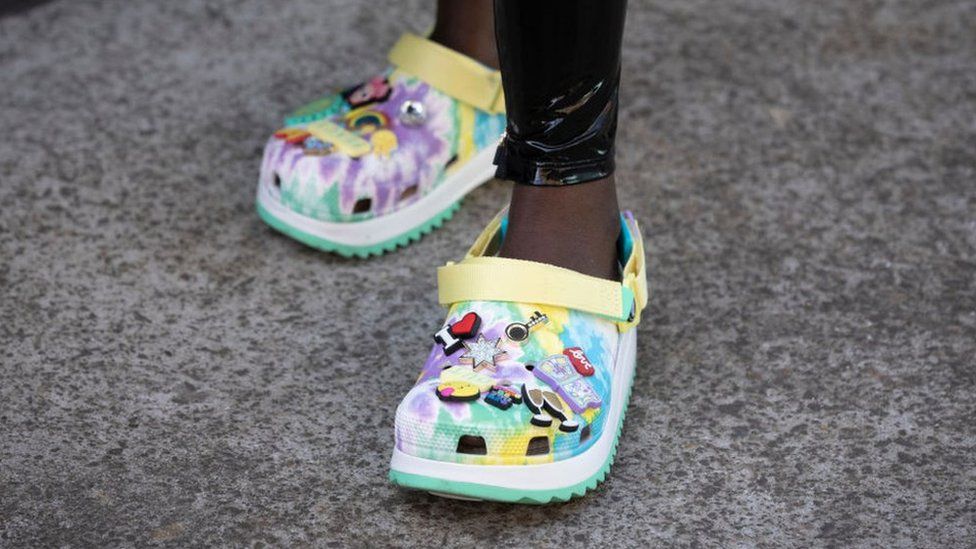 From the Oscar's to the Love Island fire pit - there's no doubt Crocs have made a pandemic comeback.
On Thursday, the chunky shoe-maker reported record sales of $640m (£465m) in the three months to 30 June - nearly double the same period last year.
And the trend shows no sign of slowing down - the firm raised its revenue outlook for the rest of the year.
The company's boss said there was strong demand for the shoes globally.
Net income before tax grew to $190.5m between April and the end of June from a previous $54.7m.
Its chief executive, Andrew Rees, now expects revenue for 2021 to rise by as much as 65%, compared to an increase of up to 50% the company forecast in April.
"We continue to see strong consumer demand for the Crocs brand globally," Mr Rees said.
People have turned to the footwear company for foamy clogs to pair with their lockdown outfits.
Boosted by customers staying at home, the Colorado-based firm said on Thursday that digital sales were up 25.4% and make up more than a third of total sales.
But even as restrictions ease, TikTokkers taking part in the #CrocsChallenge and celebrities haven't put the shoes to the back of the wardrobe yet.
As the shoes, popular with medical professionals, have staged a comeback, copy-cat versions have sprung up.
Crocs said last month that it had filed a complaint with the US International Trade Commission (ITC) in a bid to crack down on companies it says are importing copies from overseas.
It has also recently filed trademark infringement lawsuits against 21 shops, including retail giant Walmart, according to trade publication Footwear News.
And there are some worries the firm might not be able to keep up with demand for its collaborations with the likes of singer Justin Bieber and fashion house Balenciaga because of the pandemic.
Mr Rees told journalists on Thursday that its biggest manufacturing site in Vietnam may see temporary closures.
Despite that, he said Crocs is still "incredibly optimistic about our business".
In a presentation for investors, it said it was counting on sandals and "Jibbitz" shoe charms, which Crocs aficionados can use to customise their shoes, for future growth.
It is also set to focus on celebrity campaigns in Asia, and China in particular, where it sees the "largest long-term growth opportunity".