Covid: Food exemption scheme delayed until Monday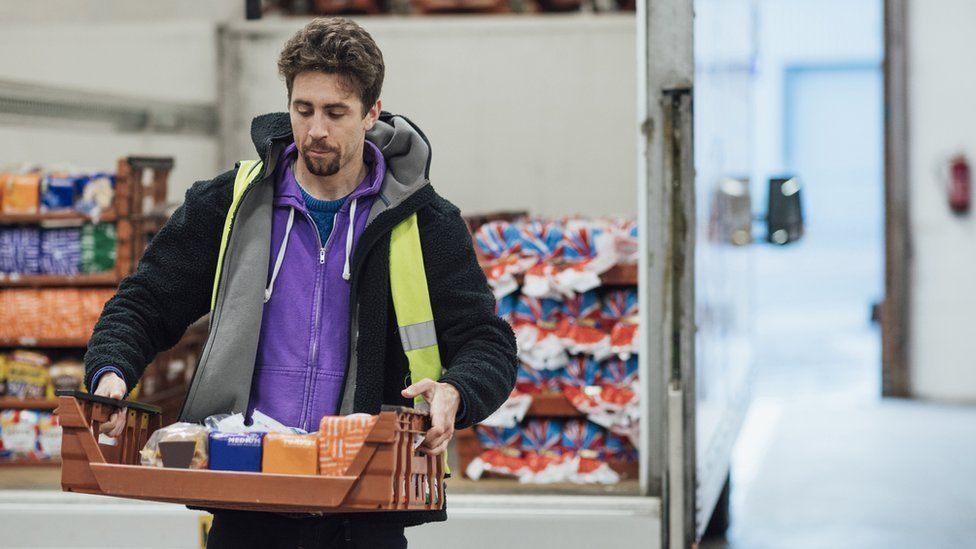 New Covid daily contact testing sites for workers at supermarket depots and food manufacturers won't begin operating until next week.
Supermarket depot workers and food manufacturers in England will be exempt from quarantine rules as the government tries to prevent food supply problems.
The government had initially promised to begin testing at 15 "crucial" supermarket depots on Friday.
But the BBC has learned that testing will be delayed until Monday 26 July.
Up to 10,000 staff are expected to qualify for the scheme, but supermarket workers are not included.
Earlier on Friday, the Environment Secretary George Eustice told BBC Breakfast: "We've identified 15 depots covering around five supermarkets where they have the most acute problem with staff absences at the moment and we intend to roll that out today. They already have the infrastructure in place to do the testing at those sites."
However, on Friday afternoon a Department for Environment, Food and Rural Affairs (Defra) spokesman confirmed to the BBC that testing has not yet started.
"No sites are running yet, but we expect to be able to offer daily contact testing to some priority organisations by the end of the day on Monday 26 July and we will support them to mobilise as quickly as possible," he said.
He added that so far, Defra had contacted 10 supermarkets and that Test & Trace would continue to contact all the organisations identified for this scheme over the weekend and early next week.
Iceland welcomed the change, but said it wouldn't solve the issue of staff shortages in supermarkets themselves.
"The food supply chain only works if teams are in place to support at each stage - there's no point in fixing the manufacturing and logistics issues if there is no one to put products on the shelves, serve customers at the till and deliver to their homes," said Iceland boss Richard Walker.
Initially, 15 supermarket depots will be involved, followed by 150 depots later on next week. Up to 500 sites will take part in total, but the new rules will not apply to supermarket store staff.
It will mean workers who are alerted by the app or contacted by NHS Test and Trace will be able to continue working if they test negative, whether or not they are vaccinated.
'We can't fail our customers'
Krissy Fremont is the HR manager for Birchall Foodservice, a wholesaler based in Burnley, Lancashire, that delivers to schools, hospices, care homes, restaurants, hotels and cafes.
She says there is still confusion as to whether her firm is on the exemptions list and when they can start on-site daily contact testing - instead of staff members having to self-isolate.
"We're struggling left, right and centre in all departments, but this last week has been the toughest with people having to self-isolate with pinging from the app or children having to self-isolate from school," she told the BBC.
"We've had 14 people off in the last week due to Covid and only one of them has been a positive case."
She says her customers cannot be left without food because many are in vulnerable situations, so by hook or by crook the food deliveries must go out.
"So we've had directors going out delivering, we've had to buy extra vans so people like myself can go out delivering.... the management team is all hands on deck," she said.
"We can't fail our customers, they've stood by us and we have to get our orders out."
The scheme will run until 16 August when the plan is for the rules to change so that double jabbed people and under-18s will no longer have to self isolate if they have come into contact with someone who has tested positive for Covid.
M&S said it was working with the government to identify the key sites it wanted to take part in the daily contact testing scheme.
But it said more needed to be done to "mitigate the impact on wider store operations for all food retailers and we would like the bring forward of the 16 August date so that those who are fully vaccinated or who have a negative test are not forced to quarantine when they are contacted by track and trace".
Environment Secretary George Eustice told BBC Breakfast shop staff had been excluded from the scheme because their inclusion would have been a "really significant undertaking".
"You're talking then thousands of different shops and many more people and we still want to maintain the test, trace and isolate system."
However, he added that the government would keep the policy "under review, but we think this is a sensible first step".
"We're never going to take risks with our food supply chain," he added.
The government's move comes as supermarkets said the supply of some products was being affected by the "pingdemic" keeping staff away from work.
While some retailers said they may have to close stores, they played down fears of food shortages, saying the problems were not widespread.
Helen Dickinson, chief executive of the British Retail Consortium, said "disruption is limited at the moment", but it was vital that the government rolled out the scheme as fast as possible and was prepared to take further action if necessary.
Separately, the government outlined plans to allow other key industries in England to deploy daily Covid testing instead of self-isolation for a limited number of essential workers. In this case, the scheme will only apply to workers who are fully vaccinated.
This scheme covers sectors including transport, emergency services, border control, energy, digital infrastructure, waste, the water industry, essential defence outputs and local government.
The policy applies only to workers named on a list kept updated by officials - it is not a blanket exemption for all employees in a sector.
Hannah Essex, co-executive director of the British Chambers of Commerce, said that while the announcement would be a relief to some businesses, "it will leave many more still facing critical staff shortages and lost revenue as the number of people being asked to isolate remains high".
CBI director general Tony Danker agreed, warning: "The current approach to self-isolation is closing down the economy, rather than opening it up."
Businesses have already exhausted contingency plans to get in extra staff and are "at risk of grinding to a halt in the next few weeks", he added.
Phil Langslow, trading director at Cheshire-based County Milk Products, which provides dairy products to the likes of Nestle and Kellogg's, said the government move was "a step in the right direction".
"People having to isolate meant that a number of our suppliers, the service providers that are doing the transport for us, have just said they cannot cope. Roughly half of the deliveries that we would expect to be done are not being done routinely and we're having to scramble to actually get product to its destination on time.
"If you think of the food chain as just that - as a chain, and like any chain, you're only as good as the weakest link - if you cannot get your goods to the market, then you've got a problem," he told the BBC's Today programme.
Health Secretary Sajid Javid said daily testing of food industry staff would "minimise the disruption caused by rising cases in the coming weeks, while ensuring workers are not put at risk".