Beyond Meat boss: Tax on negative impacts 'does appeal'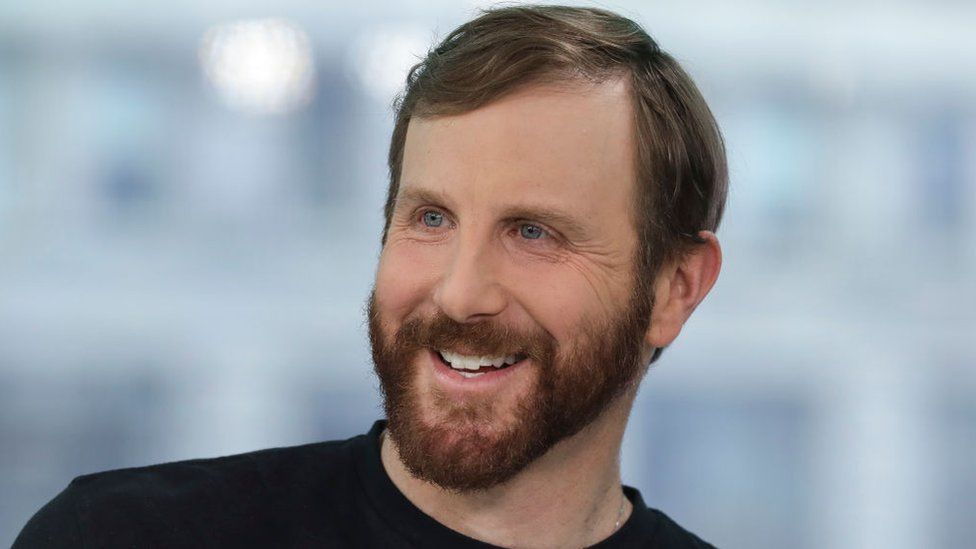 The founder of the world's biggest plant-based meat company has suggested that a tax on meat could help tackle some of the problems from growing meat consumption.
Asked if he backed a tax on meat, Beyond Meat's Chief Executive, Ethan Brown told the BBC "the whole notion of a Pigouvian tax, which is to tax negative, you know, things that are high in externalities, I think is an interesting one. I'm not an economist, but overall that type of thing does appeal to me".
Mr Brown added "I think taxing things we want more of such as income and not taxing things we want less of, I've always wondered about that. So in general, that type of taxation scheme is interesting to me. But I've got to leave it to others to work out the details".
Critics argue that such a levy would raise the cost of living and amount to unnecessary government interference.
Even without such a tax Mr Brown thinks that consumers are already starting to make the choice to eat less meat.
"If you look at shopper data that we have, 93% of the people that are putting the Beyond burger in their cart are also putting animal protein in," he said.
"That says we're getting more and more penetration into the broadest swath of the market, which is people who are consuming animal protein, but again, are hearing this information about their health or maybe hearing about climate, or maybe uncomfortable with factory farming, they're deciding to cut down on their consumption of animal-based products."
Beyond Meat's products are made from ingredients such as peas and mung beans, coloured with substances such as beetroot juice and apple extract.
Cost, as well as taste and texture are, according to Mr Brown, the three elements his company has to get right, as plant-based meat can be more expensive than animal meat. But he thinks that over time prices will come down.
He references the three-year global deal Beyond Meat signed in February with McDonalds and a similar one with Yum! Brands, the parent company of KFC, Pizza Hut and Taco Bell.
"As we scale, we'll begin to be able to under-price animal protein - if you look at our facilities, and you look at the facilities of say, some of our plant or animal-based competitors, we're still a very small company [but] that's going to change.
"One of the reasons I was so focused on these deals with McDonald's and with Yum is because I believe that's the route to [bringing] costs down and to scaling and to being able to make these products accessible to every consumer that wants them."
Animal meat prices rising
A tax on meat consumption would definitely be beneficial to companies such as Beyond Meat because it would make their products cheaper in comparison, says Rebecca Scheuneman, an equity analyst at US financial services firm Morningstar.
How much of an advantage it would give "depends how significant the tax would be", she told the BBC.
However, at the same time research from Morningstar shows the global meat market was worth $1.4tn (£1tn) last year and is growing.
Ms Scheuneman points out the price gap is already closing: "Meat prices now have spiked up in the last couple of years [as] disruption from the pandemic caused a lot of disruption and meat production which caused higher prices.
"And I do think that given the limited resources of the earth, and an increasing demand for meat, as emerging markets become wealthier, it is likely that prices for traditional animal proteins will increase over time."
For consumers, pricing is an important factor. A recent survey of 3,000 US consumers by Citi Bank found that 32% of people were put off of plant-based meat by the cost, saying it was too expensive.
This is an improvement, compared to Citi's previous survey in August 2020, when 38% of respondents said they found plant-based meat to be too costly - a reflection of the fact that manufacturers have been trying to cut prices.
Beyond Meat's rival Impossible Foods, slashed prices by 20% earlier this year.
Citi's Wendy Nicholson said one reason why consumers were not going back to be regular purchasers of plant-based meat was the higher price, so "this does seem to be a real topic for the companies to address".
Ms Scheuneman says demand is clearly growing for plant-based meats: "It has really been most popular with younger generations and it's really the younger generations that have the most broad-based concern about our environment."
However, Prime Minister Boris Johnson has ruled out a tax on meat consumption as a way to do this. A recent study from the University of Bristol found the costs would outweigh the benefits to the climate.
According to the United Nations Food and Agriculture Organization, the livestock industry accounts for about 14.5% of global greenhouse gas emissions. Cutting those would help tackle climate change and Mr Brown says plant-based meat has an important contribution to make.
He cites a study from the University of Michigan which he says found that the Beyond burger uses 99% less water than an animal protein burger, emits 90% fewer missions in the production process that an animal protein burger, uses 93% less land and about half the energy.
Mr Brown thinks these environmental benefits are important "particularly for this younger generation, the ones that are flight shaming, and marching on climate, because they're going to have to live in this environment".
"For a few dollars at the centre of your plate, you can communicate what you're about, you don't have to go and buy that Tesla right away or some other electric vehicle, you can start by just doing something really simple, which is changing the protein at centre of your plate," he added.