Trials of shared banking hubs to be extended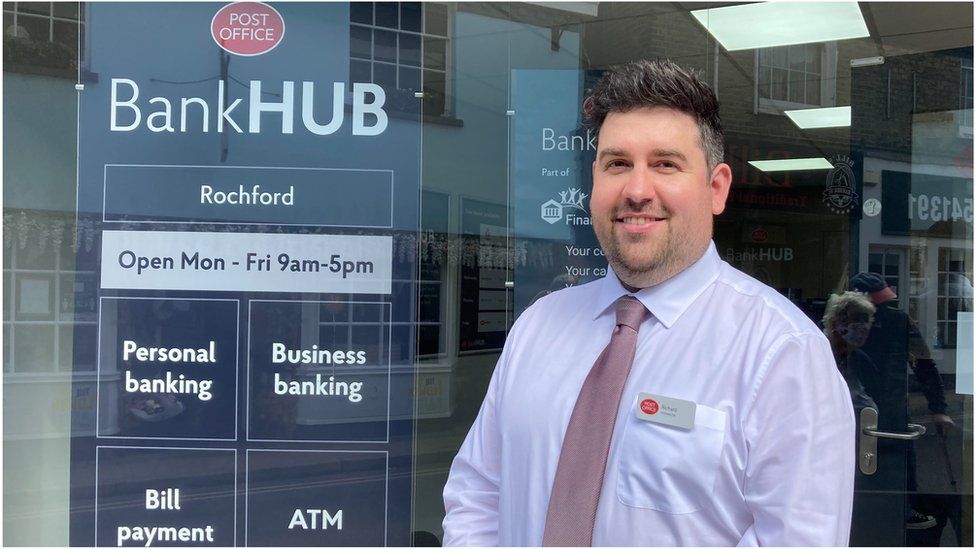 Trials of shared banking hubs in two communities where all the branches have closed down are to be extended.
The premises, managed by the Post Office, include counter services, ATMs and, crucially, the opportunity for local businesses to deposit cash.
The trials, in Cambuslang, South Lanarkshire, and Rochford, Essex, were due to finish in October, but have been extended to April 2023.
The government is consulting on plans to protect community banking services.
The trials allow a member of staff from a different bank to come into the hub once a week to help with trickier transactions.
Throughout the week, the counter service and machines allow individuals and small business owners to access accounts, and to withdraw and deposit notes and coins.
"One lady came in to say 'thank you, you have changed my life', and that's not an understatement," said Richard Fleetwood, postmaster at the Rochford Bank Hub - a converted carpet shop.
An estimated 12,000 people have used the hubs for basic banking needs.
"It is really clear that the hubs have been hugely popular and it would be a bad decision to close them. The banks have therefore taken the view that they want to keep them open, and keep innovating in them so we can refine the model further," said Natalie Ceeney, who oversees the trials.
The trials are part of a wider project aiming to test ways to ensure people and businesses have access to cash. It also addresses the issue of bank branch closures, which are showing signs of accelerating as the UK emerges from the Covid crisis.
Another element of the project to be extended is the prevalence of cashback without having to make a purchase in local stores. So far, an average of £28 has been withdrawn from tills, with shoppers often taking out non-round amounts unavailable from ATMs.
Hundreds more shops should be offering the service by early next year.
Banks are in discussion over many of these projects, including shared hubs, as the government plans to legislate on access to community banking as bank branches close.
In their proposals, ministers said that people should not have to travel beyond a reasonable distance to withdraw or deposit money, even if they are in low population areas.
Initially, the Treasury suggests that people should not have to travel more than 1km, but that distance could be extended over time if cash becomes less popular. The distance proposal is open to views during consultation.
Other considerations include whether the facilities are appropriate for vulnerable people, are accessible for people with disabilities, have adequate opening hours, and are suitably secure for high-value cash deposits.