Home Depot 'discriminated against BLM supporter'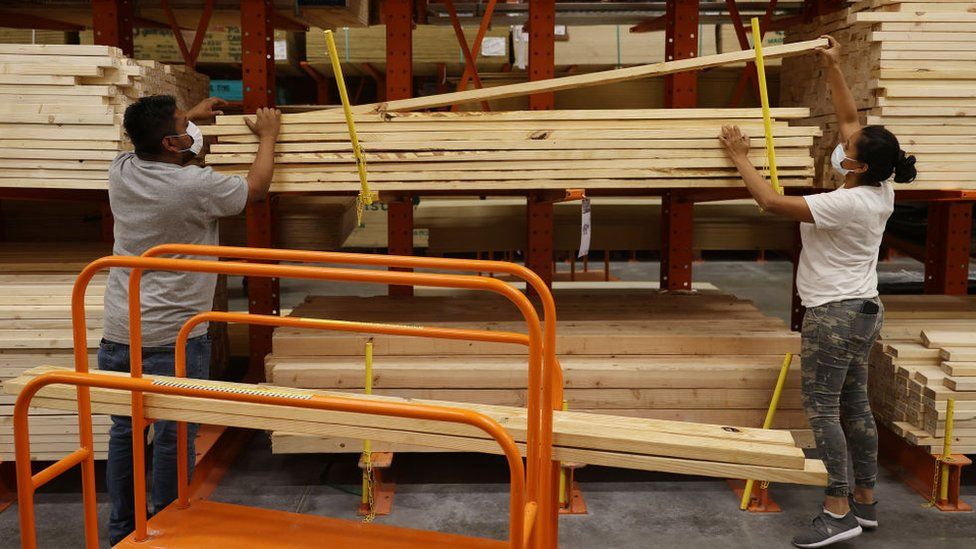 US DIY store chain the Home Depot discriminated against a Minneapolis employee for raising issues of racial harassment with colleagues and bosses, a federal watchdog has alleged.
The National Labor Relations Board (NLRB) alleges the chain also stopped the employee from displaying a Black Lives Matter slogan on his apron.
These actions are protected under law, the watchdog said.
Home Depot said the complaint "misrepresents the relevant facts".
"The Home Depot does not tolerate workplace harassment of any kind and takes all reports of discrimination or harassment seriously, as we did in this case," said spokeswoman Sara Gorman.
According to the complaint, filed by the Minneapolis office of the NRLB, the employee's actions, including his refusal to remove the BLM slogan, led to his constructive dismissal.
It alleges the store unlawfully enforced its otherwise lawful dress code and apron policies. And it accused Home Depot of warning employees not to engage in "activity regarding racial harassment".
"Issues of racial harassment directly impact the working conditions of employees," said NRLB regional director Jennifer Hadsall.
"The National Labor Relations Act protects employees' rights to raise these issues with the goal of improving their working conditions. It is this important right we seek to protect in this case."
The independent watchdog said it wanted Home Depot to post notice at all of its US stores advising employees of their rights.
But the retailer said the NRLB had mischaracterised the situation and that it looked forward to "sharing the facts" with the watchdog.
"Regardless of the outcome, we will continue to be fully committed to diversity and respect for all people," Ms Gorman added.
Last year, workers at Whole Foods sued the US supermarket for punishing them for wearing Black Lives Matter masks.
The federal lawsuit said the firm discriminated against black staff by selectively enforcing its dress code.
However, in February, a US District Judge threw out most of the lawsuit, saying Whole Foods and its parent, Amazon, had not engaged in racial discrimination or violated Title VII of the federal Civil Rights Act - which specifically prohibits discrimination in the terms and conditions of employment.
A number of the plaintiffs who were fired for not changing their dress code have appealed.