Nando's hopes to reopen fully from Saturday after supply shortage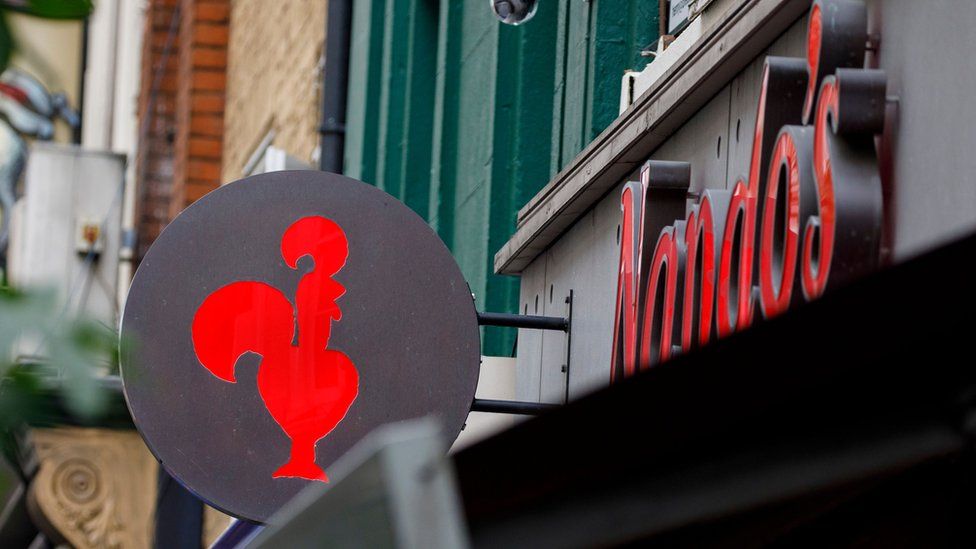 Nando's says it is hoping to reopen all its restaurants from Saturday after shutting about 50 outlets because of supply problems.
The chicken chain's restaurants were closed after it ran out of some food, including its popular peri-peri dish.
The group blamed the closures on staffing issues at its suppliers' factories.
Nando's said it seconded 70 staff to the suppliers to help "get things moving again".
A Nando's spokesperson said on Wednesday: "The UK food industry has been experiencing disruption across its supply chain in recent weeks due to staff shortages and Covid isolations, and a number of our restaurants have been impacted."
"However, since Monday, a team of our brilliant Nandocas have been supporting our key suppliers onsite - working in partnership to help get things moving again, and this has already had a positive impact on affected restaurants."
As a result it said it intended that all of its restaurants should be open again from this Saturday.
The South African-owned chain operates more than 400 Nando's restaurants across the UK.
The so-called pingdemic has hit food and other supply chains this summer, as staff have been forced to self-isolate if they have come into contact with someone with coronavirus.
Dairy giant Arla reduced supermarket milk deliveries last month, blaming lorry driver shortages.
Last week, KFC said some items were missing from its menus due to "disruption".
The shortages follow a stark warning last month from Ranjit Singh Boparan, founder of the country's largest supplier of supermarket chicken, the 2 Sisters Food Group.
"Supply of chicken and turkey is under threat. Our retail partners and the wider supply chain have worked together closer than ever before to ensure we retain food supply and this is of huge credit to everyone. But we are at crisis point," he warned.
The problem has also affected other industries, including carmakers, transport operators, restaurants and pubs.
From this week fully-vaccinated staff are no longer required to self-isolate which should help ease the pressure on businesses.