Travel changes make little difference, says airport boss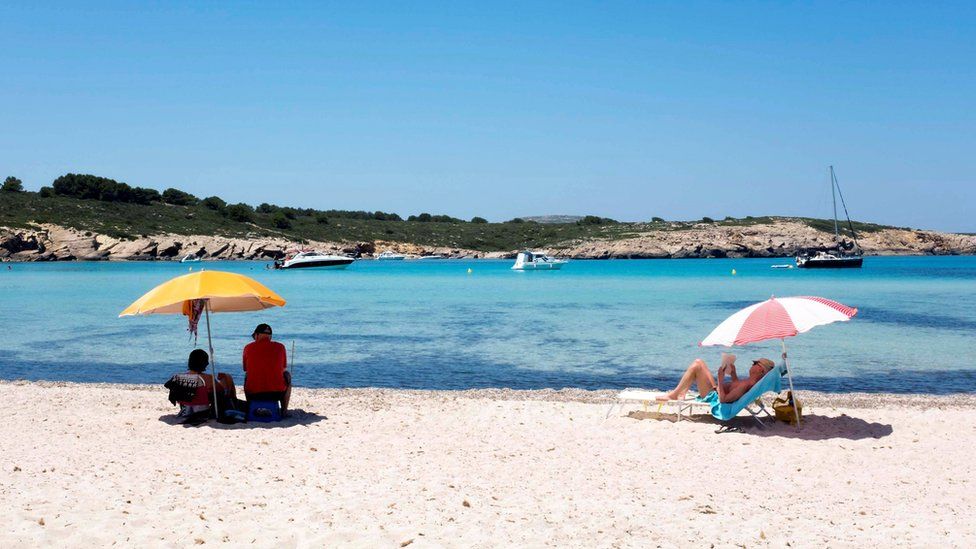 The boss of three UK airports has said the changes to the travel traffic light system will make "little difference" to the recovery of the travel industry.
Charlie Cornish, of Manchester Airports Group, said the UK was lagging behind Europe's recovery due to testing rules.
Seven countries, including Canada and Denmark, have been moved to the green list in the latest change to government's coronavirus restrictions.
But Mr Cornish called on the government to "overhaul" its traffic light system.
The chief executive of MAG, which operates Manchester, London Stansted and East Midlands airports, said most the recent changes might have a "positive impact" on those looking to book a holiday in the remainder of the summer season.
"But in reality, these changes will make little difference to the overall recovery of the UK travel industry, which is already recovering at less than half the pace of the rest of Europe," he said.
"Europe's stronger recovery has been driven by the removal of testing requirements on vaccinated travellers."
Mr Cornish said unless the government removed the need for fully-vaccinated people to take tests, it would "continue to squander the advantage our world-leading vaccination programme was supposed to deliver".
"We must arrive at a simpler, more affordable and sustainable travel framework to enable the best possible winter season and give customers the confidence to book ahead for 2022," he said.
A government spokesperson told the BBC its travel policy was guided by protecting public health.
Along with Canada and Denmark, Finland, the Azores, Switzerland, Liechtenstein and Lithuania are also moving to the green list.
Travellers coming from green list countries do not have to quarantine when they return, regardless of if they have had two doses of a coronavirus vaccine or not. However, they still have to be tested before leaving the UK and on their return.
Thailand and Montenegro have been added to the red list, which are considered the highest-risk destinations in terms of Covid. Only UK and Irish nationals can return from red list countries and they must self-isolate in a quarantine hotel.
The changes will come into force at 04:00BST on Monday.
Johan Lundgren, easyJet chief executive, said he was pleased to see more of Europe turning green.
However, he added: "We cannot understand the continued double standard that is applied to travel when the domestic economy is operating restriction free."
He also called on the government to remove "costly unnecessary testing requirements entirely" for people travelling from green listed countries, as well as for fully-vaccinated travellers returning from amber list destinations.
Sean Doyle, British Airways' chairman and chief executive, agreed with Mr Cornish that the UK's recovery was "far behind our more pragmatic European neighbours, which are already reaping the rewards of a rapid recovery".
"It cannot be right that although 77% of us have been fully vaccinated we have a much more costly, prohibitive and restrictive testing regime than everyone else," he said.
He added the government needed to "end the uncertainty" caused by the "constant threat of changes to countries' traffic light status".
"Our green list is much smaller than that of the US and EU, despite no new variants being transported into the UK," he added.
A government spokesperson said: "Decisions on our traffic light system are kept under regular review and are informed by the latest risk assessment from the Joint Biosecurity Centre and wider public health factors."
They added the government will have committed about £7bn of support to the travel industry by September.