BA warns of serious cost problems when furlough ends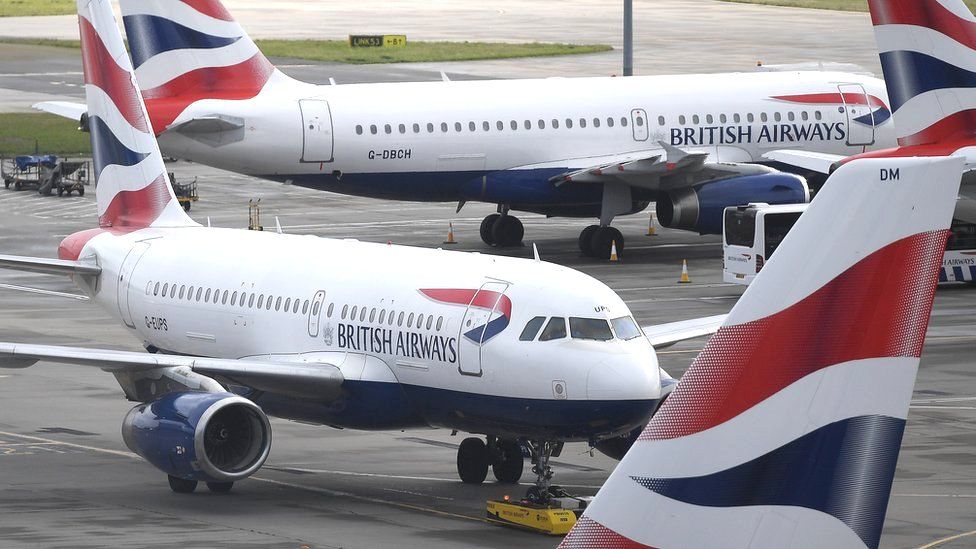 British Airways has warned it is facing a "serious" problem over wage costs which will "steeply increase" when the furlough scheme ends in September.
In a memo to staff, the airline said its flight schedule and staff costs will not line up in their current form.
BA said it believed this would be a temporary problem, but it was a "serious one which we need to manage".
The warning comes alongside plans to set up a lower cost subsidiary airline at its Gatwick base.
BA halted its short-haul flights from the airport at the start of the coronavirus pandemic. It said the new subsidiary would run alongside its long-haul Gatwick routes.
In its email to staff, the airline said the furlough scheme, which ends on 30 September, had been a "huge help".
However, it added that when it ends, "our pay costs will steeply increase, and any increase in costs is bad news".
"We know that our schedule and our operating costs for the rest of this year will not line up."
The email also said that the carrier had found itself in a "constant guessing game" when it came to changes in international travel regulations.
It expressed frustration at the chopping and changing of travel rules: "We hoped that our industry would be back on its feet this year, and that the journey to pre-pandemic levels of flying would be well under way.
"But the cautious approach of governments to the easing of global travel restrictions has undermined customer confidence, and recovery remains far behind where we need it to be."
In June, it emerged that BA had to place thousands of its workers back on furlough because of delays to the restart of international travel.
The airline had brought staff back ahead of restrictions easing on 17 May, but only a few countries were added to the UK's so-called green list which do not require travellers to quarantine on their return.
Commenting on the end of furlough and continued disruption to flight schedules caused by the pandemic, BA said: "This means we're going to have to be as flexible as possible when it comes to the way we work, to help mitigate the situation over the coming months.
"We are in discussions with your trade union representatives, who are as keen as we are to find a way through the winter season and into growth next year."
In April 2020, British Airways announced it would cut up to 12,000 jobs in response to the Covid crisis.
The government has previously said in response to industry concern over the end of furlough that it recognises the challenges faced by the aviation sector as a result of the pandemic.
It says it is supporting the industry, and that it will have benefited from £7bn in government support since the start of the pandemic to when furlough ends in September.
BA's owner, IAG, has been rebuilding flight schedules as restrictions ease, and has said it will operate at about 45% of passenger capacity between July and September compared with pre-Covid levels, possibly rising to 75% by the end of 2021.
The company, which also owns Aer Lingus and Iberia, revealed a loss of more than €2bn (£1.7bn) in the six months to the end of June.
In its email to staff, BA said short-haul flights from Gatwick had previously been "a highly competitive market, but for us to run a sustainable airline in the current environment, we need a competitive operating model".
"Because of that, we are proposing a new operating subsidiary to run alongside our existing long-haul Gatwick operation, to serve short-haul routes to/from Gatwick from summer 2022.
By Rebecca Marston, business reporter
Aviation nerds will recall BA has done this trip before.
Back in the late 1990s in the infancy of low-cost, no-frills air travel, BA launched Go, based at Stansted and its rival to upstarts Easyjet and Ryanair.
Although its elegant style proved popular with passengers, it didn't last long under BA, partly because of fears it was cannibalising too much of its established business. It ended up being bought by Easyjet, which was growing fast from its own base at Luton Airport.
The low-cost model, where passengers had to print their own ticket and check in themselves, without even a hot meal on board to reward them, took some getting used to but is now the standard way to fly.
BA ditched its own hot meals along with a range of changes as it was forced to chase down its own costs to keep up with those rivals. Its forceful attempts to do so were generally met by fierce opposition from its unionised workforce.
This time, as the whole industry faces the most challenging period since its inception, it looks to have the pilots union, for one, on board. As it cuts its workforce by around a quarter in response to the pandemic, its other unions may also feel impelled to follow the new route.
"This will help us to be both agile and competitive, allowing us to build a sustainable short-haul presence at Gatwick over time."
The British Airline Pilots Association said it was "cautiously" in favour of the plan.
It told the BBC on Thursday it was in the "final stages of negotiations" with BA over pay and conditions.
Acting general secretary Martin Chalk said the move would "create a number of much needed new pilot jobs".