How a monkey launched the pop-it toy craze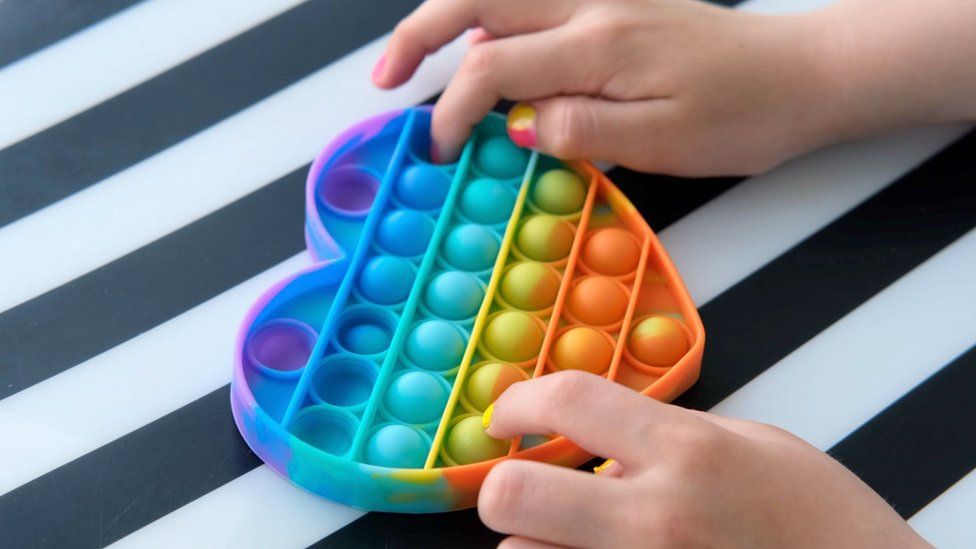 They are the 'must have' playground craze of the moment – as simple as they are irresistible. A rubber toy covered in small bumps which can be pushed in and out with a satisfying 'pop'.
Whether played as a game, a toy, or just used as a soothing way to calm down in these difficult times, pop-its appeared seemingly out of nowhere last year in shops, markets and online.
But this is an overnight sensation more than forty years in the making that owes its recent success to the influence of a capuchin monkey in North Carolina, with a very big social media following.
The original pop-it was the brainchild of two Israeli games designers - Theo and Ora Coster.
Between them they invented over 190 games, one of the most famous of which is Guess Who? – a face recognition game which has been sold in multiple language versions around the world.
Theo was born in Amsterdam in 1928, and was a classmate of Anne Frank, whose diary became one of the best-known accounts of the Nazi holocaust.
Theo survived the war by living with a non-Jewish family and changing his name from Morris Simon, which they feared sounded too Jewish.
He drove to Israel on a motorcycle in 1955, where he settled, and met his wife Ora, an art teacher. They merged their names to form their company name, Theora Design.
The pair started by making things for companies to give away as free gifts, including a very successful ice-cream stick which doubled as a construction toy. That made enough money to let them focus on designing games.
The first pop-it toy had a tragic inspiration, when Ora's sister, an artist, died of breast cancer in 1974, and Ora had an idea in a dream.
"She said, 'Theo, imagine a large field of breasts, ladies' breasts, that you can push the nipple.' She was very open, she said whatever was on her mind, to anyone," says Boaz Coster, Theo and Ora's son who runs the company with his brother Gideon.
"She went to him and she said, do a carpet of nipples that you can press from one side to the other. And he did just that."
The pair produced some prototypes, but the idea went nowhere, partly because the silicone rubber which today's pop-its are made from wasn't available.
A few years ago, the brothers dusted off their parent's idea which had been shelved since the 70s, and struck a deal with the Montreal-based games company, Foxmind.
It was repackaged as Last One Lost, a two-player game where players take turns to push the bubbles, and try to avoid pushing the last one.
Launched in 2014, it sold "a few thousands," says Boaz. But in 2019 it was picked up by the US retailer, Target.
"They started selling a bit more but still it wasn't very amazing, until someone created some movies and clips over TikTok and Youtube. And there was a specific clip with a little monkey that presses from one side and then turns it and presses from the other side."
"It was the essence of the idea that our parents thought of – and this made 500 million hits," says Boaz.
The influencer monkey's name was Gaitlyn Rae. She lives in Elizabeth City, North Carolina with her owners Jessica Lacher, who owns a farm, and Jessica's husband Paul who runs an irrigation company.
"Somebody sent her a pop-it for her birthday," says Jessica. "That was the first we had ever seen of them. I don't know if it was an original or whatnot, but then they started making all these other brands, and all her fans kept sending them and sending them. I mean, we have boxes and boxes of just pop-its."
The BBC is not responsible for the content of external sites.
And so the craze was born. You can now buy pop-it pineapples, dinosaurs, unicorns, pistols, Apple logos, even the children's TV character, Peppa Pig - none of them licenced by Foxmind or Theora Design.
"The assumption of sales is between 500 million to a billion copies," says Boaz.
"But 99.99 per cent of them are knock-offs," adds Gideon.
UK shops, for instance, their shelves groaning with pop-its, often have no official licenced products on sale at all.
And on Amazon in the UK, many of the Amazon's Choice and best seller items are also not licenced, while the official versions are hard to find, even if you type the company name or the official brand names – Last One Lost and Go Pop!
Amazon says it's working with Foxmind to protect its intellectual property rights – and the official products are listed more prominently in the US on Amazon.com.
The BBC contacted some of the companies selling unlicenced pop-its, but none would talk to us.
Foxmind, meanwhile, is planning to recapture some of that market with more innovative designs of its own. And they do what they can to fight the copycats in law.
Though they've made more money for pirate manufacturers than for themselves, the brothers are delighted by the creativity the family idea has unleashed.
Pop-its have been used to bake lavish sweets and cakes – while others have used them to help people with autism.
"We are not complaining," says Boaz.
Ora passed away a few months ago, in her nineties, happy that her invention had become a worldwide hit after all these years.
She was laid to rest in a cemetery in Tel Aviv beside her husband Theo who had died two years previously. Their gravestones are designed to echo one of the couple's most famous gifts to the world's players – the cards on 'Guess Who?'
"Much to our sorrow, our father never saw it," says Boaz. "But I know as a designer, I know he would be very appreciative."