Hardys wine owner warns of Christmas shortage risk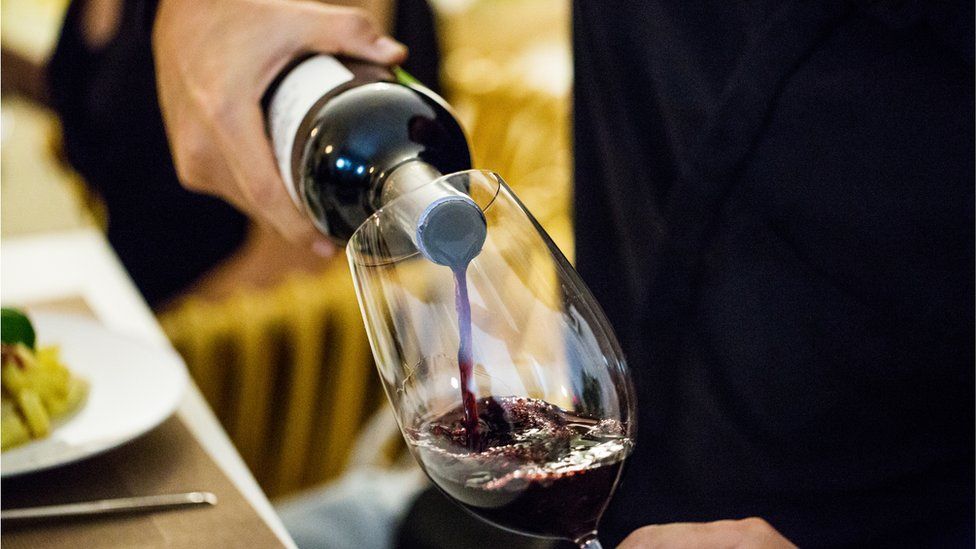 Accolade, the wine giant that makes Hardys, has warned that truck driver shortages could hit the busy festive season and push up costs.
Robert Foye, its boss, said the firm was being hit by external staff shortages, especially among suppliers, in distribution and delivery.
Companies operating in the UK are having to deal with a shortage of lorry drivers.
Firms including Wetherspoons and McDonald's have been affected.
Lorry driver shortages have also have been blamed on EU workers leaving the UK following Brexit as well as during the pandemic and tax changes making it more expensive for drivers from elsewhere in Europe to work or be employed in the UK.
Mr Foye said: "These shortages, if they continue, could definitely impact Christmas. We are trying to get ahead of it, but it does depend on the situation for the entire transport and trucking industry in the UK."
Mr Foye also warned that shortages could push up costs. "The only way we can mitigate this is if we work very closely with our trucking and transport suppliers and our customers. We have done some of that and are managing well so far, but ultimately costs will go up."
Australia's Accolade, the UK's largest wine firm and the world's fifth biggest, delivers 35 million cases to 143 countries every year.
Its brands include Hardys, Echo Falls, Kumala, Banrock Station and Stowells.
"Staff shortages are definitely there and there's a whole new group of employees that need to be trained, from truck drivers to restaurant staff," Mr Foye added.
Consumers are seeing the impact of driver shortages and supply chain strains, from McDonalds halting milkshake sales to supermarkets running out of Diet Coke.
The Road Haulage Association (RHA) estimates there is a shortage of about 100,000 drivers.
Marc Ostwald, chief economist at ADM ISI, said Western Europe and the US were experiencing similar shortages.
"All the anecdotal evidence suggests that the large pay rises and even signing-on bonuses have done little to alleviate the problem," he said.
"Christmas supply delivery problems are highly probable, above all due to the extensive lockdowns over the past two months in China and much of eastern Asia."
Accolade's large £100m Park facility in Bristol is the largest wine distribution centre in Europe, with capacity to fill over a million bottles per year and distribute more than 180 million litres of wine annually.
The industry has felt the effect of global lockdowns that restricted large swathes of the hospitality industry.
Mr Foye said that despite the lifting of UK restrictions, business was taking longer to get back to pre-Covid levels.
"In the UK you're 100% opened up, but because of the effect of Covid, because people's habits have changed and some outlets gone out of business, you're really only at 65% of the level of 2019 levels. We think it's going to take two years to get back to 90-95% level in the UK."
He added: "Jump over to US, they're opening extremely fast and are at the 90% level."
The firm, which pioneered wine blending back in 1853, predicts rising demand for low alcohol wine - defined as 9.9% alcohol content or less by Accolade - and is about to launch a zero-alcohol wine.
"No or low alcohol will grow 20% plus per year for the next five years and eventually be 15-20% of all wine," he said.
Australian wine makers are also weathering trade tensions with China after Beijing levied 200% tariffs on Australian wine in March.
China is the world's biggest red wine market and was the top buyer of Australian wine before the tariffs hit.
You can watch Robert Foye's full interview on Talking Business with Aaron Heslehurst this weekend on BBC World News: Saturday 23:30 GMT, Sunday 05:30 and 16:30 GMT, Monday 0730 GMT & 1630 GMT and Thursday at 07:30 GMT.
Note September 6 2021: This story was updated to include a broader context around lorry driver shortages after Brexit and the pandemic.