Pennies back in production as cash is hoarded during Covid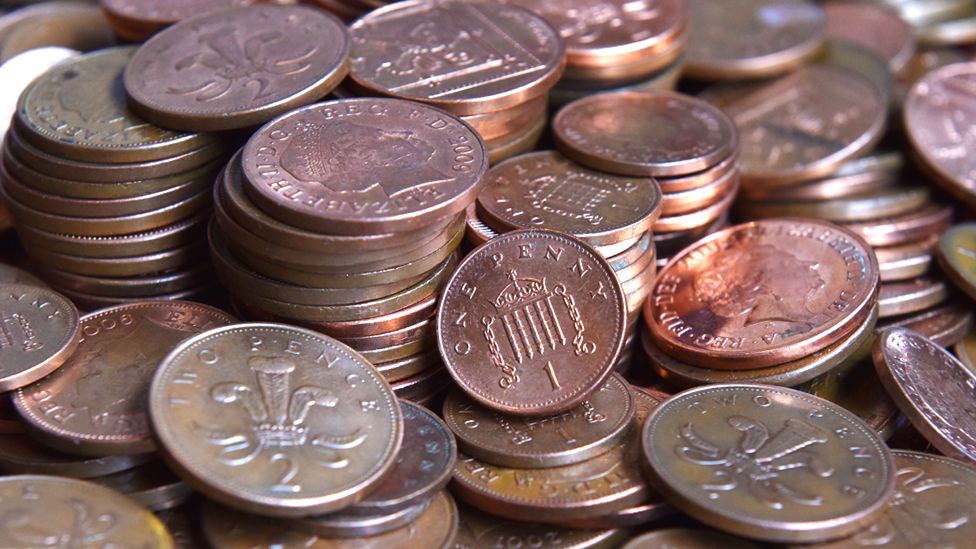 One penny coins were back in production last year after none were minted for general circulation in the previous two years, Royal Mint figures show.
Covid lockdowns meant that many coins were hoarded at home requiring some to be produced for use in the economy.
Banks recently called on people to donate unused loose change to charities after the pandemic hit fundraising.
Some 88 million new 1p coins were minted in 2020 - still well below the levels seen before the two-year pause.
The figures show that no new £2 coins have been minted for four consecutive years, and no new 2p coins have been produced for three years.
The Royal Mint has previously stated that it had no plans to resume production of these coins for 10 years, owing to a coin mountain that exists while demand has dropped.
Many more one penny coins have been produced over the years than 2p coins, for practical reasons. The general trend is a fall, owing in part to the rise in use of contactless cards for low-value purchases.
The limit for a single purchase on a contactless card will increase from £45 to £100 in October.
A spokeswoman for the Royal Mint said: "The volume and variety of coins which enter circulation is determined by demand from UK banks and Post Offices. When demand rises we consult with HM Treasury before manufacturing more coins."
The Mint has published full details of the variety of coins produced during 2020.
It said that 330 million coins were released into circulation, which is well down on production levels seen in recent history.
Among them were new 50p designs commemorating "Diversity Built Britain" and the UK's withdrawal from the European Union. Ten million of each of those designs entered circulation, making them relatively widely accessible.
The design was created by Christopher Le Brun and features the famous Chinese Pagoda at Kew with a decorative leafy climber twining in and around the tower.
Only 210,000 were released into circulation.
Almost all of them are now in collectors' hands, so the chances of coming across one in your change are slim.