The classic cars being converted to electric vehicles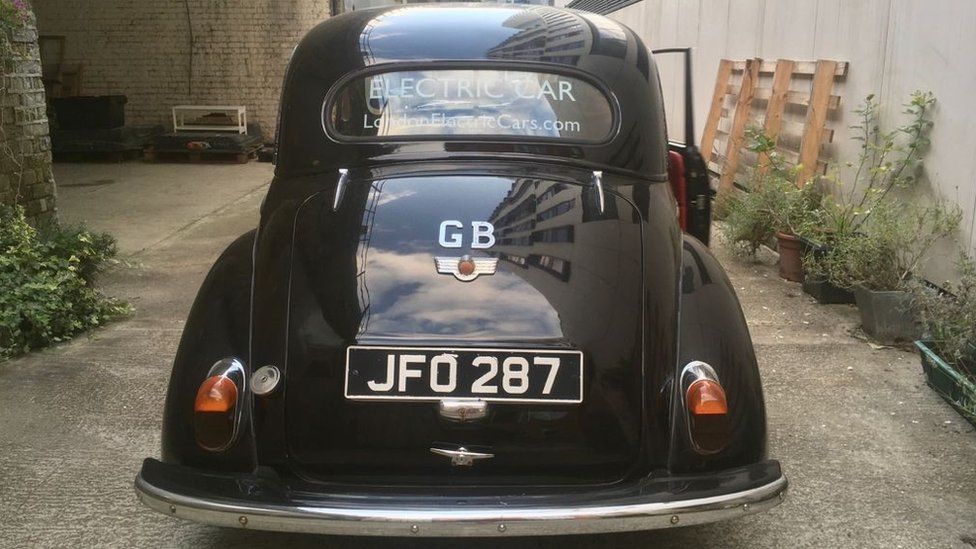 Oswald is a black 1953 Morris Minor. But he is as quiet as a mouse after having his fossil-fuel drinking heart replaced with a recycled electric motor.
Previously, the car's 68-year-old petrol engine would have masked most other sounds. But driving beside the Thames in London all you can hear are a few creaks, and the revving of motorbikes and other traffic passing by.
The image of electric vehicles (EVs) as sleek and futuristic is changing.
Oswald is owned by a man called Matthew Quitter, who on a mission to help save old gas guzzlers from the scrapheap, converted him to battery power, and set up a company called London Electric Cars back in 2017.
Working out of a garage under a railway arch in Vauxhall, the company replaces the combustion engines in classic cars with electric motors and batteries that would otherwise be scrapped.
These parts typically come from crashed EVs, such as Teslas and Nissan Leafs, that have been written off by insurance firms but have motors and batteries that are not damaged.
"We're the ultimate recycling," says Mr Quitter.
The firm currently charges around £20,000 per conversion, so not cheap. But the company says it aims to drive that cost down to £5,000 to make it affordable for more people.
"It's a disaster to waste the millions of old [petrol and diesel] cars on our roads, and the governments' EV rebates are encouraging scrappage," he says.
"The government needs to offer affordable conversions on cheap old cars, to make use of the scrapped EV batteries - which have raw materials that are still sky-rocketing in price," he adds.
Steve Drummond, who runs another firm that converts old cars to run on electric power - Oxford-based Electrogenic - agrees.
"The incentives are to buy new EVs, but that's throwing away a whole car when you could just change the engine," he says.
A spokeswoman for the Department of Transport says it is looking at the issue: "Retrofitting vehicles with batteries is an emerging market, and we're working with green travel researchers."
Plus, classic car insurance is typically cheap, at least if the vehicle does not do much mileage. However, if you convert your vehicle to electric power you are going to have to inform your insurance provider, and your premium may rise as a result.
What is certain is that converting an old car to run on electric produces less carbon dioxide (CO2) than making a new electric car.
Mr Quitter says it takes between three to six months to carry out a conversion, based on whether he has had the experience of converting that particular car and model before, and the complexity of a customer's wants and specifications.
New Tech Economy is a series exploring how technological innovation is set to shape the new emerging economic landscape.
Oswald has a 40-mile range, which Mr Quitter says is around a week's worth of driving in London and costs £1 to charge.
He adds, however, that some classic cars are more suited to electrical conversion than others. Aston Martins are apparently challenging because their light and nimble nature is "not done as well by electric yet", while Bentleys and Rolls-Royces are "made to be electric because they are built to drive smoothly".
Meanwhile, customers of old open-top Jaguars are said to prefer electric because they are no longer having to "drive around in a fog of their fumes".
At Electrogenic, Mr Drummond says that old Minis and Land Rovers are the cheapest classic cars to convert.
A lifelong car-lover - Mr Drummond's first job was washing-up in the kitchens at the the UK's National Motor Museum. But he says one of the most exciting projects he has worked on so far was creating the world's first version of an electric-converted Morgan sports car.
His firm is now converting all of the Glastonbury Festival's Land Rovers to electric power.
"We're making cars to be used, not just preserved," he says. "Most [petrol-powered] classics barely get people home, but we're increasing [driving] ranges and making them accessible.
"Those who just love the roar of an engine need to wake up and smell the coffee."
But for some classic car enthusiasts electric conversion is sacrilege.
"While I would never dictate what people chose to do with their cars... I advise people to think about the effect of changing our heritage by converting it," says Wayne Scott, director of the Federation of British Historic Vehicle Clubs.
"The soundtrack of the engine is part of the experience of the car, and what makes it special. Refitting that is like taking the best Rolling Stones album and re-making it on a Casio keyboard and trying to tell people it's the same experience."
He adds that if his Triumph TR8's four-litre engine was converted to electric it would "turn a fire-breathing, rumbling monster that everyone marvels at, into a rattley, drafty old car."
The annual distance covered by historic cars in the UK is less than 0.25% of the total mileage of the country's motor vehicles, according to the Department for Transport. Mr Scott argues that this statistic shows that there is no need to convert classics to electric for environmental reasons.
But David Lorenz, founder of the high-end electric car conversion firm, Lunaz, says that the classic car industry "needs to think about what we can do to make them relevant... a viable, sustainable prospect".
His firm has received investment from former footballer David Beckham, and charges up to £500,000 for a electric Rolls-Royce.
Mr Lorenz says that the "global push towards much more sustainable practices" is causing a "real feeling that it's time to re-balance behaviours."
"They're beautiful objects which are very much under threat, and there's a feeling that younger drivers want to preserve, and further the legacy of these cars [by making them electric]."