Covid travel test change date needed to avoid losses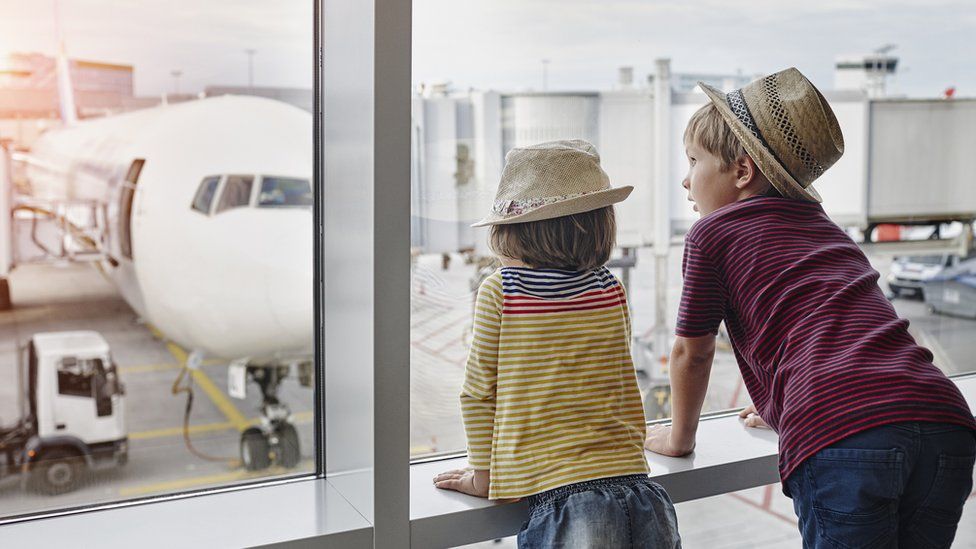 Aviation bosses have told the government they need to know the date for when PCR tests will be removed for travellers returning to England.
Without a confirmed date, aviation firms warned they stand to lose out on lucrative school holiday bookings.
The government has announced day two PCR tests will no longer be required for fully vaccinated travellers returning to England in October.
But the exact date for the rule change in October has not been set yet.
As part of an overhaul of the rules, Transport Secretary Grant Shapps said later in October, travellers would be able to replace the day two PCR test with a cheaper, lateral flow test.
Under the new testing regime, people who have had both coronavirus jabs will not need to take a pre-departure test before leaving any country not on the red list.
But Sophie Dekkers, EasyJet's chief commercial officer, said that the lack of a date could mean lost business in the half-term school holidays, which vary across the country.
"We would like to see that be removed before the start of that first half-term week," she told MPs at the Transport Select Committee.
"They just need to put a date on it. Saying later in October doesn't give people confidence to book."
Other contributors at the Transport Select Committee, which included British Airways and representatives from Heathrow and Gatwick airports, also called on the government to confirm the date that day two PCR testing would be removed.
John Holland Kaye, chief executive of Heathrow Airport, asked for a return to "frictionless travel".
Ms Dekkers said that while EasyJet "saw a good uplift" at the weekend with bookings, the industry had "missed the boat with the summer holidays".
She said that ideally, testing needed to be removed entirely because lateral flow tests also added to a family budget, at a cost of up to £40 per person.
In the wide-ranging session focused on the recovery of the aviation sector, bosses said they welcomed the travel changes that came last week, and the changes for US and UK travel that were announced on Tuesday.
But they argued that the UK aviation had been severely hit during the summer because of the traffic light system and testing. They said the UK lagged behind a much stronger market in the European Union where passenger numbers rebounded to some 70% of 2019 numbers.
"If we really want to be competitive we need to be on a level playing field, we need to accept that we have very high vaccination rates, as does most of the rest of Europe now," Ms Dekkers added.
The boss of Heathrow Airport called on the government to extend furlough to support its workforce and "protect jobs in hard hit local communities", while the boss of Gatwick Airport said half of his remaining 1,700 employees are still on the wage support scheme which ends this month.
There was hesitation as to how quick recovery will come for the sector. EasyJet said it was cautious for the next 12 months, with 2023 looking more successful, but Gatwick said some factors could lead to it not recovering to pre-pandemic levels until 2025-26.
Since the rule change announcement, Tui said it had seen "an uptick in bookings" for Turkey for next month, while online travel agency Skyscanner saw a spike in traffic in the 30 minutes following Mr Shapps's announcement.
The Transport Secretary, Grant Shapps, will answer questions from Transport Select Committee MPs on Wednesday.