Avro Energy and Green go bust amid warning more to come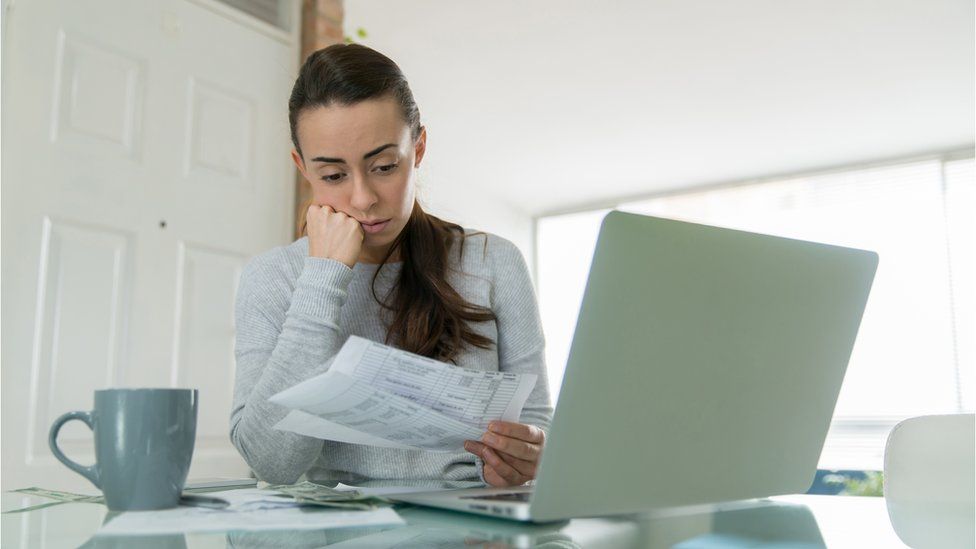 Avro Energy and Green have collapsed, becoming the latest firms to be brought down by the sharp rise in gas prices.
Combined with other recent failures, it means 1.5 million people are now facing a switch to a new, more expensive firm.
All affected customers will continue to receive energy while a new supplier is appointed by regulator Ofgem. Its price cap limits how much firms can charge.
Ofgem's boss earlier warned the rise in gas prices was "unprecedented" and meant more firms would go bust,
Avro Energy, the biggest supplier to exit the market so far, has 580,000 customers, while Green has 250,000.
Green, which employs 180 people, blamed "unprecedented market conditions and regulatory failings" for its collapse.
Since the sharp rise in wholesale gas prices - which firms complain they are unable to pass on to customers because of the price cap on energy bills - a number of small companies have collapsed.
They include People's Energy, Utility Point, PfP Energy and MoneyPlus Energy. Together, the recently failed companies account for more than 5% of the market, about 1.5 million customers.
Meanwhile Bulb, the UK's sixth largest energy company with 1.7 million customers, is seeking financing. And another firm, Igloo, has said it is working with restructuring consultants Alvarez & Marsal. But Igloo told the BBC it had not appointed administrators.
If an energy firm collapses, customers are automatically switched to a tariff provided by the new supplier. This is a payment plan agreed with the regulator Ofgem, but it may well be more expensive than the deal they had with the former company which went bust.
Customers are advised to not try and switch to a new supplier until they are contacted by whoever Ofgem appoints to take over their account.
Ofgem boss Jonathan Brearley, warned earlier more customers would be affected.
"We've already seen hundreds of thousands of customers affected, that may well go well above that. It's very hard for me to put a figure on it."
Appearing before the cross-party Business Committee on Wednesday, he declined to say if the number of customers that would eventually need new suppliers could run into "millions".
Mr Brearley insisted that Ofgem had plans in place to cope as the crisis developed. He told MPs that Ofgem "war-gamed" various scenarios.
A six-fold rise in wholesale gas prices since last year meant if was likely more firms would go under, Mr Brearley said, although he said commercial talks with the firms prevented him from speculating how many.
"It's not unusual for suppliers to go out of the market," he said. "I think what is different this time is that dramatic change in the costs that those suppliers are facing.
"We do expect more (suppliers) not to be able to face the circumstances we're in, but it's genuinely hard to say more than that, partly because that means predicting what may happen to the gas price."
Hundreds of thousands of savvy switchers who followed advice to shop around for a cheap energy deal will be left frustrated at the demise of suppliers of many of the most competitive tariffs.
As they are automatically shifted from a bust supplier to a surviving one, they will need to put that tendency to keep switching to one side.
Citizens Advice, the official consumer advocate for energy, says it is best to do nothing while that transfer is made. Any credit they have built up will be honoured.
While the continuation of their energy supply is guaranteed, their old contract is not.
They, and anyone else whose fixed rate is coming to an end, will find they are potentially paying hundreds of pounds more per year for their energy - although the damage is limited by Ofgem's price cap.
The problem is, if they look around for anything better, right now they are likely to draw a blank.
The Joseph Rowntree Foundation charity has warned that millions of low-income households will face a squeeze on their finances from October, when energy companies will be allowed to lift the maximum amount they charge for gas and electricity by as much as 12%.
And from next month, Universal Credit claimants face losing £20 a week.
Business and Energy Secretary Kwasi Kwarteng admitted the cut to Universal Credit could make it "a very difficult winter" for low-income families, and said he was speaking to Chancellor Rishi Sunak and Work and Pensions Secretary Therese Coffey "a great deal" on the subject.
What happens if your energy supplier goes bust?
Customers will still continue to receive gas or electricity even if the energy supplier goes bust. Ofgem will move your account to a new supplier, but it may take a few weeks. Your new supplier should then contact you to explain what is happening with your account
While you wait to hear from your new supplier: check your current balance and - if possible - download any bills; take a photo of your meter reading
If you pay by direct debit, there is no need to cancel it straight away, Citizens Advice says. Wait until your new account is set up before you cancel it
If you are in credit, your money is protected and you'll be paid back. If you were in debt to the old supplier, you'll still have to pay the money back to your new supplier instead
The head of trade body Energy UK Emma Pinchbeck said earlier that the sector had been fragile for a couple of years and the current gas crisis had exposed fault-lines in the market.
She said: "There's a short-term crisis here, which is in some ways out of our control - it's to do with the gas prices - but it's been exacerbated and arguably caused by our regulatory design."
Wholesale gas prices have spiked as economies reopened from Covid-19 lockdowns and high demand for liquefied natural gas in Asia pushed down supplies to Europe.
The surge in demand has sent shockwaves through industries reliant on natural gas.
On Tuesday, the government agreed to pay out tens of millions of pounds to US fertiliser firm CF Industries to restart carbon dioxide production. Its shutdown, due to high energy costs, had sparked concerns over food shortages.
Carbon dioxide, a by-product of fertiliser manufacturing, is used to stun animals, in fizzy drinks, and in food packaging.
In the energy market, small providers that had launched in recent years had been hit by the jump in costs even before the recent spike. From more than 70 suppliers in 2018, there are just over 30 now.
Please include a contact number if you are willing to speak to a BBC journalist. You can also get in touch in the following ways:
If you are reading this page and can't see the form you will need to visit the mobile version of the BBC website to submit your question or comment or you can email us at HaveYourSay@bbc.co.uk. Please include your name, age and location with any submission.