Food firms warn of panic-buying this Christmas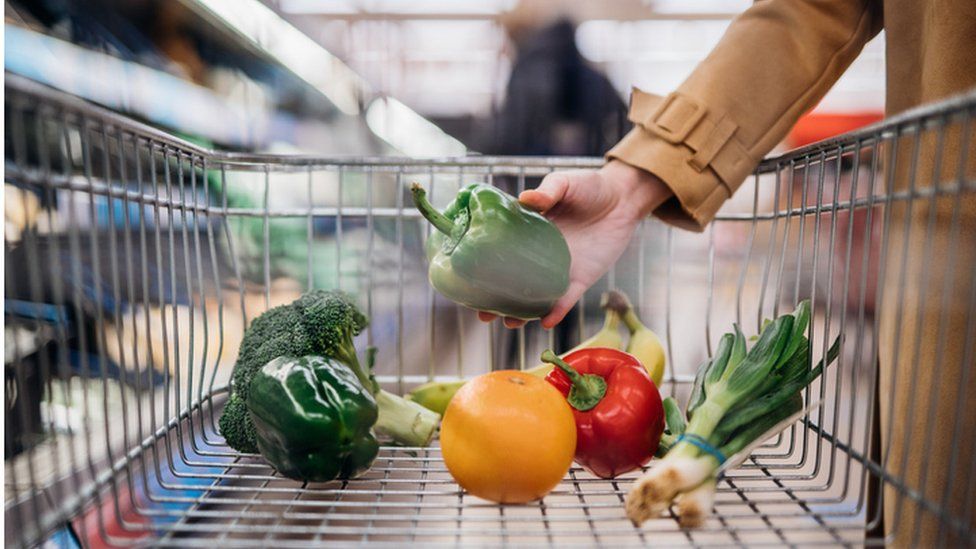 Food industry bodies have warned of panic-buying this Christmas unless action is taken to address labour shortages.
The National Farmers' Union (NFU) called for an emergency visa to allow firms to recruit from outside the UK.
UK farmers, hauliers and shops have been struggling with shortages that have been made worse by Covid and Brexit.
The government said that the UK has a "highly resilient food supply chain".
The head of the NFU, Minette Batters, wrote to Prime Minister Boris Johnson on Wednesday warning that the food and farming sector is on a "knife edge" due to a shortage of workers across the entire supply chain.
The letter, signed on behalf of a number of food and drink trade bodies, urged the government to introduce a Covid-19 recovery visa to open up new recruitment opportunities as a matter of urgency.
"Without it, more shelves will go empty and consumers will panic buy to try to get through the winter," Ms Batters wrote.
"That is why we must have an urgent commitment from you to enable the industry to recruit from outside the UK over the next 12 months to get us through the winter and to help us save Christmas."
She said it is "a travesty that this is happening in parallel with UK food producers disposing of perfectly edible food as it either cannot be picked, packed, processed or transported to the end customer".
"Every day there are new examples of food waste across the industry, from chicken to pork, fruit and vegetables, dairy and many other products. The food is there, but it needs people to get it to the consumers," Ms Batters said.
The letter was signed on behalf of other groups such as the British Frozen Food Federation, the British Meat Processors Association, Dairy UK and the Food and Drink Federation.
There was a report in The Grocer that Tesco, the UK's largest supermarket chain, had warned the government that panic-buying this Christmas could be worse than during lockdown.
However, Tesco later said: "We have good availability, with deliveries arriving at our stores and distribution centres across the UK every day.
"While the industry-wide shortage of HGV drivers has led to some distribution challenges, we're working hard to address these and to plan for the months ahead, so that customers can get everything they need."
The NFU has said that only 11% of seasonal workers in the 2020 season were UK residents.
Robert Newbery from NFU East Midlands said earlier this month: "Brexit is certainly having an impact. The people that could move freely within Europe before now can't."
In response to the NFU's call for support, the government increased the number of visas available under the Seasonal Worker Pilot (SWP) from 10,000 in 2020 to 30,000 this year.
There are also labour shortages in meat production, with a shortfall of abattoir workers and butchers.
The Association of Independent Meat Suppliers told the BBC in August the industry had about 14,000 job vacancies.
It said Covid, the UK's exit from the European Union (EU) and perceptions over career paths had caused a looming "recruitment crisis".
Hauliers and food firms have also been warning of a chronic shortage of lorry drivers, which they also ascribe to the pandemic and Brexit.
A government spokesperson said that the UK's supply chain is "highly resilient" and has coped well when faced with recent pressures.
They pointed out that the government earlier this year expanded its Seasonal Workers Pilot to 30,000 visas for workers to come to the UK for up to six months.
"We continue to work closely with industry to understand labour demand and supply, including both permanent and seasonal workforce requirements," they said.
Separately, the government has said it has taken action to prevent supermarket shortages with a deal to restart production at CF Industries, the UK's biggest producer of carbon dioxide.
The gas is widely used by the food industry to prolong shelf life.
Restarting production at the carbon dioxide plants is set to cost taxpayers tens of millions of pounds, after the government agreed to meet the full operating costs for three weeks.