Can you be coached on how to be happy?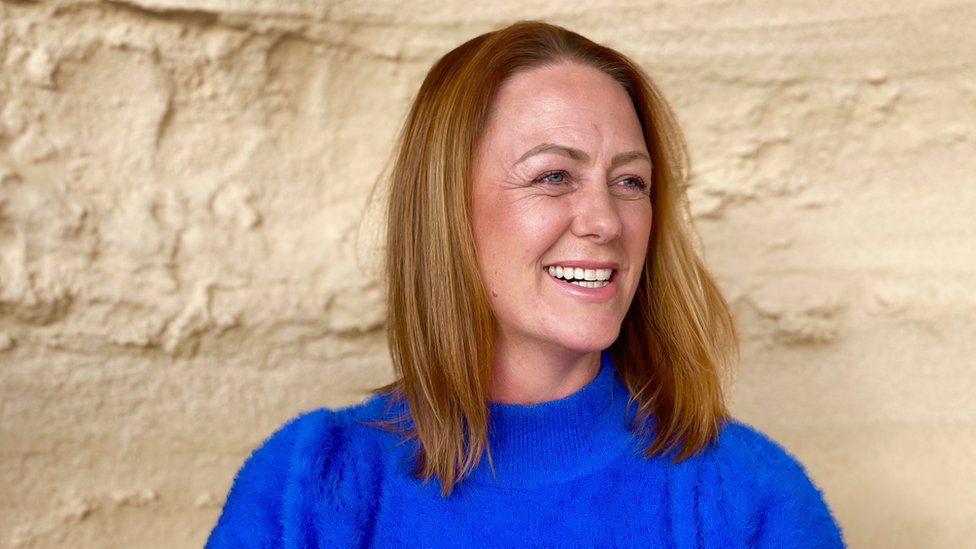 One trend fuelled by the pandemic is the growing popularity of happiness coaches but what exactly do they do and does it work?
When a smiling face offering a "happiness reset" popped up on her Instagram feed Sadie Mills was intrigued.
The 45-year-old British expat runs a property management business on the Spanish island of Ibiza.
Like many of us, she found that back at the height of coronavirus she was "in a state of alarm", and her "anxiety levels went through the roof".
"I was feeling stuck and a little bit lost... it was a worrying time," says Ms Mills.
So, she responded to the Instagram advert, and hired a happiness coach, with sessions taking place via Zoom. A type of life coach, they help people try to be, well, happier. They offer help, advice, support, and someone to talk to.
"A happiness coach is someone that helps you to see how to look at things going on around you from a positive point of view," says Ms Mills. "To look at the glass half-full, instead of empty. To count your blessings each and every day."
As happiness coaches are a relatively new thing the sector is still unregulated. So, you currently do not need training or a licence to become one. However, qualifications are available, and people are encouraged to pick a coach who does have such accreditation.
And it is vital to stress that if someone is feeling depressed then their first port of call should always be their doctor.
For her happiness coach Ms Mills hired Lydia Kimmerling, the founder of the London-based Happiness Explorer.
"The pandemic definitely made people stop and think more about who they really are, and what they really want," says Ms Kimmerling. "I was hearing this a lot from people."
Ms Kimmerling, 37, set up the company in 2010 and decided to be a coach while struggling with her own pursuit of happiness.
"I was stuck in what I call a happiness waiting game, saying to myself 'I'll be happy when I lose more weight, make more money, fall in love', she says.
"Then I realised that I hadn't been taking full responsibility for my happiness. I had been outsourcing it to the future."
To become a happiness coach Ms Kimmerling completed a three-year course accredited by the International Coaching Federation (ICF), a global non-profit organisation dedicated to professional coaching.
"I work with people to help them reach their goals, and create the quality of life they desire, by focusing first on who they are being, so, that as a result, who they are being changes what they are doing," she says.
"A happiness coach is very much like a life coach, however, they have a greater focus on you creating further happiness in your life through coaching rather than simply overall greater fulfilment."
New Economy is a new series exploring how businesses, trade, economies and working life are changing fast.
Ms Kimmerling says that since March 2020 she has seen her turnover increase threefold, and she now has 3,000 clients from all over the world, and a team of 10 other coaches.
Her company has 70% private clients and 30% corporate ones, with more businesses now hiring happiness coaches as the pandemic has put greater focus on the need to look after employees' wellbeing.
Janine Chamberlin, LinkedIn's UK manager, also puts this down to the impact of Covid-19.
"The pandemic has prompted a skills revolution as many of us have used time at home to invest in our own learning and development to help find a job, switch careers, secure a promotion, or boost our personal development and wellbeing," she says.
"Demand for professional, business, and life coaches has grown as a result."
Almost two thirds of people moving into life coach roles (61%) were female, Linkedin found, mostly working as freelancers.
And there are now 196,000 life coaches registered globally on its website, with 15,000 in the UK. Of these 1,600 worldwide are happiness coaches, with 116 in the UK.
However, the world of happiness coaches certainly has its critics. These include Eva Illouz, a professor of sociology at the Hebrew University in Jerusalem, and Edgar Cabanas, a doctor of psychology who is currently a research fellow at Camilo Jose Cela University in Madrid.
They are the joint authors of a book called Manufacturing Happy Citizens, in which they argue that happiness is very much dependent on social conditions, an aspect they say is ignored by the happiness industry.
For example, they would say that if you are struggling to find a job, ill, and unlucky in love, you are not likely to be feeling very happy.
"If the keys to happiness really existed, would not all of us be happy by now?" says Dr Cabanas. "One of the points of the happiness industry is that it does not sell happiness, but the idea that you constantly need to consume its products to achieve higher and higher levels of happiness."
Prof Illouz adds: "We do not deny that some people either have techniques to alter your mood, or are charismatic enough to do so. But a great deal of the coaching industry works like paracetamol over serious and bleeding injury.
"It may indeed alleviate pain, for a while, but it does not heal or address the source of the wound."
Others criticise the cost of happiness coaches, who typically charge anything between £60 and £120 per hour - they are certainly not something everyone can afford.
Meanwhile, qualified psychologist Stuart Duff, of UK firm Pearn Kandola, is concerned about the continuing lack of regulation regarding the happiness coaching sector.
He adds: "And it is very important to be fully aware of the importance of qualifications when it comes to depression, mental health and happiness.
"These are extremely important, potentially life-changing experiences and, in the hands of someone unqualified, could be damaging and made worse through inaccurate assessments and insights."
Yet back in Ibiza, Sadie Mills says she was grateful for the time she spent with her happiness coach. "She taught me great tools to use to stay positive. I do feel great, and I remind myself daily that I can choose my state of mind."
Additional reporting by Will Smale.