Amazon, Ikea and Unilever pledge zero-carbon shipping by 2040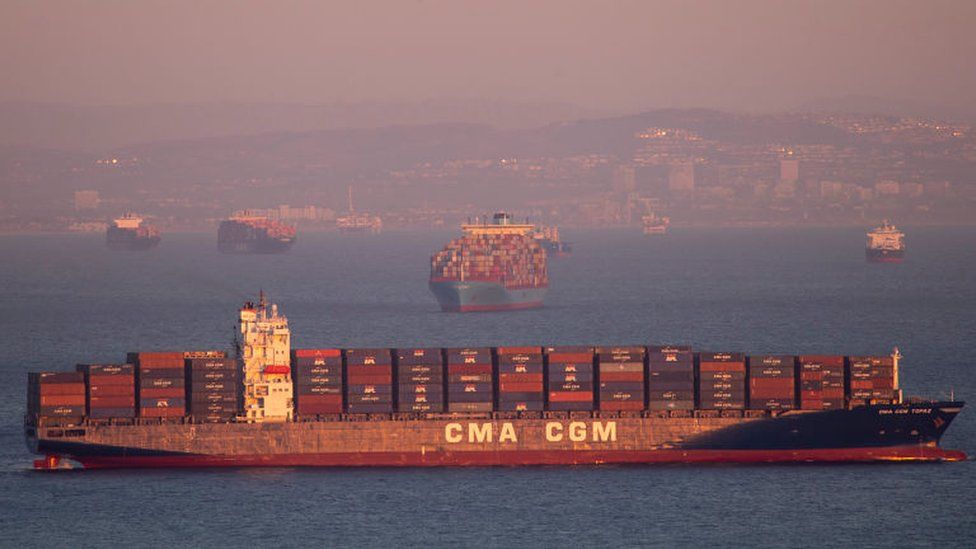 Nine big companies including Amazon, Ikea and Unilever have signed up to a pledge to only move cargo on ships using zero-carbon fuel by 2040.
They hope the "aggressive" target will push the heavily-polluting shipping industry to decarbonise faster.
Cargo shipping produces one billion tonnes of climate pollution each year - as much as the country of Germany.
But critics say shipping firms are not doing enough to meet Paris Agreement goals on emissions.
The Aspen Institute - the non-governmental organisation coordinating the campaign - expects other retailers and manufacturers that rely on maritime shipping to sign up.
"Maritime shipping, like all sectors of the global economy, needs to decarbonise rapidly if we are to solve the climate crisis, and multinational companies will be key actors in catalysing a clean energy transition," said president Dan Porterfield.
"We urge other cargo owners, value chain actors, and governments to join forces with us."
The companies pledging zero-carbon shipping by 2040 are:
Amazon
Brooks Running
Frog Bikes
Ikea
Inditex (owner of Zara)
Michelin
Patagonia
Tchibo
Unilever
With about 90% of world trade moving by sea, maritime shipping accounts for 3% of all global emissions. That could rise to 10% by 2050 if the industry continues to rely on carbon-intensive fuels, experts say.
The shipping industry also produces 10-to-15% of the world's manufactured sulphur oxide and nitrous oxide emissions, which can cause respiratory illness.
By Michelle Fleury, US business correspondent
Decarbonising the shipping industry doesn't come cheap. Some estimates suggest it will take well over $2trn (£1.45trn) of investment to get shipping to net-zero carbon dioxide emissions.
For the job to get done, most of the money will have to be spent on cleaner fuels - their production, storage and distribution. New designs for ships will also be needed.
Even before today's announcement some companies had already got the ball rolling.
Shipping powerhouse Maersk had ordered eight new vessels which are able to run on carbon-neutral methanol instead of an oil based fuel.
But at a cost of $175m each, and with delivery not for another few years, the industry will have to scale up quickly if it is to achieve the goal set by these companies.
Still, by raising the bar for the industry, the hope is that this will get the ball rolling on investment.
Under the Paris Agreement goals, the shipping industry must use zero-carbon fuels at scale by 2030, and be fully decarbonised by 2050.
But the International Maritime Organization, shipping's global regulator, is working on a strategy that would only require the sector to cut emissions by half by 2050 compared with 2008 levels.
The Aspen Institute said making the sector greener would not be easy given the long lifespan of maritime cargo vessels and the need to ramp up renewable energy production.
But it also said the shipping industry had failed to invest enough in transitioning to clean energy.
Amazon, which has been criticised for its environmental impact, said it was "thrilled" to sign the 2040 pledge.
"The time to act is now and we welcome other cargo owner companies who want to lead on addressing climate change to join us in collaboration," said Edgar Blanco, the firm's director of net-zero carbon.
Michelle Grose, head of logistics at Unilever, said: "By signalling our combined commitment to zero-emission shipping, we are confident that we will accelerate the transition at the pace and the scale that is needed."
But environmental groups Pacific Environment and Stand.earth said major retail brands needed to switch to zero-emissions ships by 2030 - a decade earlier than Tuesday's commitment.
They said this would ensure the shipping industry did its "fair share" to keep global warming under 1.5 degrees Celsius.
"Today's pledge is an important guidepost for the future of maritime shipping, but 2040 is simply too distant a horizon for the retail sector to address the enormous health and climate impacts from its cargo ships," said Kendra Ulrich, shipping campaigns director at Stand.earth.
"Cleaner shipping solutions already exist, and major retail brands like Amazon and Ikea must champion them."