Minimum wage for 23 year-olds to rise to £9.50 an hour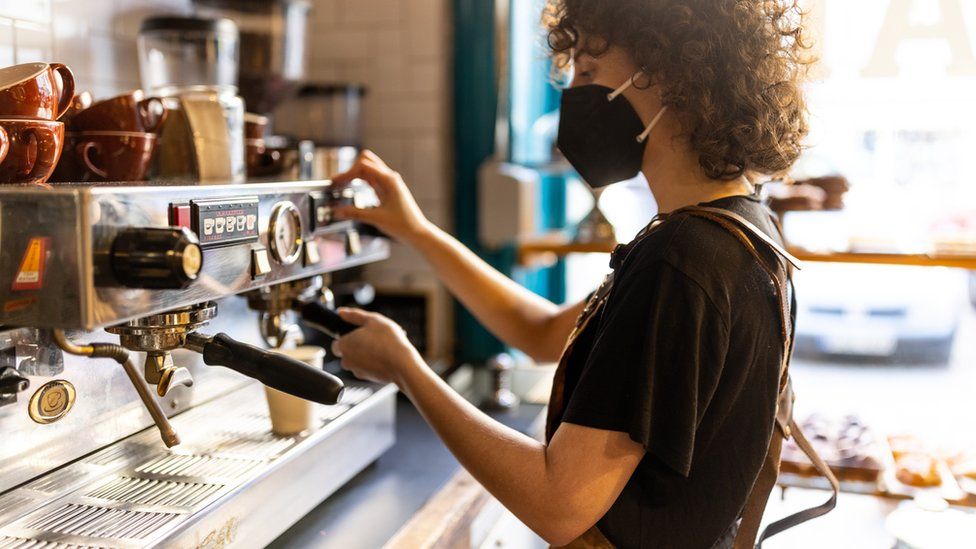 Workers on the minimum wage are set to get a pay boost from April, with the rate for those aged over 23 rising to £9.50 an hour from £8.91.
The rise means a full-time worker will get £1,074 extra a year before tax.
The move will be announced at this week's Budget and follows the recommendation of independent advisers, the Low Pay Commission.
The government has faced pressure to help low-paid, younger workers, who are among the worst hit by the pandemic.
The 6.6% increase in the minimum pay rate for those aged over 23 - known as the National Living Wage - is more than twice the current 3.1% rise in the cost of living.
Minimum pay rates for younger workers are also set to go up.
The National Minimum Wage for people aged 21-22 will rise from £8.36 to £9.18 an hour and the Apprentice Rate will increase from £4.30 to £4.81 an hour.
Chancellor Rishi Sunak said the rise "ensures we're making work pay and keeps us on track to meet our target to end low pay by the end of this Parliament".
But Labour's shadow chief secretary to the Treasury, Bridget Phillipson, described it as an "underwhelming offer" that would be mostly swallowed up by tax rises, universal credit cuts and higher energy bills.
Minimum wage increases from 1 April:
National Living Wage for over-23s: From £8.91 to £9.50 an hour
National Minimum Wage for those aged 21-22: From £8.36 to £9.18
National Minimum Wage for 18 to 20-year-olds: From £6.56 to £6.83
National Minimum Wage for under-18s: From £4.62 to £4.81
The Apprentice Rate: From £4.30 to £4.81
Finn Oldfield, 23, earns the National Living Wage for his communications job at the People's Powerhouse social enterprise.
He lives at home with his parents in Widnes, but said the increase would help him move to Liverpool city centre, which was unaffordable before the rise.
"It's hard if you're from a regional town. I have a politics and philosophy degree from Edinburgh University and thought I'd be able to find opportunities," Mr Oldfield told the BBC.
After graduating last year in the middle of the pandemic, Mr Oldfield found his role through the government's Kickstart scheme, which encourages six-month jobs with businesses for people aged 16-24 who are currently claiming universal credit.
"With no rent control and higher energy prices, I think this will offset perhaps the harshest of the blows that have come," he said.
"But I think there's more that could be done by the government to help with rising everyday costs."
Campaign group the Living Wage Foundation welcomed the increases, but said there was still "a substantial gap" between the government-mandated minimum wage and its own calculations of a real living wage based on living costs.
The foundation's director, Graham Griffiths, called on employers to "commit to go beyond this new government minimum, do the right thing, and commit to pay a real living wage".
'It's going to be a challenge'
Salima Vellani, founder of restaurant chain Absurd Bird, says although higher wages will be "tougher" on the hospitality sector, increasing the minimum wage "is the right move".
"It is hard work, it's unsociable hours, so if people are leaving the industry in droves, then we have to attract them back," she said.
"That's not just about pay, it's about training."
Ms Vellani said agreeing with the minimum wage rise "might be going against the grain, with all the labour issues we are facing", but added her company had been pushing up wages generally to retain staff.
"You're going to have to pass some of this on to consumers, if your costs are going up," said the restaurant owner.
"It's going to be a challenge for a lot of operators who are facing extreme costs.
"If we what produce is good enough, people will keep buying from us."
Nye Cominetti, senior economist at the Resolution Foundation, said the National Living Wage increase was "very welcome", but would "not remotely compensate" for the cut to universal credit.
He said the universal credit change affected 4.4 million families, whereas only 2.2 million workers were on the living wage.
The minimum wage that workers should get depends on their age and whether they are apprentices.
Employers often worry that a higher minimum wage will lead to more unemployment, and that they will be forced to lay off workers in order to afford the increases.
But independent experts maintain there has been little or no evidence of job losses as a result of rising minimum wage levels.
Giving millions of workers a 6.6% pay rise sounds generous and will be a welcome boost to many pay packets.
It also follows the government's - and particularly the prime minister's - narrative of pushing towards a higher-wage economy.
Yet this would be no bumper pay day for low-income families.
They spend a higher proportion of income than others on heating and lighting their homes. Hefty gas and electricity bill rises, on top of recent increases this month, are inevitable in the spring. Prices in the shops are going up and many economists believe the increases could last longer than previously expected.
Finally, a National Living Wage rise is not compensation for welfare cuts, such as a removal of the £20-a-week universal credit uplift, as the Institute for Fiscal Studies has consistently pointed out.
Not all of those receiving benefits are in work, and for low-income employees who are, a rise in wages can mean a reduction in their benefits.
Mike Cherry, chairman of the Federation of Small Businesses, said wage increases needed to be matched by support for smaller firms.
Meanwhile, the Confederation of British Industry called on the chancellor to use the Budget to help get more firms "investing to lift UK productivity".
"We all want to see a higher-wage economy, but the real challenge is how to do so sustainably," it said.
Emma McClarkin, chief executive of the British Beer and Pub Association, said that although a wage increase would be welcomed by staff, it was a "further cost increase for pubs who are still struggling to recover and face an uncertain future".
"It makes beer duty, business rates and VAT cuts in the Budget on Wednesday all the more important for the viability of our sector," she added.
Tom Ironside, director of business and regulations at the British Retail Consortium, said retailers supported the objective of higher wages and had been working hard to secure productivity improvements, so that those pay increases would be sustainable.
"This is made more challenging when retailers are currently grappling with an assortment of other government-imposed costs - higher National Insurance contributions, rising business rates, higher corporation tax - at a time when sales are slowing and supply chains are experiencing significant disruption," he added.
UK Hospitality chief executive Kate Nicholls said her industry was "committed to good and fair pay for its highly-valued staff" and called for further government support, including "immediate root-and-branch reform of business rates".