How will the US deal with a shortage of 80,000 truckers?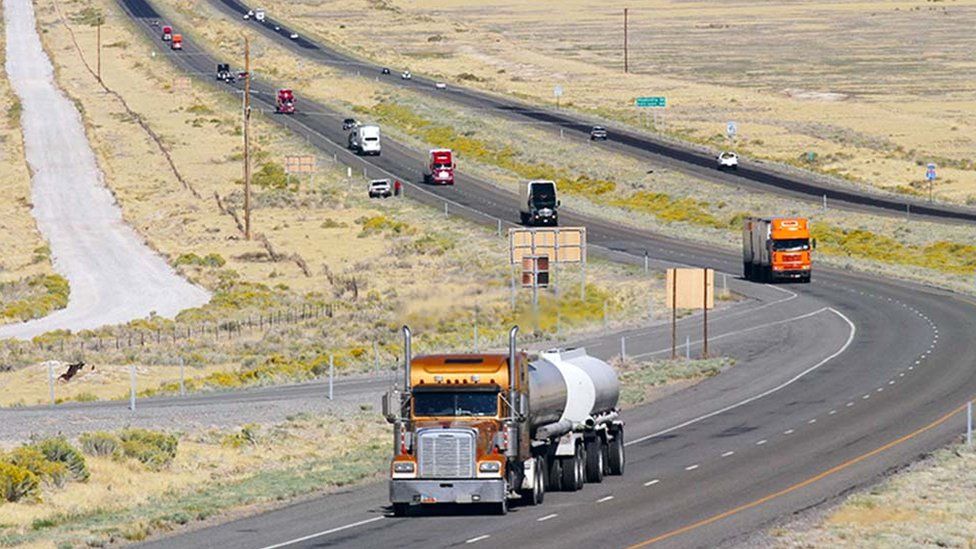 In an empty car park on the outskirts of New York, instructors at Sunny Truck Driving School put students through their paces.
They are training a new generation of lorry drivers, more commonly called truck drivers in the US, to help fill the gaps in a nationwide driver shortage - a situation that is adding to the country's supply chain problems.
This shortage of drivers is not new, but an increase in freight demand as the US economy reopened after lockdowns, waves of baby boomer retirements and the pandemic have made it worse.
The American Trucking Associations (ATA) estimates that the US is short 80,000 truckers - an all time high for the industry. And if nothing changes, the shortfall could reach 160,000 over the next decade.
The lack of drivers has made it hard to get products from ports to shop shelves and is driving up prices for a wide variety of products ahead of the winter holidays.
Since images of stranded shipping containers on the US West Coast emerged, the Long Island driving school - that's been around for more than 25 years - has seen the number of interested applicants who want to train as truck drivers grow.
"That has attracted people who weren't looking into this industry before," says the school's operations manager Tejbir Batth.
Waiting times to join its commercial driver's licence courses have tripled - rising from four to 12 weeks.
To keep up with demand, the school recently bought three new tractor trailers and has doubled its staff.
"It's a very good problem to have in a business, to grow and grow as fast as you can," he says.
New incentives and a change in circumstances due to the pandemic are enticing people in to train as truck drivers who perhaps weren't interested in the industry before.
"I see a lot of folks coming from, you know, grocery stores, from gas stations or even from city cabs," says Mr Batth.
When New York City shut down at the start of the pandemic, many taxi and ride-hailing drivers were suddenly left with no work.
Some are now moving into trucking, like Muhammad Sohail who is taking classes at Sunny Truck Driving School to obtain his Class A commercial driver's licence.
In the parking area, he is learning how to back up the truck and drive it around corners. He sees the trucking industry as a stable means of supporting his family.
"There are a lot of jobs, a lot of companies are hiring," he says.
A former Uber driver, he hopes to double his income and believes there are lots of opportunities, not least the possibility of one day starting his own trucking business.
According to the US Bureau of Labor and Statistics, the median pay for a truck driver in America is $47,130 (£34,700) per year. But, desperate for new blood, freight operators are offering better pay and sign-on bonuses - some as high as $10,000 (£7,360).
However, the shortage of drivers isn't just a pay issue. Despite the incentives, not enough people want to become truckers. Or if they do, they often don't stick with it.
Turnover in the industry is very high: the average annual turnover rate for long haul drivers at big firms is 90%, according to the American Trucking Associations.
Drivers burn out because the job is stressful and comes with big personal sacrifices - such as long periods of time away from family.
Covid has also led some drivers to bring forward their retirement plans. The average age of a truck driver in the US is around 49 years-old.
At a rest stop on the New Jersey turnpike, long haul truck driver, Brandon Whitehead enjoys a break. But often, after a 14-hour drive, finding a place to park can be difficult.
"They make us move and we shouldn't be moving our trucks. There are no facilities for us to use," he says.
Another frustration for this independent fleet owner from Chicago is rising fuel prices. Mr Whitehead, who owns three tractor trailers, says his workload hasn't increased but his costs have.
"It affects the bottom line," he explains, while waiting times also cut into his income.
Most long haul truckers are paid by the mile, not by the hour. This means he routinely waits four to six hours to load or unload at shipping facilities.
"And then that way now your day is over and you're late on the load and your pay is docked," he says.
When he first got behind the wheel eight years ago, Mr Whitehead was under no illusion how tough the job was. His grandfather and two uncles were truckers before him. Still, he understands why so many drivers end up leaving the business.
The schedule often means long hours on the road, with extended periods of time away from family. A father of five, he is only at home for four to six days a month.
"It's equivalent to being in the army because we're doing a service to America," he says. "Without the recognition, without the pride, without the respect and without the money."
The current crisis shows how heavily the US relies on these unsung key workers.
To help increase the number of available drivers, President Biden's infrastructure bill would let drivers as young as 18 drive a truck across state lines. - currently a driver has to be 21.
Over time the hope is this would significantly increase the workforce.
Increased focus on supply chain woes is leading to changes in America's trucking industry but they are not happening fast enough to reverse the current shortage of drivers.