M&S: Customers are Christmas shopping early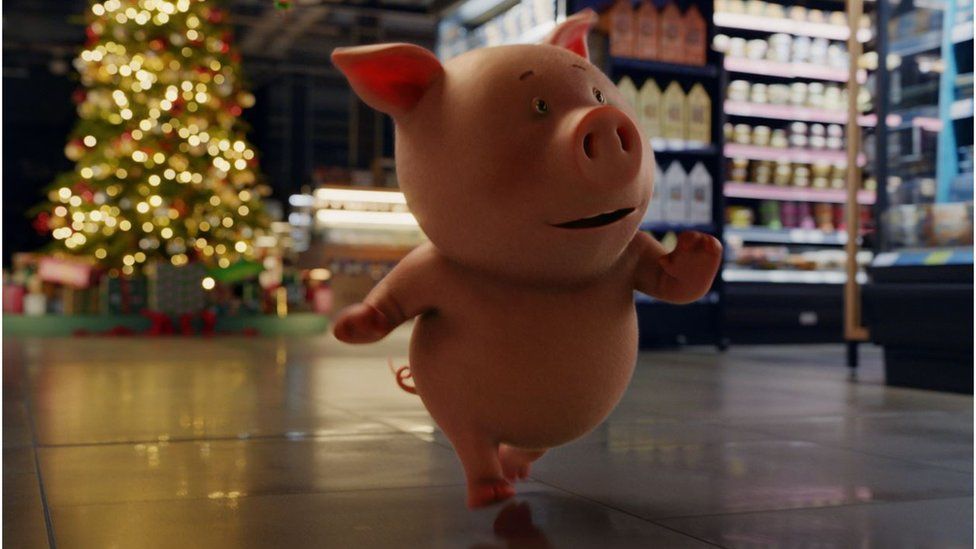 Customers are Christmas shopping early, retailer Marks & Spencer has said, with nearly half expecting to have finished buying gifts by the end of November.
Rival John Lewis said that many people were planning big family get-togethers after lockdowns last Christmas.
Retail expert Steve Dresser said people were "spooked about shortages of stock" and were budgeting in tough times.
In October, shop footfall was higher than in September, British Retail Consortium (BRC) data suggested.
Marks & Spencer said that many customers were shopping early and planning ahead, while nearly 40% were planning to do more to celebrate Christmas than prior to Covid.
More than two thirds (68%) were planning to have a big family Christmas, the retailer added.
A spokeswoman for John Lewis Group, which includes Waitrose, said customers were "making plans and getting ready earlier than normal".
She said that "after last year" customers were "keen to enjoy the festivities as much as possible this year".
Both M&S and John Lewis have launched their Christmas adverts slightly earlier than last year to try to entice people to buy from them.
Steve Dresser, managing director of Grocery Insight, said that people were buying early due to uncertainty.
This included being "spooked" by shortages of stock.
He said household finances were being squeezed by inflation including higher fuel and energy prices, and "shopping early is one way to spread the cost of Christmas".
Mr Dresser said that there was uncertainty as to whether coronavirus restrictions, which last year closed non-essential retail in London and the South East at short notice, would be brought back again.
He added there was a chance that stock "that lands very late in the season" could mean "that large mark-downs will have to be applied, almost reducing it as it goes on the shelf", which would be "bad news" for retailers.
Consumer confidence took a turn for the worse in October, according to research firm GfK.
People were concerned about the future of the UK economy "against a backdrop of cheerless domestic news" including "fuel and food shortages" and "surging inflation squeezing household budgets", Joe Staton, client strategy director GfK, said.
Retailers have "brought forward Christmas range launches to help smooth out supply chain bumps ahead of the peak trading period", said Sensormatic Solutions retail consultant Andy Sumpter.
People have been going to shops more compared with September, in part to do early Christmas shopping, Mr Sumpter said.
In October, footfall in shops was up 3.2% compared with the previous month, and UK footfall was ahead of Spain, Germany, Italy and France, according to BRC data.
But despite that October rise, footfall in shops is still substantially lower than pre-pandemic levels.
Footfall was down much less in north-west England, which saw an 8.7% fall, compared with London, where footfall was down 21.4% compared with 2019.
In total, across the UK, footfall in shops in October was down 13.7% compared with two years ago.
This drop has been somewhat balanced out by the rise in online shopping, although online buying has declined since a peak in the Covid pandemic, a BRC spokeswoman said.
In central London retailers have forecast that festive spending will hit £1.2bn, which is a third up on last year, but still half of 2019's pre-pandemic levels.
Crucially, though, trading rates are down by more than half, and "West End retailers are facing a challenging festive period due to the continued absence of high spending international travellers", the New West End Company said.
The company, which represents 600 retail, restaurant, hotel and property owners in Bond Street, Oxford Street, Regent Street and Mayfair, called for the government to bring back tax-free shopping for non-EU visitors, which was scrapped after the Brexit transition period ended on 31 December 2020.
Since those tax-free sales were ended, places such as Paris and Milan "have benefited from a 20% price advantage over the UK - a situation the West End desperately wants re-examined - pushing the UK further down the travel wish-list of festive holidaymakers, particularly high spenders from non-EU countries", the company said.