Walgreens, CVS, and Walmart fuelled opioid crisis, Ohio jury finds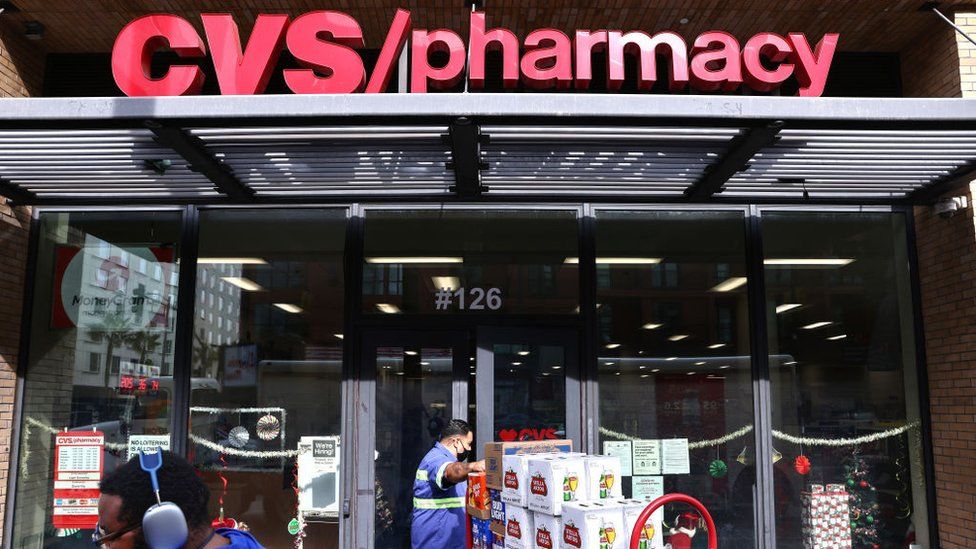 America's three largest pharmacies have been found to be liable for helping fuel a painkiller crisis in two Ohio counties, in a landmark case.
A federal court found that actions by Walgreens Boots Alliance, CVS, and Walmart helped create an oversupply of addictive opioid pills.
The scale of compensation, to be paid to the two Ohio counties, will be decided at a future hearing.
CVS said it would appeal against the judgement.
The other retailers, who all contested the cases, did not immediately comment.
Over the last two decades, millions of Americans have become addicts through over-prescription and abuse of legal opiate-based painkillers such as Fentanyl and OxyContin.
Nearly 500,000 deaths were attributed to painkiller overdoses between 1999 and 2019.
Local and state governments say the painkiller epidemic put huge strain on their resources as they tried to tackle it through social programmes and the legal system.
There are around 3,300 other cases being brought in an attempt to recoup some of those costs from firms that profited from the sales of the painkillers.
As well as the pharmacy chains, big pharmaceutical companies and medical professionals have been accused of turning a blind eye to the problem.
Lawyers for the two Ohio counties, Lake and Trumbull, said the costs are potentially $1bn for each county, to cover social and legal expenses related to the impact of the opioid epidemic.
"The judgement today against Walmart, Walgreens and CVS represents the overdue reckoning for their complicity in creating a public nuisance," they said in a joint statement.
They argued that the pharmacies created a public nuisance by failing to ensure opioid prescriptions were valid allowing excessive quantities of addictive pain pills to flood their communities.
Walgreens Boots Alliance, CVS and Walmart denied the allegations, saying they had taken steps to prevent painkillers being diverted from their intended legal use.
CVS in a statement said it strongly disagreed with the verdict and would appeal.
"As plaintiffs' own experts testified, many factors have contributed to the opioid abuse issue, and solving this problem will require involvement from all stakeholders in our healthcare system and all members of our community," CVS said.
Other cases around the country are relying on the "public nuisance" argument to target the companies involved in making and distributing the opioid painkillers.
However earlier this month courts in Oklahoma and California rejected it as a legal argument in cases against drugs makers.