Wall Street watchdogs probe Trump media firm deal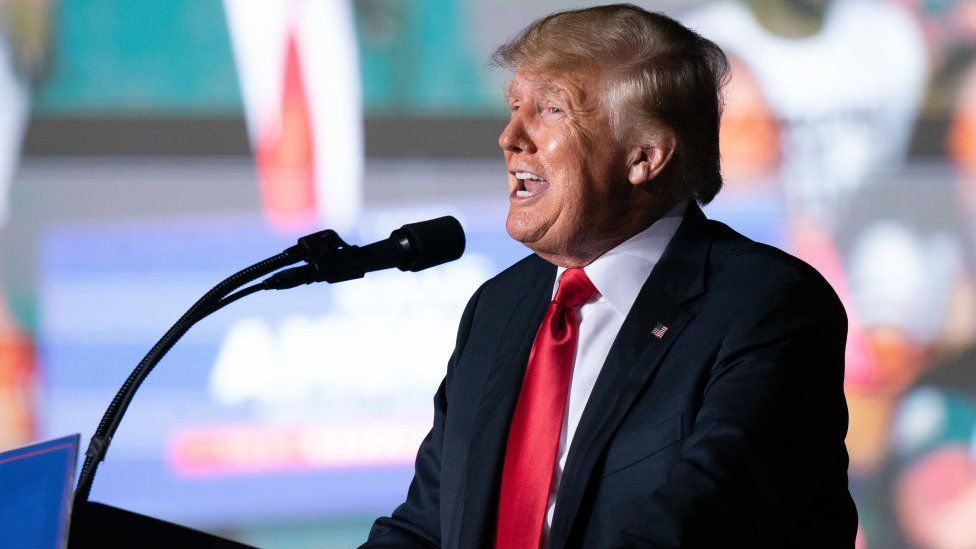 Donald Trump's deal to float his social media firm on the stock market is being investigated by Wall Street watchdogs.
Regulators are probing Digital World Acquisition Corp, the firm set to merge with Trump Media and Technology Group (TMTG).
According to a filing on Monday, the US Securities and Exchange Commission (SEC) requested documents about its investors and trading.
TMTG plans to launch a social media app called Truth Social early next year.
The filing states that the SEC also asked to see information detailing the relationship between Digital World and TMTG.
It also said that the Financial Industry Regulatory Authority (FINRA) is probing the deal as well.
The SEC told the BBC it does not comment on the "existence or nonexistence of a possible investigation".
The BBC has contacted TMTG for comment.
The SEC was requested by Democratic Senator Elizabeth Warren last month, to investigate the proposed merger of the two firms for potential violations of securities laws.
Digital World is a so-called special purpose acquisition company (Spac) or "blank cheque company".
Spacs, which became a major story in the US stock market at the start of this year, are shell companies that are set up with the sole purpose of merging with a private firm to take it public. However, they have lost much of their lustre after some of the companies that merged with them failed to deliver on their ambitious financial projections.
On Saturday, Mr Trump's firm said it had secured $1bn from "a diverse group of institutional investors" without revealing who they were. According to reports, the social media venture is now valued at almost $4bn.
The former US president is still banned from Twitter and Facebook following the 6 January attack on the US Capitol.
At the time he was banned Mr Trump had 89 million followers on Twitter, 33 million on Facebook and 24.5 million on Instagram, according to a presentation on his company's website.