Starbucks to get its first unionised US store since 1980s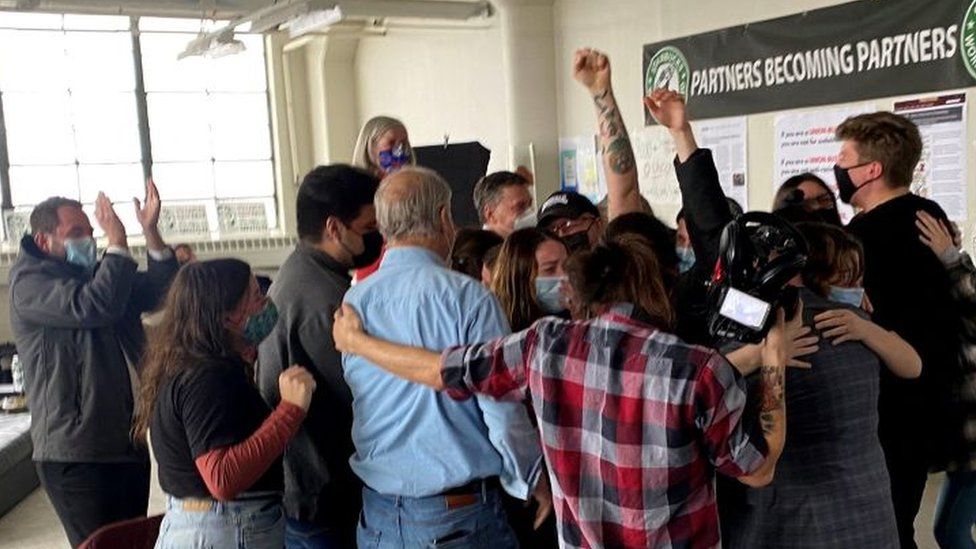 Staff at one Starbucks coffee shop in New York state have voted to establish the first labour union at one of the chain's own stores since the 1980s.
Out of a staff of 27, 19 voted in favour at Elmwood Avenue, Buffalo.
Despite the small numbers involved, the vote is likely to rattle the giant coffee chain brand.
Starbucks had pulled out all the stops to persuade staff to vote against unionising, including flying in top executives.
Campaigners for the union gathered in Buffalo to watch the vote be counted via Zoom and cheered as the result was announced.
However staff at a second Buffalo store voted against establishing a union. The vote at a third is not yet resolved as some of the ballots are under review. In all, about 100 baristas and supervisors took part.
Starbucks workers in Buffalo began the campaign to unionise in August, saying they were overworked, but not listened to by the company.
The mobile app in particular has added to their workload, they said, by enabling multiple complicated orders to arrive in quick succession, which they are then under time pressure to fulfil.
The vote could set a precedent at the coffee chain, which has more than 8,000 company-owned stores across the US, none of which have been unionised since the 1980s.
Staff at three further locations in Buffalo and one store in Arizona have already applied to unionise.
'Bullying and intimidation'
The vote was held in the face of an all-out campaign by the company over the last four months to persuade staff to vote no.
Executives, and Starbucks founder Howard Schultz, were flown into Buffalo to lobby employees. They held meetings, sometimes individually with staff, and sent texts asking them to vote "no".
According to Workers United, the union to which the new Starbucks branch will be affiliated, the Buffalo stores were flooded with out-of-town Starbucks managers to try to discourage discussion of the issue among staff.
This amounted, the union said, to a campaign of "bullying and intimidation".
The coffee chain, which recently announced that it would be lifting its minimum wage to $15 an hour by next summer, has stressed that it is not anti-union, but argued that the issues raised by workers did not justify establishing a union.
Starbucks had said having to deal with a union would complicate the company's ability to respond quickly to its workers' needs.
"We want every partner to love working at Starbucks. We will keep finding new and better ways to continue leading on wages and benefits, improve our listening and active partnership, and keep building a company that matters," Rossann Williams, president of Starbucks North America, said in a letter to Starbucks employees after the vote.
Starbucks, which describes its staff as "partners", offers better pay and conditions than many service sector outlets, including healthcare benefits, equity in the form of stock, paid parental leave and free online college tuition.
It also reflects the progressive values of many of its staff with Fairtrade initiatives and anti-racism training.
"I think that a lot of us have a rose-tinted view coming into Starbucks because of those things," said Casey Moore, 25, who works at one of the Buffalo stores that has not yet voted. "The reality when you're in the stores is quite different.
"I've left crying because of the way customers treat us. They treat us like coffee robots."
She said Starbucks' focus on productivity had led to compromises on staff safety in relation to Covid.
"The pandemic was a catalyst, for certain," said Michelle Eisen, who has worked at Starbucks for more than a decade.
"But working conditions began to decline before that," Ms Eisen said, adding that she is paid only $1.20 more per hour than new hires.
In August, staff at several Buffalo stores said their workload had become untenable because of absences and high customer demand.
"We acknowledge there are some great benefits [at Starbucks]. The main issue is we don't have a voice. There's no accountability when we do have a problem," said Will Westlake, a 24-year-old barista who has worked at the Camp Road Starbucks in Buffalo since May this year.
The vote comes against a backdrop of growing influence from the US labour movement.
With many firms struggling to recruit enough staff, workers are in an unusually strong position when asking for enhanced rights or higher pay.
Support for unions has risen to a 50-year high, according to a poll conducted by Gallup in August. It showed 68% of Americans now approve of labour unions.
Industrial action has interrupted work at a range of firms in the last few months, including cereal maker Kellogg's, tractor manufacturing firm John Deere, snacks makers Mondelez and Frito-Lay and the McDonald's burger chain.
Buffalo, New York state's second largest city, has a history of strong support for the labour movement, with a higher proportion of workers unionised than in most parts of the US.