BT: Billionaire Patrick Drahi raises stake to 18%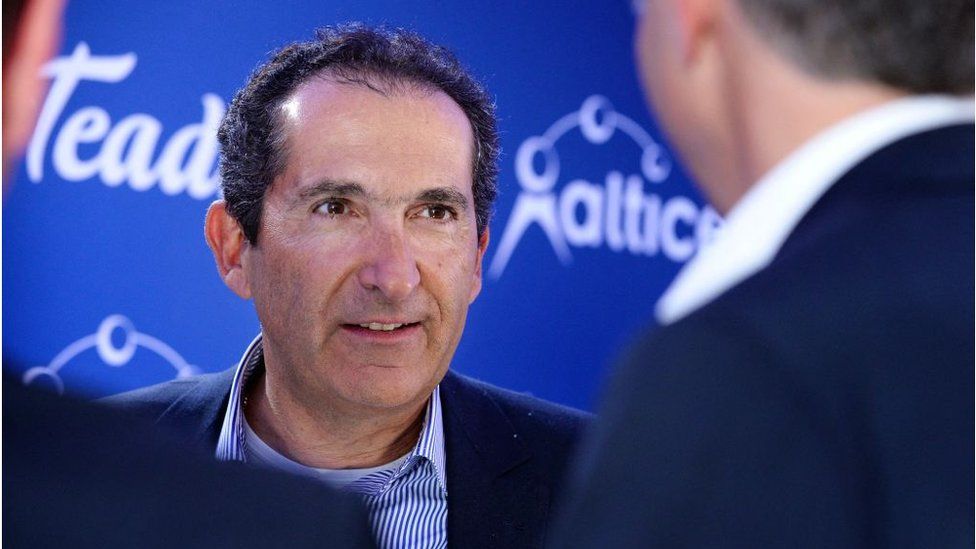 Billionaire Patrick Drahi has raised his investment in BT amid growing speculation that the telecoms giant could face a takeover bid.
The Israeli-French businessman took his stake from 12% to 18%, prompting an immediate government response that it would intervene if necessary.
His company, Altice, said it had no plans to make a full bid, but that could change if circumstances do.
Mr Drahi stake-building in BT sparked rumours about other possible bidders.
The businessman, who also owns auction house Sotheby's, first began buying BT shares in June.
Altice said in a statement: "Over recent months we have engaged constructively with the board and management of BT and look forward to continuing that dialogue.
"We continue to hold them in high regard and remain fully supportive of their strategy, principally to play the pivotal role in delivering the expansion of access to a full fibre broadband network - an investment programme which is so important to both BT and to the UK."
However, his move prompted the government to warn it could intervene if required, with ministers concerned that any pressure on BT to cut costs could affect the ongoing broadband rollout.
A spokesman said: "The government notes the latest acquisition of BT shares by Altice. We are monitoring the situation carefully.
"The government is committed to levelling up the country through digital infrastructure, and will not hesitate to act if required to protect our critical national telecoms infrastructure."
What is French billionaire Patrick Drahi up to?
His purchase of just over 12% of BT six months ago made him the largest shareholder, just ahead of Deutsche Telekom (DT), which owns 12%.
Mr Drahi now has 18% - 12% short of 30% - at which point the takeover rules would force him to make an offer for the whole company.
Sources close to Mr Drahi insist it is a coincidence that is the exact size of the DT stake.
The government has made it very clear that it would "not hesitate to act if required to protect our critical national infrastructure".
Tougher rules to prevent foreign takeovers of key assets come into force in January next year, but it could block a takeover under the current rules.
So what's Mr Drahi's game? Sources say Mr Drahi recognises three things.
Firstly, BT is in a strong market position with a government backing its big digital infrastructure investment plans.
Secondly, the current shareholder structure is unstable. Deutsche Telekom have had their stake parked in their employee pension fund for nearly a decade and the DT boss has said recently he exepects "something to happen" in the next 12 months.
Third, when something happens, Mr Drahi would like to have a seat at the table.
I understand that Mr Drahi has not asked for a boardroom position yet.
For now, he is happy to sit with a large chunk of a company he thinks is undervalued.
Takeover rules mean he has wait a further six months anyway.
But at some point, something's got to give. And when it does, Mr Drahi plans to be - in investment banking basketball patter - "around the hoop".
BT said it noted the purchase, adding that it would "continue to operate the business in the interest of all shareholders and remains focused on the successful execution of its strategy and building on recent performance momentum".
Altice said "it does not intend to make an offer for BT".
Under British takeover rules, that bars Mr Drahi from making such a move for six months.
Mr Drahi announced in June that he had bought a 12.1% stake in BT, worth £2.2bn at the time.
Born in Morocco to a Jewish family in 1963
French, Israeli and Portuguese citizenship
Lives in Switzerland
Founded Altice, now France's second-largest telecoms group
Owns Sotheby's, and assets in France, the US, Portugal and Israel
Worth $7.6bn (£5.7bn), and is one of the world's top 200 billionaires, according to Forbes
After the Brexit referendum, the pound slumped against the dollar and the euro, and it is still below 2016 levels.
This gives foreign firms interested in getting hold of UK firms more buying power than prior to Brexit.
In addition, UK shares "remain cheap because of the perceived significant political and economic risks of Brexit, which continue to linger and depress the valuation of the UK stock market," Sue Noffke, head of UK equities at Schroders said in November.
She added that the "valuation discount is completely unwarranted", but "as a result UK-listed companies continue to be picked off by overseas private equity buyers" and "overseas industry peers".
Due to low interest rates, debt is very cheap, and before Omicron concerns surfaced, investors were also cheered by a global economic recovery from the Covid pandemic.
In the first seven months of 2021, UK takeovers hit a 14-year high.
Shares in BT fell 7% in morning trading in London, and over the past five years its shares have more than halved in value after low growth.
The 175-year-old company is in the middle of a transformational programme to build a £15bn national broadband fibre network, a strategy crucial both to the company and the government, which says it wants to boost regional growth.
Online shopping and home working using the internet have increased in importance due to the pandemic, all of which make BT a tempting takeover target.
While British governments have in the past welcomed foreign investment and takeovers, any full bid for BT would put ministers in a difficult position due to the company's role in protecting national security.
Any bidder for BT would also have to face competition scrutiny.