Wordle inventor 'overwhelmed' as New York Times buys game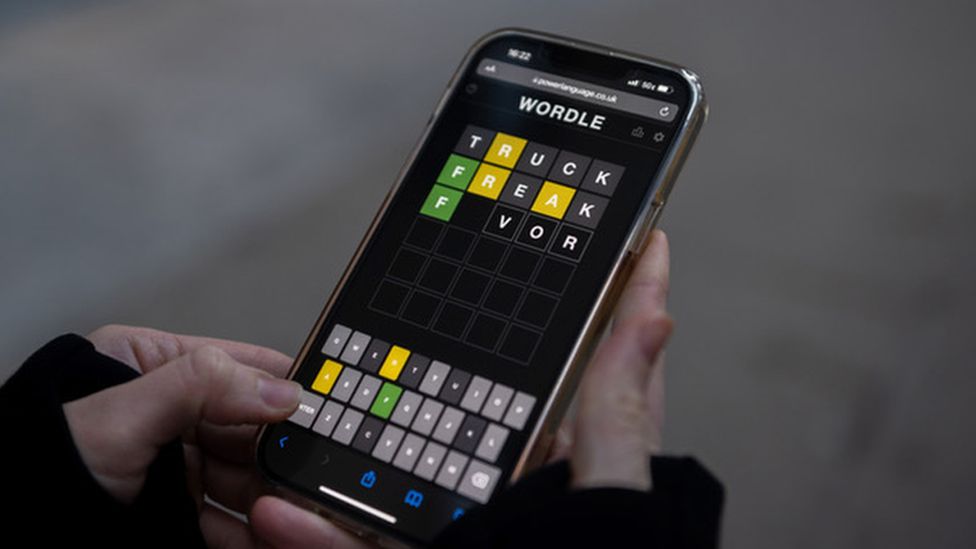 The inventor of word game sensation Wordle has spoken of being overwhelmed by its success, following a sale to the New York Times (NYT).
Software engineer Josh Wardle released the free simple online game in October, and has now sold it for an undisclosed seven-figure sum.
He said the game, which has millions of players, "has gotten bigger than I ever imagined. It has been incredible."
The NYT wants to use the game to boost its online subscriptions.
The media group said it will "initially remain free" to play, raising questions that the intention in the long term is to charge.
Mr Wardle always wanted the game to remain free, but the unexpected success of something he devised during lockdown for just two people - him and his partner - has come as a shock.
He took to Twitter to thank users for sharing touching stories about the effect the game has had on their lives and relationships, adding that he was "thrilled" about the takeover.
He said: "It has been incredible to watch the game bring so much joy to so many and I feel so grateful for the personal stories some of you have shared with me - from Wordle uniting distant family members, to provoking friendly rivalries, to supporting medical recoveries.
"On the flip side, I'd be lying if I said this hasn't been overwhelming. After all, I am just one person, and it is important to me that, as Wordle grows, it continues to provide a great experience to everyone.
"Given this, I am incredibly pleased to announce that I've reached an agreement with The New York Times for them to take over running Wordle going forward."
The game challenges players to find a five-letter word in six guesses.
A new puzzle is published every day and players can post how quickly they solved the colourful grid on social media - but in a way that does not spoil the answer for those still playing - which is why, Mr Wardle said, it managed to capture the imagination of so many users.
Mr Wardle announced the deal in a statement posted on Twitter, saying he had "long admired the NYT's approach to their games and the respect with which they treat their players".
The BBC is not responsible for the content of external sites.
Skip twitter post by Josh Wardle
Allow Twitter content?
This article contains content provided by Twitter. We ask for your permission before anything is loaded, as they may be using cookies and other technologies. You may want to read Twitter's cookie policy, external and privacy policy, external before accepting. To view this content choose 'accept and continue'.
The BBC is not responsible for the content of external sites.
End of twitter post by Josh Wardle
The New York Times said it bought the hit word game from its creator for a price "in the low seven figures".
"The Times remains focused on becoming the essential subscription for every English-speaking person seeking to understand and engage with the world. New York Times Games are a key part of that strategy," a statement said.
"Our games already provide original, high-quality content and experiences every single day. Wordle will now play a part in that daily experience, giving millions more people around the world another reason to turn to The Times to meet their daily news and life needs," it added.
The game can be played in just a few minutes. Players begin by guessing any five-letter word.
If any of the letters are in that day's word but in the wrong place, they turn gold
If they are in the word in the right place, they turn green
If they are not in the word, they turn grey
'I hope they don't start charging'
Wordle fan Matthew Robertson said he only discovered the game a few weeks ago after reading about it in the media.
Like most players who discover Wordle, it becomes a bit of an addiction. "I'm not great at it, but it's still fun and gets me thinking," he told the BBC.
"I think the set-up and how it works is very clever. It's something to do every day, as well."
Having only just discovered the game, Sheffield-based Mr Robertson is really hoping the New York Times doesn't put Wordle behind a paywall.
He does volunteering, including at his local library. "I hope that the New York Times doesn't charge, as that will make it difficult for me to play," he said. "Apart from that, I see no issue with them taking it over."
Wales-born Mr Wardle, who graduated from university in London in 2006 and moved to the US for a masters degree in 2008, worked as a software engineer at Reddit.
He said he had "really got into" the New York Times crossword and spelling games during the pandemic.
The New York Times Games, Mr Wardle said, played a "big part" in Wordle's origins, "so this step feels very natural".
In January, Mr Wardle told the BBC's Today programme he had come up with a prototype for the game in 2013 but his friends had not been keen on it.
"Last year, my partner and I got really into crosswords and word games and I wanted a game for us to play each morning as part of our routine," he said.
He then shared it with his family on WhatsApp before opening it up to the public.
Asked whether he planned to make money from it, he said: "I don't understand why something can't just be fun. I don't have to charge people money for this and ideally would like to keep it that way."