Many people still in the dark over gas boilers, say MPs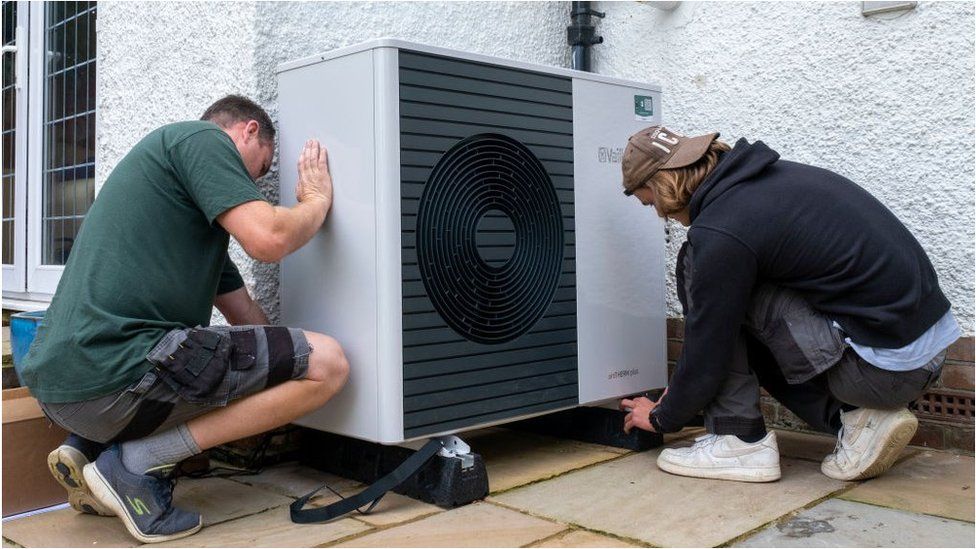 Many people in Britain remain unprepared for the revolution in home heating that the country faces in the next ten to 15 years, a report from MPs has said.
MPs on the Business, Energy and Industrial Strategy Committee said the government's approach to decarbonising home heating lacked clear direction.
Current policies are also not on the scale required, they said.
However, the report rejected hydrogen as a solution for greener home heating.
The committee's chairman, Darren Jones, said replacing gas boilers, the major source of pollution from homes, was "a huge task and we are not making near enough progress".
The report urges the government to do more to explain to the public the changes they will be facing, including the potential costs and benefits.
The Department for Business, Energy and Industrial Strategy (BEIS) said it would provide a detailed response to the committee's report in due course but said its Heat and Buildings Strategy, published last year, already provided "a clear and comprehensive plan for cutting emissions".
"In total, we're investing £6.6bn this parliament to decarbonise our buildings, saving people money on their bills and slashing pollution in the process," a BEIS spokesperson said.
Meeting climate targets would require a ban on the installation and use of any new gas boilers by the mid-2030s at the latest, the report said.
The government should set a clear date in law, regulating the phase out of gas boilers it said. Current "signalling" from the government failed to give industry and consumers a clear date to work towards, it said.
Mr Jones said the government should also replace the failed Green Homes Grant – the scheme providing financial support for people to insulate their homes.
"Ministers can't simply leave this to the market – the government should tackle the cost of heating our homes in the round and bring forward joined-up policies that address these issues together," he said.
The committee also urged ministers to support the training of engineers to install low carbon heating systems in every community.
BEIS said the government's existing plans would incentivise people to install low-carbon heating systems "in a simple, fair and cheap way" and included £5,000 grants for heat pumps.
"With industry we are aiming for big cost reductions of between a quarter and a half by 2025 as the heat pump market expands and technology develops," a BEIS spokesperson said.
The Heat and Buildings Strategy set out measures to support customers switching away from gas, with additional support for those on low incomes. From 2035 all new heating systems must be heat pumps, hydrogen-ready boilers or similarly low-carbon systems.
However, the cross-party committee poured cold water on suggestions that hydrogen could play a major role in home heating.
Mr Jones told BBC News: "We were not convinced that hydrogen was proven to be a front-running, viable technology.
"I understand why trades unions are enthusiastic about hydrogen because it preserves jobs – but many workers will need to transition to heat pumps.
Concerns around hydrogen included "supply, distribution, changes to the network, changes in the home with safety work around pipes and valves - so many reasons we're not convinced," he said.
Mr Jones' comments were attacked by Mike Foster from the trade body Energy and Utilities Alliance.
"Comments in the report [about hydrogen] are factually untrue and others deliberately misinterpret government plans," Mr Foster said.
Separately, the think tank Nesta said home heating accounted for 38% of all UK gas use.
Nesta said the greenhouse gases emitted from the average UK gas boiler were equivalent to approximately 2.2 tonnes of CO2 per year, which it said was roughly the same as taking seven flights between London and New York or eating 1,263 quarter-pounders made with British beef.
It also published polling suggesting that most people significantly underestimate boiler emissions.
A poll of 2,000 UK adults, conducted by the market research firm Opinium for Nesta, found only 12% saw heating their home with a gas boiler as a high source of emissions.
"For most people, your boiler is probably the most environmentally damaging thing that you own," said Nesta's Andrew Sissons.
He said there were steps people could take to reduce both the emissions from their boilers and cut their gas bills, such as improving home insulation and reducing the flow temperature of their boiler.
Nesta said it had developed a carbon calculator where people could quantify the environmental impact of their own boiler.
Follow Roger on Twitter @rharrabin