Fake reviews to be illegal under new rules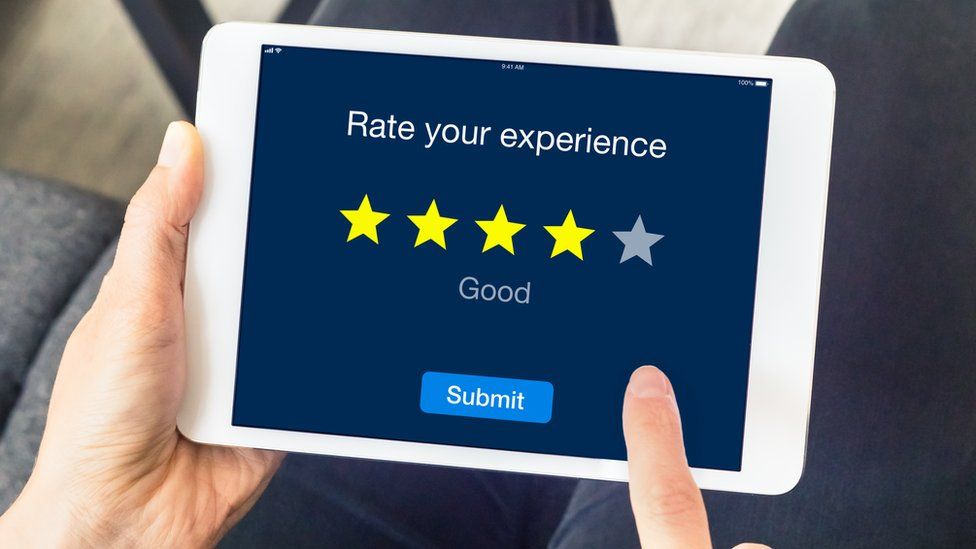 People are set to be better protected from fake reviews and "subscription traps" under plans to tackle rip-offs. 
Proposals include making it "clearly illegal" to pay someone to write or host fake reviews.
A competition watchdog will get new powers to fine firms up to 10% of their global turnover for bad business practices.
But an industry group said the new rules shouldn't put "any further unnecessary burdens on businesses".
The average UK household spends about £900 each year after being influenced by online reviews and spends £60 on "unwanted subscriptions", the government said.
Under the proposed rules, there will be a new laws against offering to write and commissioning fake reviews.
Websites hosting consumer reviews will have to take reasonable steps to check they are genuine.
Reviews website Trustpilot said it "welcomes legislation introduced with the aim of protecting consumers from fake reviews".
It said it is "continually working to ensure we are taking appropriate action against attempts to manipulate reviews on our site".
Tripadvisor, a travel reviews website, said its operations "are geared towards identifying, blocking and removing fake reviews".
"The most direct way to protect consumers from biased and inaccurate information is to focus public policies and enforcement on the bad actors," said Becky Foley, senior safety director at Tripadvisor.
The government also wants to bring in new rules against "subscription traps", in which businesses make it difficult to leave a contract.
Businesses will have to give clearer information to consumers before they sign up to a subscription contract.
They will need to send a reminder that a free trial or low-cost introductory offer is coming to an end, and ensure customers can leave a contract in a "straightforward, cost-effective and timely way", the government said.
Small business minister Paul Scully said the consumers deserved better and the majority of business doing the "right thing" deserved "protection from rogue traders undermining them".
"No longer will you visit a five star-reviewed restaurant only to find a burnt lasagne or get caught in a subscription in which there's no end in sight," he said.
If the government proposals are made into law, prepayment schemes such as Christmas savings clubs will also have to safeguard fully customers' money through insurance or trust accounts.
Shoppers' savings clubs - where consumers pay for goods and services in instalments throughout the year - are not currently covered by the Financial Services Compensation Scheme.
Under the proposals, even if the company goes bust, shoppers' money will still be protected.
The rules aim to prevent issues such as the collapse of Christmas savings club Farepak, which saw tens of thousands of people lose money when the company went bust in 2006.
The Competition and Markets Authority (CMA) will be able to award compensation to consumers and directly impose financial penalties worth up to 10% of global annual turnover for businesses that transgress the new rules, or up to £300,000 in the case of an individual.
The government said CMA's new powers will mean cases will no longer need to go through the courts.
Instead, the CMA will be able to award compensation to consumers and directly impose financial penalties.
Rocio Concha, Which? director of policy and advocacy, said the impact of fake reviews was "enormous".
She said the process to "hold businesses to account" was "far too complicated and lengthy".
"Britain's consumer and competition laws are in desperate need of an upgrade," Ms Concha added.
Kate Nicholls, chief executive of UK Hospitality, said the extra powers the CMA stands to gain would "help stamp out the practice of fake reviews, which do irreparable damage to businesses".
However, she said the "devil will be in the detail" of the policy.
UK Hospitality wants to see that the "consumers are safeguarded without placing any further unnecessary burdens on businesses".
She said the new CMA powers should not "unfairly punish businesses" especially small businesses, adding that there needed to be "a clear right of appeal".
"Fairness for both businesses and consumers, particularly when it comes to offering refunds, will be crucial and any new measures must also be made in the context of a sector facing an onslaught of challenges after a difficult two years," she added.
The government also said the CMA's powers will allow it to "have stronger tools to tackle companies colluding to bump-up prices" and to also stop "killer acquisitions" in which big businesses snap up rivals before they can launch new products or services.
CMA chief executive Andrea Coscelli said the new rules were an "important milestone towards strengthening the CMA's ability to hold companies to account, promote fair and open markets, and protect UK consumers".