Germany rules out immediate end to Russian oil imports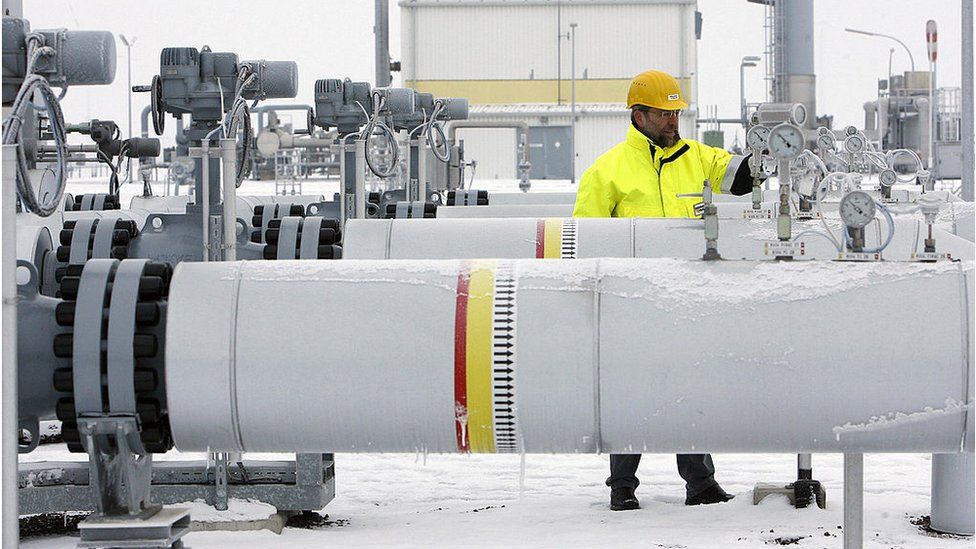 Germany is moving "as fast as possible" to end its reliance on Russian energy, but it will take time, the country's finance minister has said.
"We have to be patient," Christian Lindner told the BBC.
By contrast, Foreign Minister Annalena Baerbock had earlier said Germany would end oil imports by the end of the year, with gas following.
He described energy payments as "blood money".
Proceeds from the sale of Russian oil and gas amount to around $1bn (£770m) a day, undermining international efforts to put economic pressure on President Vladimir Putin to end the war.
The US has already banned Russian oil imports and the UK plans to phase them out by the end of the year.
But EU countries are more heavily dependent on Russian energy, with Germany currently buying around 25% of its oil and 40% of its gas from Russia.
Mr Lindner told the BBC that his country was working to implement an embargo on Russian energy but that he preferred using sanctions which "hurt [Putin] more than us".
He said a sudden halt to Russian energy imports could see the physical shutdown of German producers such as manufacturers and carmakers.
Earlier this week, German economic institutes warned that immediately halting Russian imports would spark a sharp recession in Europe's biggest economy by 2023.
"We are willing to stop all energy imports from Russia, it's just a matter of time," said Mr Lindner, who is leader of the liberal Free Democrats, one constituent of Germany's coalition government.
He insisted that any calculation on Vladimir Putin's part that Germany would continue to rely on Russian energy was "wrong".
"In the end, we don't want to have any further business with Putin," he said.
However his stance was at odds with statements made by Germany's foreign minister, Ms Baerbock, a prominent Green politician and former co-leader of the party.
Ms Baerbock said Germany would halve Russian oil imports by the summer and eliminate them altogether by the end of the year, to be followed quickly by a reduction in Russian gas imports.
Germany's finance minister was keen to sound tough on Russia and appears acutely aware of the criticism levelled at his country for dragging its feet over a full energy embargo on the Kremlin.
His basic message was - it is coming, but not quite yet, because it is impossible to enact immediately and would probably lead to shutdowns of large swathes of the German economy.
President Zelensky used a BBC interview last week to demand an immediate embargo on Russia's lucrative oil trade, accusing those sending euros and dollars to Kremlin-controlled oil giants of "trading in blood". He singled out Germany alongside Hungary for blocking EU action.
Mr Lindner said Germany would move as fast as possible, but did not confirm that would be within a year.
In Berlin this issue appears to be putting some stress on the three-party governing coalition. Mr Lindner leads the free market FDP, not the normal bedfellows for the Social Democrats and Greens.
Meanwhile Green Party leader Annalena Baerbock, also the foreign minister, said dependence on Russian oil would definitely finish by the end of the year. The Chancellery under Olaf Scholz appears to be the most cautious on this issue.
Germany has already called off the opening of Russia's Nord Stream 2 gas pipeline in response to the war, a project pursued by previous governments of different political stripes.
But Mr Lindner said he was concerned about the macroeconomic effects an overnight shut-off of Russian energy would cause.
"I don't fear [the] economic costs [of buying less Russian energy]. I fear the physical scenario, if you have to stop the supply, for a complete production line, this causes more than economic costs," Mr Lindner told the BBC.
"I think it's preferable to have sanctions, which we can stand for months, for years," he said.
Mr Lindner said Russia's invasion of Ukraine was the root cause of growing geopolitical and economic risks including inflation, food shortages and a debt crisis for low income countries.
But he also criticised the approach of previous Berlin governments of relying on Russia for oil and gas.
"It was a strategic miscalculation from German governments, over the last two decades, and now we have to work on energy diversification," he said.