Ukraine war: Russia halts gas exports to Poland and Bulgaria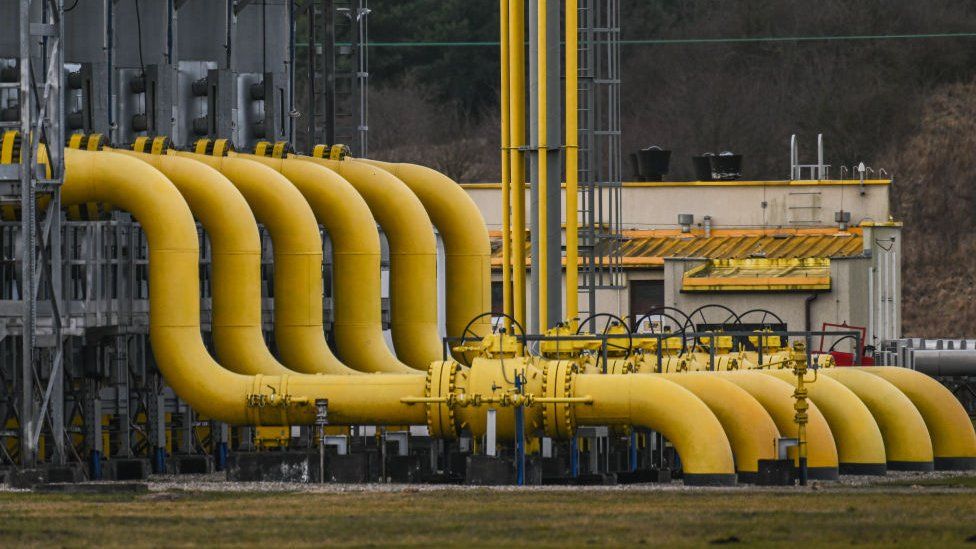 Russian energy giant Gazprom says it has halted gas exports to Poland and Bulgaria over the countries' refusal to pay for supplies in roubles.
The firm said services will not be restored until payments are made in the Russian currency.
It comes after Russian President Vladimir Putin ordered "unfriendly" countries to pay for gas in roubles.
Poland confirmed supplies had stopped, but Bulgaria said it was still unclear whether supplies had been halted.
The threat, in which Mr Putin said "existing contracts will be stopped", has been seen as an attempt boost the rouble, which has been hit by Western sanctions.
Nathan Piper, head of oil and gas research at Investec, told the BBC the halting of supplies to Poland and Bulgaria was the "start of Russia exerting economic pressure on Europe," and a move which could "escalate" with other EU nations.
Poland's deputy foreign minister said the country could cope without Gazprom's gas and had "taken some decisions many years ago to prepare for such a situation".
Marcin Przdacz told the BBC there were "options to get the gas from other partners," including the US and gulf nations.
"I'm pretty sure that we will manage to handle this," he told the BBC.
Polish state gas company PGNiG, which bought 53% of its gas imports from Gazprom in the first quarter of this year, described the suspension as a breach of contract, adding that the company would take steps to reinstate the gas supply.
Meanwhile in Sofia, energy minister Alexander Nikolov said Bulgaria had paid for Russian gas deliveries for April and claimed supplier Gazprom will be in breach of its current contract if it halts the flow.
"Because all trade and legal obligations are being observed, it is clear that at the moment [Russian] natural gas is being used more as a political and economic weapon in the current war," Mr Nikolov said.
Bulgaria, which relies on Gazprom for more than 90% of its gas supply, said it had taken steps to find alternative sources but no restrictions on gas consumption were currently required.
The executive director of Bulgarian gas network operator Bulgartransgaz said supplies to Bulgaria were still currently flowing.
Bulgaria also transports Russian gas via an extension of the Turk Stream pipeline to neighbouring Serbia and from there to Hungary. Hungary and Austria also said gas supplies were normal.
The Prime Minister of the Czech Republic, Petr Fiala, said the country has had no signals or information on any interruption to its gas supplies, but must be prepared for any scenario.
The central European country is almost entirely dependent on Russia for its gas.
Russia's top lawmaker, Vyacheslav Volodin, said that gas giant Gazprom had made the right decision in suspending gas supplies to Bulgaria and Poland and said Moscow should do the same with other "unfriendly" countries.
Meanwhile, Ursula von der Leyen, president of the European Commission, said Russia was using gas "as an instrument of blackmail".
Ms von der Leyen said the EU was "prepared for this scenario" and had been "working to ensure alternative deliveries and the best possible storage levels across the EU".
Investec's Mr Piper told the BBC the halting of supplies to Poland and Bulgaria was the "start of Russia exerting economic pressure on Europe."
He said despite demand for gas declining as Europe enters summer, "risks around Russian gas supply are keeping prices high, putting pressure on consumers and industry".
The latest move by Russia sent European gas prices up further on Wednesday, surging by 24%.
Mr Putin's decree for gas payments means foreign buyers of Russian gas have to open an account at Russia's Gazprombank and transfer euros or US dollars into it.
Gazprombank would then convert this into roubles which will then be used to make the payment for gas.
This move is designed as a Kremlin shot across the bows of Europe's biggest economies.
While Germany, for example, has said it is willing to phase out Russian coal in the summer, and hinted Russian oil could follow over the next year, gas is another matter.
Last week Germany's finance minister told me it would be physically impossible to immediately phase out Germany's 45% dependence on Russia for gas.
Both Poland and Bulgaria were already planning not to renew their contract with Gazprom which expires at the end of the year. In the case of Poland, it had been filling its stores of gas in preparation.
The escalation is real, and justified by the Kremlin on the basis of countries refusing to pay for gas by changing money into roubles in Russian bank accounts. But the additional impact of Wednesday's news should be containable.
All that would change, of course, if these moves are the first skirmishes in an escalating European energy crisis that could see Germany cut off from Russian gas.
That would send prices spiralling across Europe and lead to a supply crisis.
UK Deputy Prime Minister Dominic Raab earlier told Sky News the decision to cut off gas supplies will have "a very damaging effect on Russia," adding that such moves could lead to the country becoming "an economic pariah".
Following Russia's announcement, Poland's climate ministry said the country's energy supplies were secure.
Climate Minister Anna Moskwa said there was no need to draw gas from reserves and gas to customers would not be cut.
Poland was already planning to stop importing Russian gas by the end of the year, when its long-term supply contract with Gazprom expires.
PGNiG said its underground gas storage was almost 80% full and it also has alternative supply sources, including a liquefied natural gas (LNG) terminal in Swinoujscie.
On 1 May, a new gas pipeline connection with Lithuania is due to open that will give Poland access to gas from Lithuania's LNG terminal.
And a new pipeline delivering gas from Norway, known as the "Baltic Pipe", comes online in October. It should reach full capacity by the end of the year and could replace all Russian deliveries.
Supplies from Russia account for about 40% of the EU's natural gas imports.
However, many countries have pledged to move away from Russian energy in response to its invasion of Ukraine.
The US has declared a complete ban on Russian oil, gas and coal imports.
Meanwhile, the UK is to phase out Russian oil by the end of the year, with gas to follow as soon as possible, and the EU is reducing gas imports by two-thirds.