Shell profits nearly triple as oil prices surge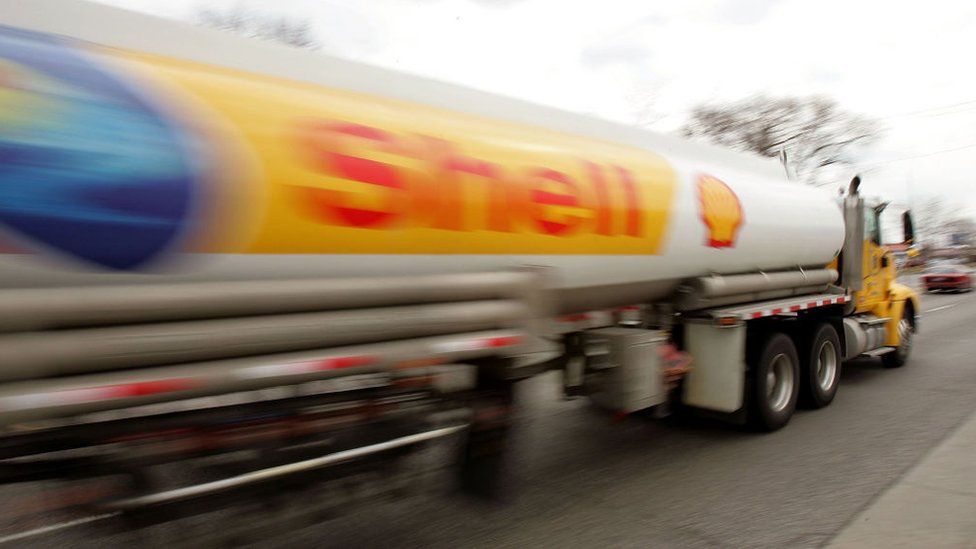 Energy giant Shell has reported its highest ever quarterly profits as oil and gas prices surge around the world.
Shell made $9.13bn (£7.3bn) in the first three months of the year, nearly triple its $3.2bn profit it announced for the same period last year.
On Tuesday, rival BP also reported a sharp rise in profit, but the UK has so far ruled out a windfall tax.
The invasion of Ukraine has helped oil and gas prices skyrocket. Russia is one of the world's major exporters but Western nations have pledged to cut their dependence on the country for energy.
Oil prices were already rising before the Ukraine war as economies started to recover from the Covid pandemic.
Shell chief executive Ben van Beurden said the war in Ukraine had caused "significant disruption to global energy markets".
"The impacts of this uncertainty and the higher cost that comes with it are being felt far and wide.
"We have been engaging with governments, our customers and suppliers to work through the challenging implications and provide support and solutions where we can."
Shell rivals, including BP and TotalEnergies have also reported a sharp rise in underlying profits.
Norway's Equinor, which supplies a quarter of the UK's gas, also posted record earnings on Wednesday.
Shell's profits were expected to be big.
The price of oil and gas, already high at the end of last year, surged higher after the Russian invasion of Ukraine threatened disruption and eventual boycotts of one of the world's biggest suppliers of energy.
These numbers surpassed those lofty expectations.
The question now is what Shell will do with all this money.
The company paid out £4.3bn to shareholders, which include millions of pension savers, in the last quarter and said it plans to dish out roughly the same in the next three months.
Shell has already said it will invest £20bn to £25bn in the UK in the next decade in low carbon energy and in UK gas and oil supplies.
Ministers will be watching closely to make sure Shell delivers on those commitments.
It's the promise of investment that is standing between UK oil and gas companies and the windfall tax opposition parties have called for but the government has so far resisted.
The high prices of oil and gas are pushing up the cost of living around the world.
In the UK, inflation is running at 7%, its highest rate for 30 years, as energy bills, fuel costs and food prices jump.
One of the main contributors to UK inflation has been fuel prices, which are near record highs and could stay that way for months, according to some analysts.
Demand for diesel has grown as the popularity of online shopping deliveries remains high, and inventories are low in the US and Europe.
Russia is a major exporter of diesel, but the Ukraine invasion has made access to that limited.
As part of Western sanctions, the European Union has proposed a total ban on Russian oil imports.
Mr van Beurden said Shell was "ahead of a ban or a boycott" by getting out of its positions in Russia.
The firm is in the process of ending all of its joint ventures with the Russian energy company Gazprom, as well as pulling out of its Russian petrol station and other businesses.
He said a complete ban or boycott of Russian gas would be a "major disaster" which would leave a "supply hole" in Europe.
Russia has demanded that payments for gas be made in roubles to try to prop up the currency, but the EU has said that may contravene sanctions.
Mr van Beurden said that Shell will "continue paying to the end of May and will have to see what happens after that", adding that the firm will operate within sanctions.
The UK government has so far ruled out a windfall tax on the oil companies, despite calls from opposition parties for one to be imposed.
The Shell boss said that if a windfall tax was imposed on North Sea oil and gas profits, Shell would be unlikely to shelve UK green investment plans such as building more electric vehicle charging.
Nevertheless, he added that Shell's plans would "have to make economic sense when it comes to making those investment decisions on the day".
Shell plans to invest $25bn over the next decade, with 75% in green technologies, and the rest in oil and gas projects, including in the North Sea.
The company's chief financial officer, Sinead Gorman, said its North Sea plans would see more "energy security" for the UK.
However, Mr van Beurden acknowledged that oil firms sell their products on international markets, and that developing North Sea oil would not necessarily lower prices.