Sheryl Sandberg to leave Facebook after 14 years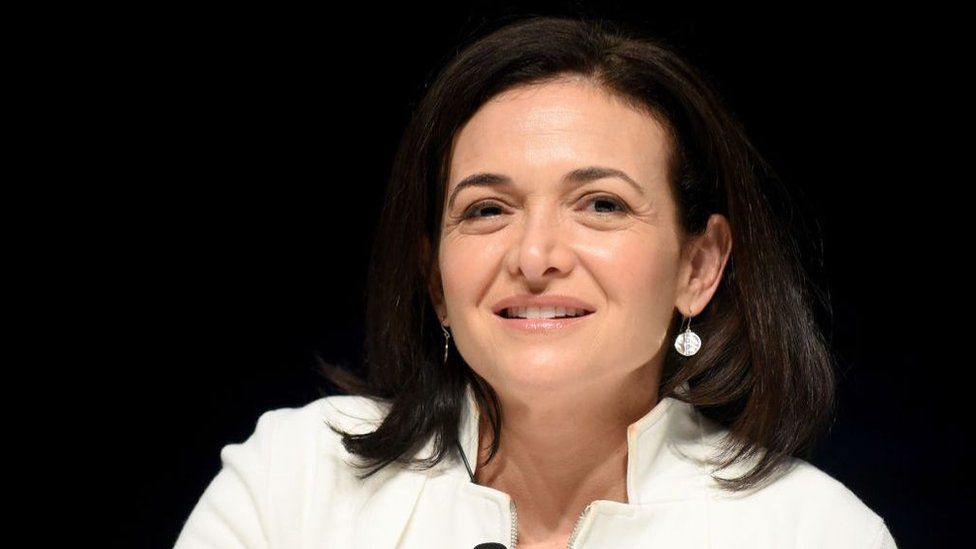 Sheryl Sandberg, the chief operating officer of Facebook's parent company Meta, has announced that she is leaving the business after 14 years.
Ms Sandberg announced her departure in a Facebook post, saying she hoped to focus on her foundation and philanthropic work in the future.
Her departure comes as Meta faces a slowdown in advertising sales and more competition from rivals such as TikTok.
Ms Sandberg is one of the most high-profile women in the tech industry.
"When I took this job in 2008, I hoped I would be in this role for five years," wrote Ms Sandberg, known as a powerful second-in-command at the company. "Fourteen years later, it is time for me to write the next chapter of my life."
Javier Olivan, currently Meta's chief growth officer, will take over Ms Sandberg's position in the company when she leaves.
Ms Sandberg, whose husband died suddenly in 2015, is getting re-married this summer. She said she planned to leave the company in the autumn but would remain on the board.
Following her announcement, shares in Meta fell 4%.
Ms Sandberg joined Facebook when it was still a small company led by Mark Zuckerberg, a then-23 year-old Harvard dropout. A veteran of Google, she helped turn its advertising business into a profit powerhouse, as the company grew to include Instagram, WhatsApp and Messenger.
Last year, the company reported more than $117bn in revenue and said more than 2.8 billion people globally used one of its apps daily.
Books she wrote, including Lean In: Women, Work, and the Will to Lead - which she described as a "sort of feminist manifesto" - made her a global celebrity.
But her star power faded as the company faced criticism for its handling of personal data in relation to political consulting firm Cambridge Analytica and targeted adverts as well as its moderation of social media posts.
Ms Sandberg, who was initially responsible for Facebook's response, appeared to acknowledge some of those challenges in her post, writing: "The debate around social media has changed beyond recognition since those early days."
"To say it hasn't always been easy is an understatement. But it should be hard," she wrote. "The products we make have a huge impact, so we have the responsibility to build them in a way that protects privacy and keeps people safe."
In his own post, Mr Zuckerberg said Ms Sandberg's departure marked the "end of an era", noting that it was "unusual" for a business partnership like theirs to last so long.
"Sheryl architected our ads business, hired great people, forged our management culture, and taught me how to run a company," he added. "She created opportunities for millions of people around the world, and she deserves the credit for so much of what Meta is today."
He said Mr Olivan's responsibilities would differ from Ms Sandberg's, with Mr Olivan taking on a "more traditional" chief operating officer role that was more focused internally and operationally.
Meta is facing new challenges as countries tighten social media regulations and iPhone maker Apple changes its privacy rules, hitting the social media firm's targeted ad business.
Growth in the number of Facebook users in key markets, such as the US, has been stalled, and it has lost younger users to rivals such as TikTok.
Mr Zuckerberg has been pushing the company to invest heavily in virtual and augmented reality platforms, which he sees as driving the firm's next phase of growth. He renamed the company Meta last year in honour of the shift to the "metaverse".
Insider principal analyst Debra Aho Williamson said Ms Sandberg "had an enormous impact on Facebook, Meta, and the broader business world".
"She helped Facebook build a world-class ad-buying platform and develop ground-breaking ad formats, which enabled the company to become the second largest digital ad business in the world behind Google," she said.
"However, Facebook also faced huge scandals under her watch, including the 2016 election, the Cambridge Analytica privacy debacle in 2018, and the Capitol riots that took place after the 2020 election. And in 2022, Meta is facing a slowdown in user growth and ad revenue that is now testing the business foundation that the company was built on.
"The company needs to find a new way forward, and perhaps this was the best time for Sandberg to depart."