How Aussie farmers are hoping to win over tequila fans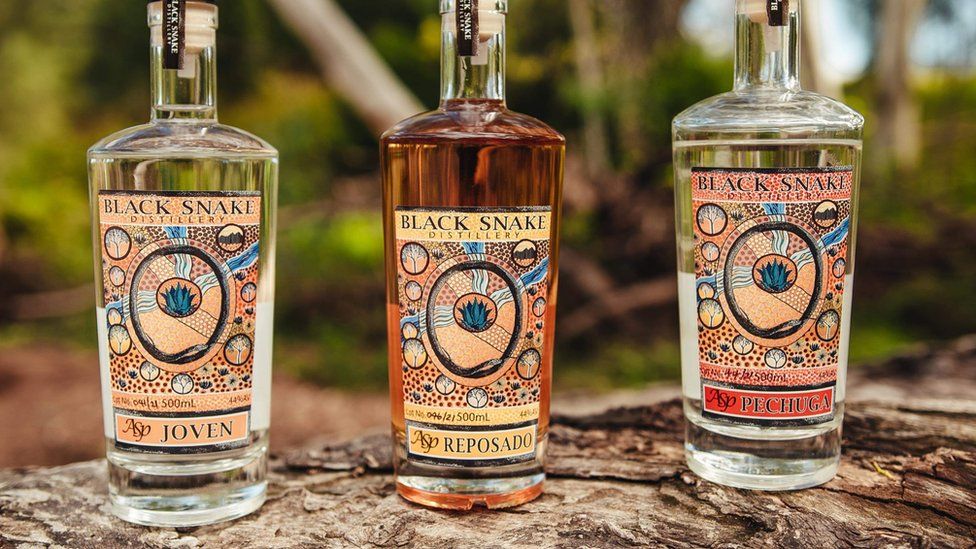 Thousands of large, spikey, cactus-like plants poke out of sun-baked earth, watched over by green-brown hills.
When they reach maturity - in six to eight year's time - this crop, known as agaves, will be harvested. The plant hearts will be cooked, fermented, and then distilled to make Mexico's favourite type of spirit.
Just don't use the word tequila, this crop is located 14,000km (8,700 miles) away from Mexico in Australia.
Tequila, (and its sister spirit mezcal), can only be made in Mexico from Mexican agaves. Instead, the juice from these Australian plants will ultimately be turned into "Australian agave spirit".
These agaves are being grown in Queensland, in a "dry tropical" microclimate, between the coastal towns of Airlie Beach and Bowen that sit opposite the Whitsunday Islands.
There are other plantations in New South Wales and South Australia.
The Queensland agaves, all 500,000 of them, are being grown by Australian spirits company Top Shelf International (TSI). It first started planting them last year.
The project is being led by TSI president Trent Fraser, who was appointed last year. Born and raised in South Australia, he spent the previous six years working in the Mexican state of Jalisco, where he helped French luxury goods and drinks giant, LVMH, launch its own tequila brand - Volcàn de mi Terra.
"Where Jalisco is 20 degrees north of the equator, we're 20 degrees south," says Mr Fraser, talking about Queensland.
He explains that the temperature and level of rainfall, are almost identical in both places - creating ideal conditions for growing agave to make spirits from. "The agave plant really loves sunlight. It really flourishes in an abundance of not just sunlight, but heat."
To optimise growing conditions for the plants TSI is collaborating with horticulturalists from Adelaide University, and it has also received a research grant from the Australian government.
However, Mr Fraser adds that the agave plants are not too fussy. "The plant is really resilient, like it's really sturdy. It can grow on the side of a concrete highway."
Further down the eastern side of Australia, Black Snake Distillery is a family business already making agave spirit near the New South Wales town of Narrabri, around 500km north of Sydney.
Rosemary and Steve Beale were inspired to try making a mezcal-style spirit when their daughter returned from travelling in the Americas and suggested that the agaves growing wild along the creek near their farm might be similar to those used to make tequila and mezcal.
It turned out that the species is a decorative plant called agave americana, which is different from the blue agave plant used to make tequila, (this is the type being grown by TSI in Queensland).
Agave americana, unlike blue agave, contains saponins: organic chemicals that give the plant a soapy taste and hinder the process of fermentation. However, the Black Snake Distillery has developed a way of extracting the saponins after harvesting the plant's spiky arms.
The use of agave americana is said to give the Black Snake spirit a distinct flavour versus traditional Mexican mezcal.
"The taste is a very vegetal, green, but also peppery and spicy," says Rosemary Beale. "And as we use eucalyptus wood to roast the agave, people have often felt they can taste the mint of the wood, and melon."
The Beales' agave spirits are currently being sold throughout Australia, and won a silver medal at the 2021 London Spirits Awards. However, creating an agave spirit without hundreds of years of inherited tradition has not been a walk in the park for Black Snake.
"It's not easy making agave spirits in Australia," says Ms Beale. "We had no one to ask for help. We had many tastes and batches I rejected."
The tequila industry is a big money-spinner for Mexico, with global sales hitting $13bn last year, according to one report. Meanwhile, sales of mezcal reached $790m. The difference between the two drinks is that tequila has to be made from blue agaves grown only in one area of Mexico, while mezcal can use any agave from all over the country.
A number of other nations are also now growing agaves and turning them into a spirit drink, such as the US and India, but production is tiny compared with Mexico.
Luis Fernando Félix Fernández, president of the National Chamber of the Tequila Industry, says it is challenging for foreign distilleries to make a convincing agave spirit. He says this is because Mexicans have been fermenting agave for generations, and are therefore more familiar with the plant and its particularities.
Mr Fernández stressed that his role is to protect the "denomination of origin" of tequila, to protect the cultural identity of something uniquely Mexican.
"They [Australians] can make some drink, but they cannot call it tequila, and that clearly detracts from the chances of success, because what people know today is a drink that is called tequila," he says.
To help make the best agave spirit possible, the Beales travelled from Australia to Mexico, in order to learn from experienced tequila and mezcal crafters. And they rely on the advice of Mexicans during the process of fermentation and distillation.
Mr Fraser says he will also be seeking help from Mexican growers when his agaves are ready for harvesting. "If my Mexican family [his friends in Jalisco] end up spitting it out, we've got a problem," he says.
Ms Swanson, who is a trained tequila and mezcal sommelier, adds that the Australian products could win over drinkers. "It will definitely be something different [to try]," she adds.