Sri Lanka energy minister warns petrol stocks about to run dry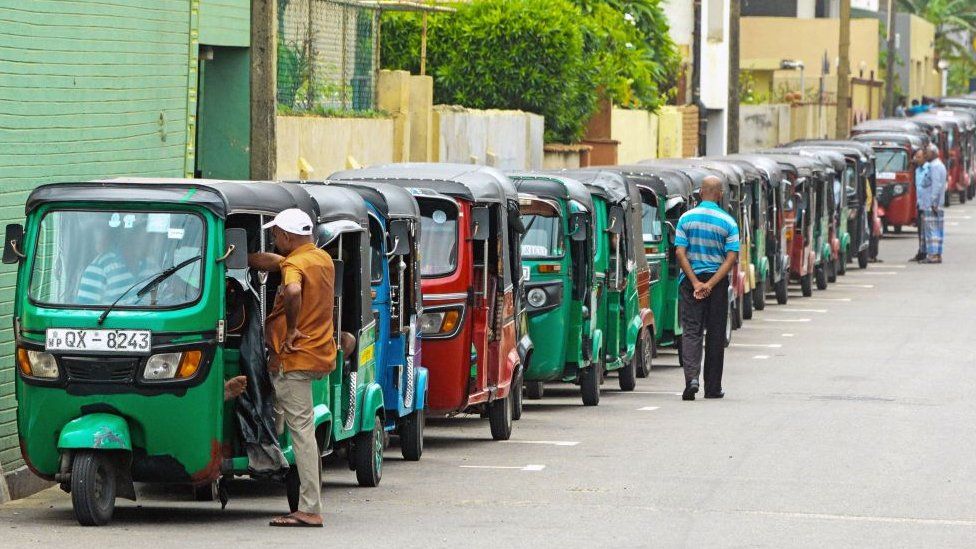 Sri Lanka's energy minister has issued a stark warning over the country's fuel stocks as it faces its worst economic crisis in more than 70 years.
On Sunday, Kanchana Wijesekera said the nation only had enough petrol left for less than a day under regular demand.
He also said its next petrol shipment was not due for more than two weeks.
Last week, Sri Lanka suspended sales of petrol and diesel for non-essential vehicles as it struggles to pay for imports like fuel, food and medicines.
Mr Wijesekera told reporters that the country had 12,774 tonnes of diesel and 4,061 tonnes of petrol left in its reserves.
"The next petrol shipment is expected between the 22nd and 23rd [of July]," he added.
A shipment of diesel is expected to arrive at the weekend, however Mr Wijesekera warned that the country does not have enough money to pay for planned fuel and crude oil imports.
He said Sri Lanka's central bank could only supply $125m for fuel purchases, far less than the $587m needed for its scheduled shipments.
Mr Wijesekera added that the country owed $800m to seven suppliers for purchases it made earlier this year.
Experts believe it is the first country to take the drastic step of halting sales of petrol to ordinary people since the 1970s oil crisis, when fuel was rationed in the US and Europe.
The island nation of 22 million people is facing its worst economic crisis since gaining independence from the UK in 1948 as it lacks enough foreign currency to pay for imports of essential goods.
Acute shortages of fuel, food and medicines have helped to push up the cost of living to record highs in the country, where many people rely on motor vehicles for their livelihoods. It's also sparked violent street protests.
The government blames the Covid pandemic, which affected Sri Lanka's tourist trade - one of its biggest foreign currency earners. However, many experts say economic mismanagement is to blame.
In May the country failed to make a payment on its foreign debt for the first time in its history.
Rajini Vaidyanathan, BBC South Asia correspondent in Colombo
The streets of this usually bustling capital are much quieter now and Colombo has the feel of a city under lockdown. With fuel in short supply people have been urged to stay home where possible.
But outside fuel stations is where you will find long queues. Members of the military guard the pumps, patrolling the forecourts - here petrol has become more precious than gold.
Van driver Aziz has been in line for two days: "We are suffering, we've no lunch no breakfast, we've just had water as we wait."
The struggle for fuel is also accompanied by a struggle for food. With food inflation at 80% for the month of June, many Sri Lankans are skipping meals. Charity Unicef says more than two-thirds of the country has cut down on food since the start of the year.
Its spokesperson in Sri Lanka told the BBC that if outside help doesn't arrive soon to this island nation, there could be a humanitarian crisis in the coming months.
BBC India business correspondent Archana Shulka says that while Sri Lanka has not completely ground to a halt yet, it is precariously close to seizing up.
Export-driven industries, such as textile and clothing, have been helped to keep going by the government as the economy needs to earn significant amounts of foreign currency.
However, the fuel supplies needed to power machinery in these industries and to transport goods are also drying up now, our correspondent says.
The IT industry, which is still developing in the country, has also been heavily affected as firms face power cuts and internet outages.
All of this has prompted concerns of a so-called "brain drain", with fears that large numbers of young professionals could leave the country.
Last Thursday, an International Monetary Fund team concluded a fresh round of talks with Sri Lanka over a $3bn (£2.5bn) bailout deal.
While no agreement has been reached yet, the team said in a statement that it had made "significant progress on defining a macroeconomic and structural policy package".
It added that it had "witnessed some of the hardships currently faced by the Sri Lankan people, especially the poor and vulnerable who are affected disproportionately by the crisis".
The cash-strapped country has also sent officials to the major energy producers Russia and Qatar in an attempt to secure cheap oil supplies.
You may also be interested in: