The firms making flour from mushrooms and cauliflower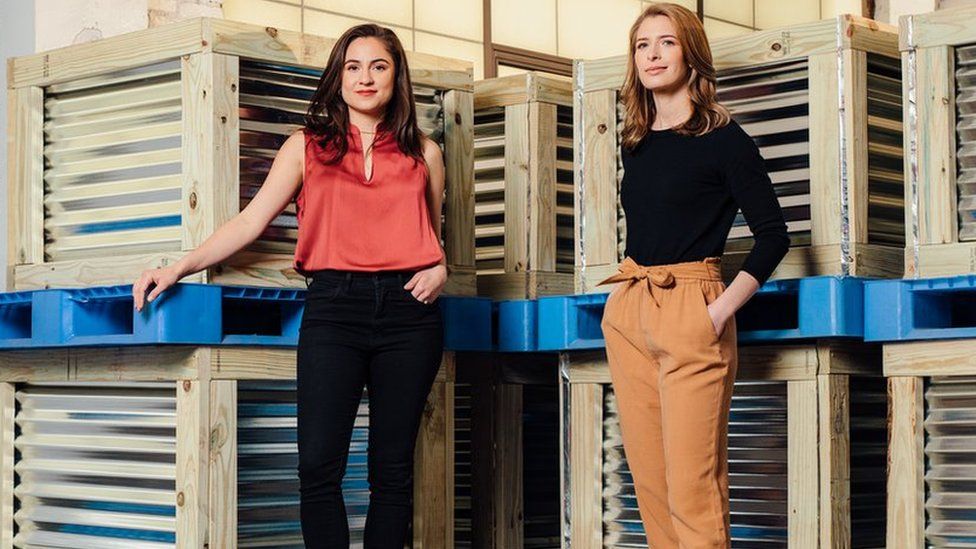 When Michelle Ruiz's mum was diagnosed with pre-diabetes in 2020, the Chicago-based chemical engineer set out to improve not just her own family's health but everyone's.
"Foods containing refined carbs [like white flour] are leading drivers of chronic illnesses, including diabetes and heart disease," says Ms Ruiz.
But flour, she says, is culturally ingrained in our lives.
"I wanted to help people enjoy food culture - and still live long and healthy lives."
In 2021, she co-founded Hyfé Foods. Hyfé uses the root network of mushrooms, called mycelium, to make an alternative to wheat flour.
"In addition to the neutral taste, mycelium is high-protein, high-fibre, gluten-free and low carb," says Ms Ruiz.
Producing mycelium, however, is water-intensive and expensive because of the sugars needed to feed the fungi.
To address this, Hyfé uses waste sugar water from food manufacturing.
"Our goal is to scale our technology so that we can achieve price parity, which is why we use upcycled sugar water," says Ms Ruiz. "Up to half of the cost of fermentation can be attributed to sugar, so upcycling can make a meaningful difference to the cost of production."
Affordable alternatives to wheat are gaining attention, particularly after a year of disruption to the grain market.
The war in Ukraine has highlighted our dependence on the wheat harvests that flow from the region.
Russia and Ukraine together account for nearly a third of global wheat supplies. The war has disrupted that flow of food. In July this year, wheat prices were almost 25% higher than in July 2021.
Record high food prices have triggered a global hunger crisis of unprecedented proportions.
According to the World Food Programme, the number of people facing acute food insecurity has more than doubled in just two years, from 135 million in 53 countries to 345 million in 82 countries today.
On top of that, we are starting to see the impact of climate change. Crops are suffering under the effects of extreme weather.
A 2021 report from Chatham House warns that unless we drastically reduce global emissions, by 2050 staple crop yields could decline by nearly a third.
Harvard University scientists say even if we do manage to limit global warming to 2C, as set out by the Paris Agreement, 60% of the world's wheat production will be under threat by the end of the century.
"Even before Ukraine, we had a broken system," says Shailaja Fennell, development economist at Cambridge University and founding member of the Forgotten Crops Society.
"While we produced more than enough food, the cost of that food to the environment is already a major concern."
Prof Fennell warns that monoculture farming - growing one crop species in a field at a time - is not sustainable.
"[Monoculture crops] are much more susceptible to climate shocks, diseases and drought. Having a more diversified agriculture is the way forward."
To combat food insecurity some countries, including China and Egypt, are ramping up domestic wheat production. Wheat is even being planted in the Egyptian desert.
Instead of trying to grow more wheat, Prof Fennell suggests we look to other cereals, ones that have been forgotten by the global supply chain.
"There is a whole group of cereals called millets - small-seeded grasses similar to oats and barley - that are more hardy, use less water and are gluten-free," she says.
Such alternatives, says Prof Fennell, can have nutritional benefits over wheat and would be of huge interest to the pasta industry.
Pasta is a staple food for millions of people worldwide. It is easy to store when dried, simple to prepare and economical.
According to the International Pasta Organisation almost 17 million tonnes of pasta was produced in 2021 - more than double the amount produced 20 years ago.
Durum wheat, from which pasta is typically made, is high yielding and provides about 20% of all calories consumed by humans. In fact, about two-thirds of our daily calories come from just three crops - wheat, rice and maize.
By 2050, the global population is predicted to rise to nearly 10 billion, putting extreme strain on our planet's resources.
So since there are about 50,000 edible plant species, perhaps it is time to explore our options.
In London's Covent Garden families, friends and lovers dine on pasta under dimmed lights, while Italian classical music plays in the background. But this is not a standard Italian restaurant, and it does not just sell standard pasta.
In 2017, Alberto Cartasegna opened his first restaurant, Miscusi, in Milan. He wanted to offer authentic Italian pasta, while having a positive impact on the planet.
Five years later and Miscusi now has 15 restaurants in Italy and two in the UK, and has launched its "M7 pasta" - a blend of four grains and three legumes - in a bid to promote biodiversity.
"Biodiversity is killed when we approach agriculture with conventional methods like monocropping," says Mr Cartasegna.
"M7 is made of seven different types of grains and legumes, giving our pasta a unique flavour, texture and colour. It's rich in plant-based proteins thanks to the three legumes. All the cereals are organic and wholegrain, keeping fibres and micronutrients to the max.
"I strongly believe we must change the global diet to save ourselves."
Los Angeles mother-of-two Gail Becker has also been promoting wheat alternatives.
She became frustrated when she could not find healthy alternatives for her sons, who both suffer from coeliac disease, an autoimmune disorder triggered by eating foods containing gluten.
"I tried desperately to find nutritious, gluten-free options that weren't filled with fat, sugar, salt and calories," says Ms Becker. "I stumbled upon recipes for cauliflower crust pizza.
"My creation tasted fine, but it looked awful, my kitchen was a disaster and I had spent 90 minutes I didn't have, as a mum with a full-time job, making a pizza crust! I realised I probably wasn't alone. So I left my job to strike out on my own and create Caulipower."
Caulipower, established in 2016, has since expanded beyond pizza crusts to offer frozen cauliflower pastas. Its products can now be found in more than 25,000 stores across the US.
"Consumers want nutritional food," says Ms Becker. "They no longer expect to have to choose between taste and health, and frankly they shouldn't have to."
Back in Chicago, Hyfé is busy cultivating mycelium and turning it into carbon-neutral, healthy, affordable pasta.
"We're creating a new staple crop," says Ms Ruiz. "One that can be grown nearly anywhere in the world, giving countries increased food sovereignty, and employing circular technology for a more resilient food system.
"Our pasta is not just better for you, it's better for the planet."