Train strike: Only one in five services set to run on Saturday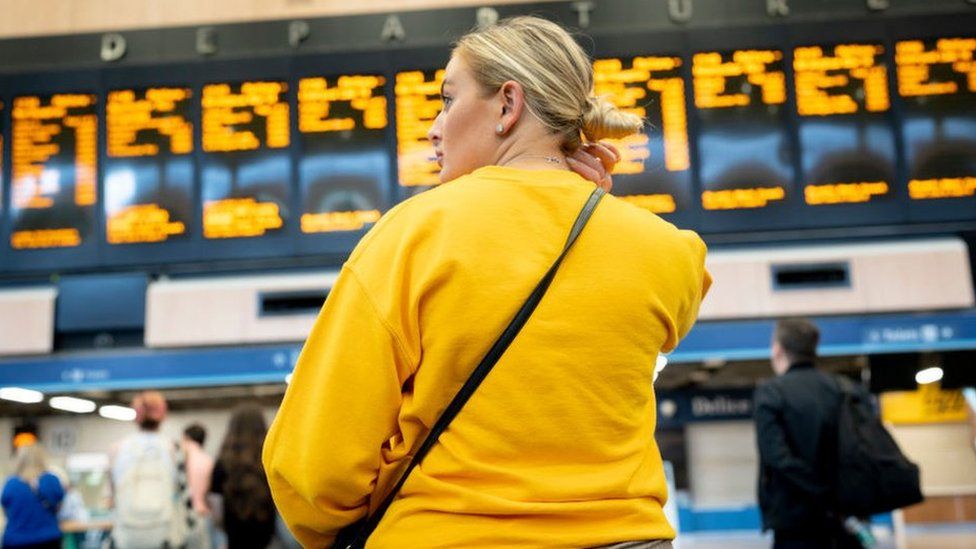 Just 20% of Britain's trains are set to run this Saturday due to strike action and people are being warned to only travel if absolutely necessary.
RMT union members in 15 train firms and Network Rail will strike in the eighth day of action over pay and conditions.
Trains will start late and finish early, and disruption is expected to continue into Sunday morning.
The rail industry says reforms must be agreed to afford pay rises, but unions have called for the government to act.
The general secretary of the RMT union, Mick Lynch, wrote to the new Transport Secretary Anne-Marie Trevelyan at the weekend urging her to "take urgent steps to allow a negotiated settlement that meets our members' aspirations over jobs, pay and conditions".
On Wednesday, Ms Trevelyan told the BBC she wanted unions and train operators to "come together and find something that we can all live with".
She continued "nothing is ever perfect, negotiations are compromises, but what we need is for our customers, our passengers to be at the centre of everyone's decision making."
Since taking up her post last month, the Transport Secretary has met the leaders of the RMT and Aslef unions. She also told the BBC she would also meet the train companies over the next few weeks.
The changes to the schedules on Saturday will mean, for example, that the last direct train from Newcastle to London will leave at 13:53 and the last train from London to Nottingham will depart at 16:32.
There will be no direct trains between London and Edinburgh, with passengers told to go via Glasgow. Nor will there be any direct services between London and Norwich.
Reduced timetables are now published - meaning journey planners such as National Rail Enquiries have been updated.
It will be the third day of large-scale rail disruption in just over a week. Last Saturday saw a co-ordinated strike by multiple unions, with only 11% of usual train services running. Then on Wednesday, some train companies ran no trains at all, as drivers in the Aslef union took to picket lines.
What makes the RMT strikes so disruptive is that Network Rail's signalling staff across England, Scotland and Wales are involved, so even where train operators are not directly involved in the dispute, only a fraction of usual services are able to run.
Tim Shoveller, Network Rail's chief negotiator, said: "Despite our best efforts to compromise and find a breakthrough in talks, rail unions remain intent on continuing and coordinating their strike action.
"This means railway staff forgo even more of their pay unnecessarily, passengers' lives are disrupted once again and the railway's recovery from the pandemic is further damaged."
Daniel Mann, director of industry operations at the Rail Delivery Group which speaks for train companies, said: "These strikes continue to disrupt leisure travellers, shift workers and undermine the many businesses who are struggling with rising costs and reduced footfall. Further action by the RMT and TSSA leadership will only damage the railway's recovery from the Covid-19 pandemic.
He added "We want to give our people a pay rise, but we need the leadership of trade unions to make a commitment to reform, which is how we can improve services and deliver a fair deal for our people, passengers and for taxpayers."
There are smaller scale strikes by the TSSA union on Thursday and Friday.
Engineering work means that on Saturday, services will be more limited in some areas than on previous RMT strike days - for example, South Western Railway will not run anything south of Basingstoke.
Analysis published on Thursday by the Office of Rail and Road, said maintenance staff at Network Rail earned 18% more than similar roles elsewhere in the economy - when pension costs and other measurable benefits were taken into account.
The ORR asked consultants to compare rail employment costs with roles outside the industry. It was asked to do this in the Williams-Shapps Plan for Rail.
The regulator's Director of Economics, Finance and markets, Will Godfrey, said the study was "a good first step in improving transparency".
The analysis of 64,459 rail industry employees at Network Rail and train companies concluded that in many parts of the rail industry, 'total reward' was above the market median.
However, overall it described total reward for rail industry jobs as broadly in line with the market.
The RMT's Mick Lynch said: "The political thrust of this report is to target the pay and conditions of maintenance workers and station staff - the very same railway workers facing mass job cuts."
"If RMT members' wages are higher than the market rate, there is something wrong with the market," he continued.