Heinz, Dolmio and Anchor: Top food brands see prices soar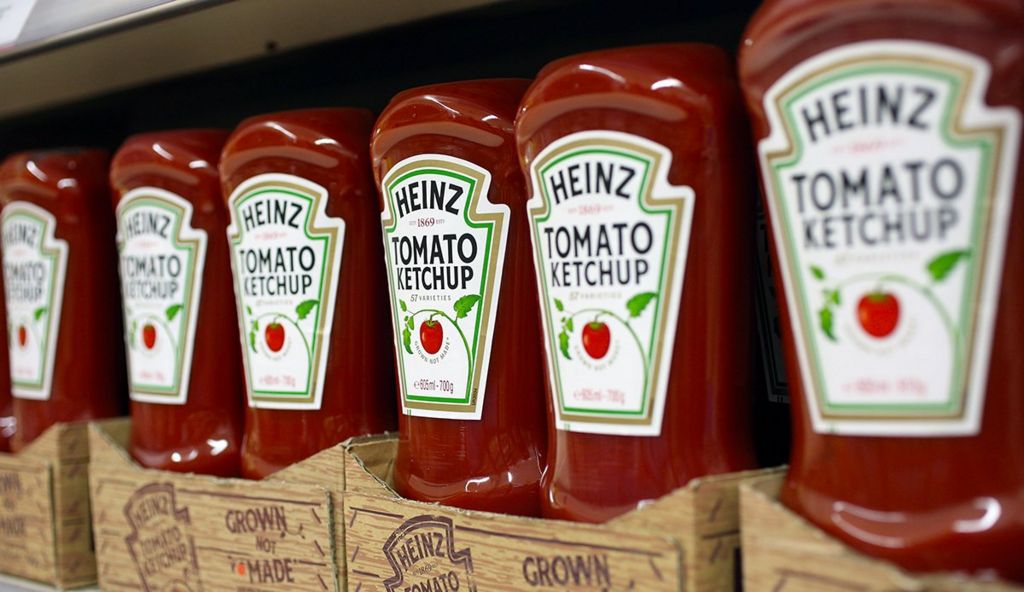 The price of some of the most popular branded food items has jumped in just two years, new research suggests, putting further strain on shoppers.
Heinz Tomato Ketchup saw the biggest average percentage increase, with its 460g top-down version up by 53% or 91p, according to Which?
It also found that Dolmio Lasagne Sauce (470g) saw the second-biggest jump, up 61p in two years.
Its survey compared prices of 79 items across six major supermarkets.
The consumer group's findings suggest that the price of some of Britain's favourite branded products might be rising more quickly than the overall cost of living, which is going up at its fastest rate in 40 years.
Which? analysed the cost of branded food items available in Asda, Morrisons, Ocado, Sainsbury's, Tesco and Waitrose over a 30-day period from 21 September to 20 October in both 2020 and 2022.
It found that the price of a 400g can of Classic Cream of Chicken Soup by Heinz also went up an average of 46% or 44p across the board from around £1 to almost £1.50.
Batchelors Super Noodles BBQ Beef Flavour (90g) went up from an average of 59p to 82p, across the six supermarkets.
Discount retailers Aldi and Lidl were not included in the study as they did not have enough comparable items.
One of the biggest increases seen in pounds and pence was on branded butter, with a 500g tub of Anchor Spreadable up by £1.31 over the two-year period and a 500g tub of Lurpak Spreadable Slightly Salted up by £1.17.
Twinings Everyday 100 Tea Bags saw the biggest individual increase at one shop, up by £2.33, or 64%, this year compared to its 2020 price.
The price for Dolmio's Lasagne Sauce also more than doubled in one supermarket, going up by £1.09.
"Our research shows the shocking rate of inflation on some of the nation's favourite branded foods, which is much higher than the national average and highlights why it is so important for retailers to provide people with a choice of product ranges," said Sue Davies, head of food policy at Which?.
While consumers could save money by shopping around, people could be paying over the odds if they live in areas not well served by a choice of larger supermarkets or by retailers that stock cheaper own-brand and budget ranges.
"Supermarkets must ensure budget lines for healthy and affordable essential items are widely available across their stores including smaller convenience stores," Ms Davies added.
It warned that prices may continue to climb, with its head of retail and consumer insight Fraser McKevitt saying it was "too early to call the top" of where costs might peak.
For months, food manufacturers have been warning that they would need to increase prices because of the cost of raw materials and energy going up, partly due to the ongoing conflict in Ukraine.
In the summer, Tesco and Heinz had a dispute over the fact the US giant tried to boost the prices it was charging the UK's biggest supermarket, with some Heinz products even disappearing from the chain's shelves briefly.
A Kraft Heinz spokesman said that the prices of its products reflected the costs of production.
"We value our consumers and are aware of the daily role Heinz products play in households across the UK," they said, adding that they were "committed" to offsetting some price pressures faced by households by offering large pack sizes, for example.
A spokeswoman for Arla Foods, which makes Anchor products, said that as inflation goes up, "the cost of producing milk has increased to an all-time high and our farmers are struggling to cover their costs, which is resulting in less milk being produced."
She said that the producer is absorbing costs as much as possible, but added: "Regrettably the cost increases are so significant we do have to pass some of these on to ensure our farmers and our production facilities can continue the supply of products."
Mars, which owns Dolmio, did not immediately respond to the BBC's request for comment.