Marc Jacobs steps down as Louis Vuitton's creative director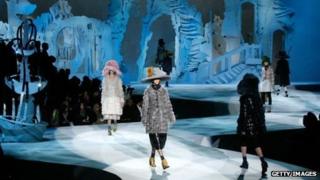 Designer Marc Jacobs is leaving the luxury goods firm Louis Vuitton, to focus on his own brand.
The announcement came in an interview given to Women's Wear Daily, by LVMH boss Bernard Arnault.
The Marc Jacobs label is jointly owned by Mr Jacobs, his business partner and LVMH. The three are preparing to take the brand public with a share offering expected within three years.
LVMH have yet to name a replacement for the high profile Louis Vuitton job.
Global brand
The world's biggest luxury goods empire also owns Givenchy, Pucci, Moët & Chandon, Christian Dior perfumes and cosmetics, and Bulgari watches and jewellery.
The American designer spent 16 years at the company, where he helped it grow into a global brand which generates more than 7 billion euros of revenue a year, half of LVMH's operating profits.
Mr Jacobs presented his last collection for Louis Vuitton earlier on Wednesday.
It was an all-black show with references to his past work such as the train station he reconstituted and the white carousel carrying models, including Kate Moss, two years ago.
Nicolas Ghesquiere, who left Balenciaga last year having revamped the Kering fashion brand, is seen as a top contender to replace Mr Jacobs.
David Da Maia, analyst at brokerage Aurel BGC in Paris, said: "It would be a positive sign if Ghesquiere joined Louis Vuitton as he is one of the most coveted designers today and he would give a creative jolt to the brand."
Mr Jacobs' own fashion brand is also controlled by LVMH.
It is one of the fastest growing labels within the French group's fashion and leather goods division.