Sir Martin Sorrell 'to get £19m in bonuses' after leaving WPP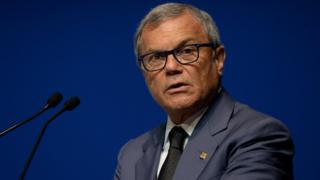 Shareholders of advertising giant WPP are expected to approve the payment of up to £19m in bonuses over the next four years to its former chief executive.
Sir Martin Sorrell resigned four weeks ago amid allegations of serious personal misconduct which he denied.
The BBC understands that around 25% of votes cast at the AGM will oppose ongoing payments to Sir Martin.
He turned a former wire shopping basket company into a $20bn ad giant.
Sir Martin Sorrell may no longer be the chief executive of advertising giant WPP, but he will be the reluctant star of the company's AGM today - in absentia.
The rise and fall of the king of advertising
WPP should come clean over Sorrell exit
After more than 30 years in charge he resigned on 14 April this year after an investigation into a whistleblower's allegations of personal misconduct.
Sir Martin has strenuously denied allegations that company money was used to pay a prostitute.
Sources close to WPP claim that at some point during the investigation, lawyers appointed by the company shared information with Sir Martin's advisers, after which Sir Martin decided to step down.
But this version and sequence of events has been rejected by sources close to Sir Martin as "completely untrue".
Blood in the boardroom?
So why did Sir Martin resign? What did the investigation turn up? What could have ended a 33-year career in which he had turned a £250,000 wire basket-making shell company into a global advertising colossus? Why did Sir Martin conclude that his position was untenable?
The obvious answer would be a boardroom assassination.
The company has lost nearly a third of its value since the beginning of 2017 as advertisers cut back on traditional media advertising while directing more money directly to Google and Facebook.
His perceived tendency to treat the company as his own personal fiefdom was tolerated when the going was good, but it began to grate when times became leaner and the company less valuable.
Had the board, under Chairman Roberto Quarta, decided it was time for him to go?
WPP sources insist there was no boardroom rift and no knives out for him.
Subsequent events seem to suggest otherwise, according to people familiar with Sir Martin's take.
What is not disputed is that Sir Martin - who had been interviewed by lawyers in connection with the misconduct allegations which were crucially still not public knowledge - had come up with a succession plan of his own over the Easter weekend.
Sir Martin would signal his intention to step down by appointing executives Mark Read and Andrew Scott as joint chief operating officers.
This plan was put to Mr Quarta, who promised a quick decision on whether the board would go for it. That very night, the existence of the investigation - known to only a handful of senior people - was leaked to the Wall Street Journal.
This was the moment that Sorrell says he realised the board - or someone on it - was determined to topple him. His resignation followed ten days later.
Atypical
Over three decades he proved himself a brilliant empire builder who made himself and his shareholders a fortune.
Having turned £250,000 into a £16bn empire he could perhaps be forgiven for thinking he was not your average hired chief executive.
There was nothing normal about his £70 million pay in 2016 - or his wife's £274,000 travel expenses, or the allegations about the poor treatment of some employees which he always denied.
He attended an interview with lawyers concerning the claims of misconduct without a lawyer - which some took as a sign he may not have been taking the matter seriously enough.
Several shareholders have told the BBC that they welcomed attempts by Mr Quarta to make things a bit "more normal".
However, by many accounts, Sorrell didn't like it. He threatened to resign over the way the investigation was handled and, for once, the threat didn't work.
The same shareholders said the way the episode was handled has inflicted damage on Mr Quarta, but that damage was not "irreparable".
Money still flowing
Sir Martin has made a £400m fortune building WPP. Sorrell may have gone but the money will keep coming.
Every year, he is entitled to pick up share awards accumulated over the previous five year period. Those rewards will dwindle over time but even in 2022 - he will still be eligible to receive shares awarded for his work for the first four months of this year. The maximum he can receive would be £20m - but its likely to be less than half of that when all's said and done.
Shareholders will vote on his pay deal today but its expected that only around 25% will vote against him.
The Chairman's handling of the whole affair could also see a minority of under 20% vote against his re-election.
According to sources at WPP, the only thing that could cost Sorrell his payouts is if he breaks his confidentiality agreements.
That doesn't just extend to the secretive matters of the last few months. He is not bound by a non-compete clause thanks to a highly unusual contract he signed in 2008 that sacrificed that right in return for an arrangement that allowed him to leave - or the company to fire him - "at will".
I'm told WPP never considered it likely Sir Martin would set up in competition to a company in which the vast majority of his personal wealth was invested.
That thinking has proved faulty as he has already put £40m of his own money into a new shell company with ambitions to build a new empire more suited to the new digital media landscape which critics say his old empire was slow to embrace.
WPP is adamant that he may not use any confidential information he gleaned as WPP boss. That could include information on potential takeover targets that WPP looked at acquiring or insights on WPP client's advertising strategies.
WPP sources believe these confidentiality agreements operate, in effect, as powerful curbs on his ability to compete directly against his former company.
However, Sir Martin Sorrell has a formidable track record for making money, and has already seen a clutch of blue chip investors top up his £40m with another £11m in third party funding for his new venture - S4 - with the promise of over a hundred million more to come.
The share structure of his new vehicle will see him wield enormous control over the dealings of the company.
Just the way he has always liked it.