My time in Africa: Lessons, experiences and concessions
9 September 2015

From the section

Africa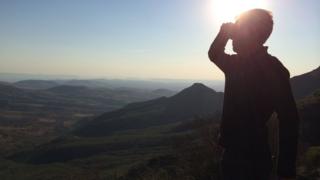 We've paid off the six armed guards who've been protecting us, haggled over excess baggage, and I'm now writing this in a small plane heading south from the sun-baked Somali port of Bosaso, across the vast, yellow-brown plains of the Horn of Africa, towards Nairobi.
It's a special moment for me.
I've spent just over a decade living and working on this continent, and this is the end of my final trip in this particular job, and so a chance - first of all - to say thank you for taking the trouble to read this blog, and the many others I've written, in courtrooms, under trees and stars, in tents, hotel rooms, stadiums, bars, huts and airports all over Africa.
Generalisations
It's been a wonderful, enthralling, sometimes sobering privilege. And now, of course, comes the temptation to offer you some grand conclusions about the future of the continent.
But fear not.
Read full article My time in Africa: Lessons, experiences and concessions