Coronavirus: Things US has got wrong - and right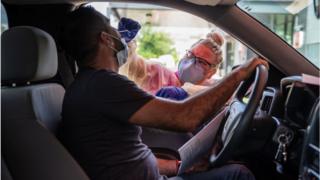 So much for a summer lull in the coronavirus pandemic. Instead, the US has seen a resurgence of the disease in numerous states, particularly across the south and west.
The US nation as a whole has topped 60,000 recorded daily new cases this week.
Did it have to be this way, though?
Other industrialised nations, in Europe and Asia, pursued more rigorous mitigation plans, ramped up testing and contact tracing earlier, and eased restrictions in a slower and more co-ordinated fashion.
They have not, at least so far, seen a resurgence of the virus similar to the one the US is currently experiencing.
Read full article Coronavirus: Things US has got wrong - and right