Do Trump rally taunts mark new 2020 strategy?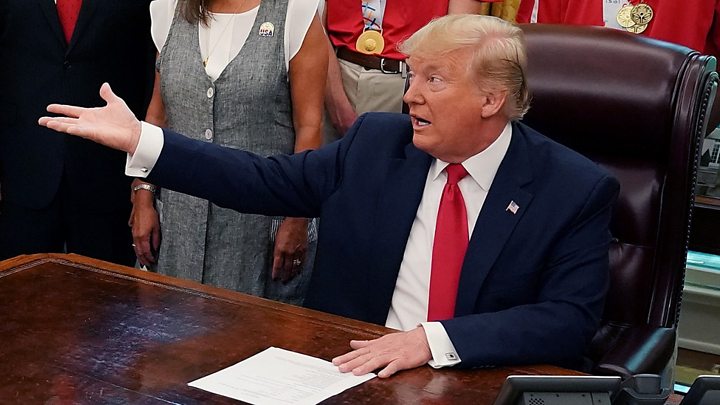 It began, as it almost always does these days, with a tweet.
Donald Trump, watching a schism form between the Democratic Party leadership and a restive group of progressives new to Congress, decided to light a match and then dance around the flames.
He tweeted on Sunday that a group of progressive critics in Congress - three of whom were born in the US - should go back to their home countries, then stood silent on Wednesday night as a rally crowd chanted for the one who wasn't to be deported.
Like the calls for Hillary Clinton to be imprisoned three years ago, the "send her back" chant is not emblematic of a healthy, well-functioning democracy. It has been roundly condemned. And yet it is a storm entirely of Mr Trump's making.
The president, it should be clear at this point, is an instinctual politician. There is a risk to ascribing grand strategy behind his actions. In most cases, the action comes first, and the strategy follows. There are, however, some hints to be gleaned from the week's race conflagration about what lies ahead.
Motivating the base
Read full article Do Trump rally taunts mark new 2020 strategy?