Coronavirus: Things the US has got wrong - and got right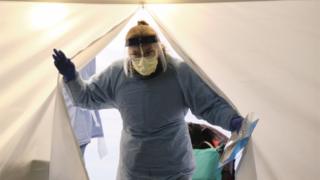 It has been more than two months since the first case of coronavirus was diagnosed in the US. Since then, the outbreak has spread across the nation, with more than 236,000 cases and over 5,600 deaths.
The US is now the global epicentre of the pandemic, surpassing the number of reported cases in China, where the virus began, and Italy, the hardest-hit European nation.
Although public health officials report that the peak of the outbreak in the US is still weeks, perhaps months, away, shortcomings in the US response - as well as some strengths - have already become apparent.
Here's a look at some of them.
MISTAKES
Medical supply shortages
Masks, gloves, gowns and ventilators. Doctors and hospitals across the country, but particularly in areas hardest hit by the pandemic, are scrambling for items essential to help those stricken by the virus and protect medical professionals.
Read full article Coronavirus: Things the US has got wrong - and got right