'£3.8bn needed to reverse school cuts'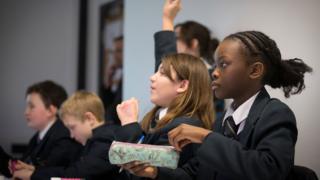 A one-off increase of £3.8bn would be needed to reverse 8% cuts in per pupil school spending, new analysis shows.
The Institute for Fiscal Studies (IFS) says a further £1.1bn would be needed each year up until 2023 to maintain spending in real terms, once rising costs were taken into account.
Candidates for the Conservative leadership have been making competing promises on education spending.
The government says funding for schools has been at its highest level ever.
School budgets have moved up the political agenda, partly as a result of campaigning by parents and head teachers across England.