Constitutional clashes at FMQs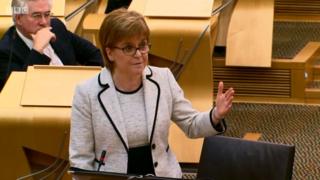 Jackson Carlaw stood up, slowly. As he did so, at Westminster, the prime minister was motoring towards the third hour of questions in the Commons, glancing behind her nervously to discern any further resignations from her team.
For Mr Carlaw, then, a challenge. Did he confront the chaos head on in his questions to the first minister? Or did he pursue her on another vital topic, such as ferret taming? (Widely and mistakenly neglected, in my view.)
The acting Scottish Conservative leader opted for courage. For, if you like, spitting in the wind. It was all, according to Mr Carlaw, Nicola Sturgeon's fault.
And how, pray? Well, apparently, her endless pursuit of independence had destabilised the Brexit project and, well, just ruined things generally.
The FM's response? "What a nerve!" Authenticity is rare in contemporary politics but Ms Sturgeon seemed genuinely exasperated at the line boldly adopted by her opponent.