Cameron, the Queen (and independence) at FMQs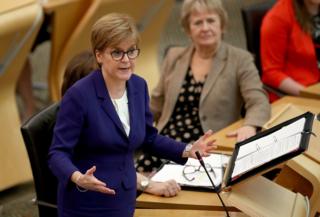 Nicola Sturgeon was nearing the end of an exhaustive (no, not exhausting, exhaustive) answer. Building to a conclusion, she noted: "Finally on independence…"
Cue ironic cheers from the Tories and others. It is not common, in truth, for Ms Sturgeon's opponents to laud the FM. But this seemed like a gift.
To her credit, the first minister rallied swiftly and effectively. She paused. She smiled. She clarified. For the avoidance of doubt, she reserved the right to return - more than once - to the topic of independence.
To be fair, she had been bowled a single transferable question by Patrick Harvie of the Greens. Climate change plus indyref2.
On the environment, he urged her to abandon fossil fuels in whatever form. She responded, not for the first time, that said fuel must play a part in Scotland's power grid for the foreseeable future, while renewable alternatives were developed.
Read full article Cameron, the Queen (and independence) at FMQs