Beware the killer bees of Holyrood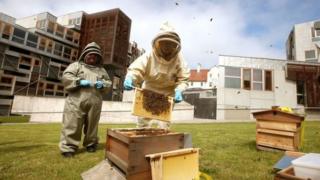 Inside, the temperature rises, relentlessly. Anxious inmates loosen clothing, decorously, and glance at each other in empathy.
Outside, the killer bees swarm, driving each other collectively berserk, as they perform their frenzied, circular dance, while massing for a final attack.
An episode from John Wyndham? A scene from Gogol? Nah, the final day of the session at Holyrood.
And, ok, they might not be killer bees. They might belong to one of the other 16,000 varieties. But nobody is taking any chances. And there are strict warning signs everywhere, imploring us to avoid the kitchen garden outside Queensberry House, where lurk the bees.
Sagacious advice. Never trust an angry bee. I mean, just think of the daft things folk say about their cousins, the wasp.